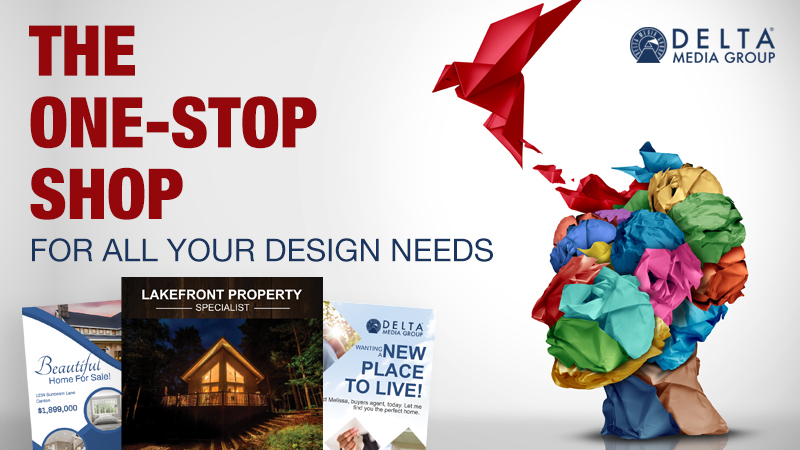 Get ready to unlock a whole new level of creativity and convenience.  
Say hello to Delta Create! This suite of creative tools allows you to easily create marketing materials, messages to clients, listing brochures, and more, all in one place. Start with a template, customize it to suit your unique needs, and exercise your creativity with time-saving features that leave you more time to serve your clients.  
Let's take a deeper dive into what you can expect from Delta Create and a closer look at some of the features that will help you grow your real estate brand. 
Why Delta Create is Valuable to Your Real Estate Brand 
Branding is an essential element of success in real estate, whether you're an individual agent or overseeing a large brokerage. Potential clients want real estate services from a brand they can trust, so the quality of your marketing materials and outreach ultimately makes a big difference in earning their business. 
Put yourself in the prospect's shoes. Are you choosing a company with DIY marketing materials that look like they were created with a computer from the 1990s? Or would you be more interested in a brand that promotes itself with professional, polished, modern marketing materials that stand out for all the right reasons? High-quality marketing inspires confidence. 
Design is essential to producing marketing that turns heads, generates leads, and earns business. If you want marketing that puts your brand in the best possible light, you need the right tools. Delta Create puts all the design tools you need at your fingertips and allows you to quickly create marketing materials like a pro. 
Just as importantly, Delta Create doesn't limit you to one template or style. Start with a pre-designed template as your base, then customize it to suit the unique needs of your real estate brand and stand out from the crowd. When you combine creativity with customization and convenience, you have everything you need to grow your brand. 
Get to Know the Features of Delta Create 
The key word to remember with Delta Create is customization. The tools within Delta Create offer the perfect mix of customization and time-saving templates that empower you to make your marketing materials your own. Here are some of the tools that will make your life easier while giving your brand a boost — with outreach to both current clients and fresh leads. 
eCards for Every Occasion 

 
Staying in touch is critical to retaining clients' business over time, and Delta Create makes it easy to create customized eCards for all of the biggest moments in life. Create cards for birthdays, anniversaries, holidays, and so much more in one place. Stay top of mind so clients will think of you first when they — or someone they know — has a real estate need in the future. 
Get the word out with customized flyers that you can design within Delta Create and send directly to your local print shop. Have them delivered right back to your door without ever leaving the office. 
Build Your Own Social Media Graphics

 
When it comes to shareable content on social media, few things can top a timely, creatively designed image. Design professional-quality graphics within Delta Create by uploading your own images and customizing each key detail. Whether you're promoting a property, sharing useful data, or informing your audience about your brand, Delta Create truly is your one-stop shop for all your design needs. 
Conveniently Create Stunning Property Listing Brochures

 
You want your listing brochures to make a memorable first impression, and designing distinctive listing brochures is easier than ever with Delta Create. Handle the entire brochure design process from start to finish by uploading photos, customizing the brochure, and automatically pulling key info from the property listing page. Show off your listings to generate interest in properties and show leads that you'll go the extra mile when you're marketing their listing. 
Easy to Use Email Templates

 
We know you don't want to spend all day sending emails and coming up with the perfect words to say. That's why Delta Create has tons of pre-designed email templates that simplify the steps of sending the right message at the right time. You can customize each template to suit your needs and your brand. Make every email pop, and save time in the process! 
Look Out for More Exciting Features and Updates in DeltaNET 7
Delta Create is just one of the many exciting updates included in DeltaNET 7. With new features, updates to existing features, and plenty of small changes, DeltaNET 7 was built to make your life easier. But don't worry; all the existing features and functionality you love will still be there waiting for you — and they'll be even more powerful for growing your real estate brand.