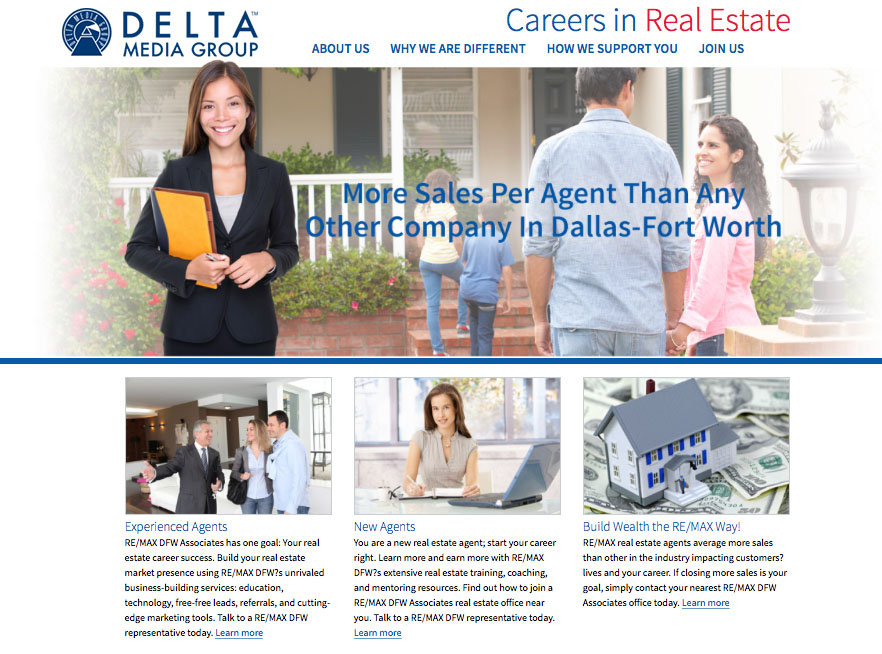 Delta's Agent Recruiting platform provides real estate companies with online marketing services and cutting edge websites built to recruit and retain top performing real estate professionals to your business. 
How We Can Help:
Brokerage Specific SEO Campaigns 
Website Templates & Tools
Lead Generation Pages
Social Sharing Availability
Video Capabilities 
Recruit or Retain Agents with the best marketing and technology tools available:
Customizable Websites

Build your brand as a top performing agent with a cutting-edge website that looks great and grabs the attention of potential leads.  
Content Management System

Create unique content to market your message to online customers. Our Content Management System gives real estate professionals maximum control and flexibility over their website.
Lead Generation System

Provide your real estate professionals enough leads to keep them busy with new business while at the same time ensuring that customers are taken care of.
Customer Management System

Manage you business with powerful but easy-to-use tools that allow you to communicate with customers, stay organized and keep track of important tasks. Receive, process, and respond to your leads or contacts anytime, anywhere from any device. 
Contact us today to find out how Delta's Agent Recruiting platform delivers results and helps grow your business.