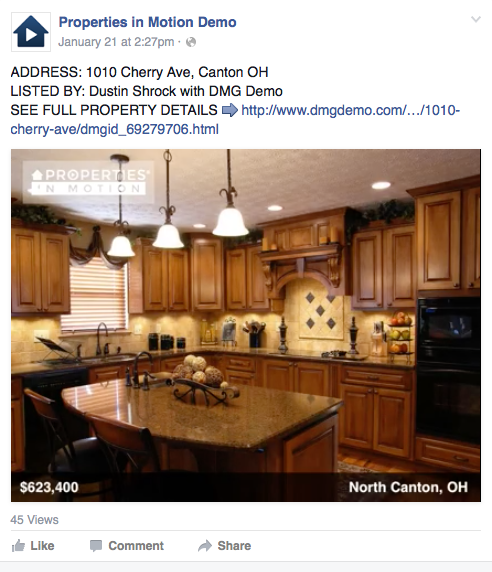 Properties in Motion® is a hassle-free listing video solution driving real traffic to your website while enhancing your brand and delivering leads to help grow your business. Currently, Facebook and YouTube™ are at the forefront of online video media. Facebook has recently made great strides in pushing for video content, and they are currently the primary source of video traffic on mobile devices. 
Using Properties in Motion® on Facebook allows your listing data to be fed into a template that features your company logo, key features about the property such as price, location, or number of bedrooms, and more.
 
100% Automated Videos



Properties in Motion

®

 gets your property listing data from the MLS. The videos are then automatically uploaded to your Facebook page just minutes after being uploaded to your local MLS. These videos are also automatically updated and removed when the data at the MLS changes. These videos are short in length, less than 20 seconds, and will autoplay as users scroll down their "New's Feed."


 
Call To Action

The listing videos feature a "Call to Action" at the end of each video that can be used to convert traffic back to your website. Once the customer is on your website they will find all of the additional property information needed to help make their buying decision seamless. 


 
Share "Viral Effect"

With these Facebook videos we use a method called "Feed Targeting" which triggers a video to appear on a potential customers Facebook feed. Thanks to Feed Targeting, a customer who has an interest in "Homes" has a chance to see your listing videos even if they have not gone directly to your page! You can even Tag the listing agent in the video description so they can easily keep track and share the video.


Timeline Videos- They will display a video description that comes directly from the MLS. Included within this description is a unique link that takes a customer right to the property listing information on the real estate website. 
Call To Action Features- The "Call To Action" features are unique and can display different customize text. We have found the most popular being "Learn More" or "Watch More" depending on what social channels are available. 
The Future Outlook?
With Facebook video integration to Properties in Motion® there is a bright outlook to future opportunities including the following: Different Calls To Action, Integration with Instagram and Advanced Lead Tracking!  
Contact us to hear why you should consider using Properties in Motion® listing videos.