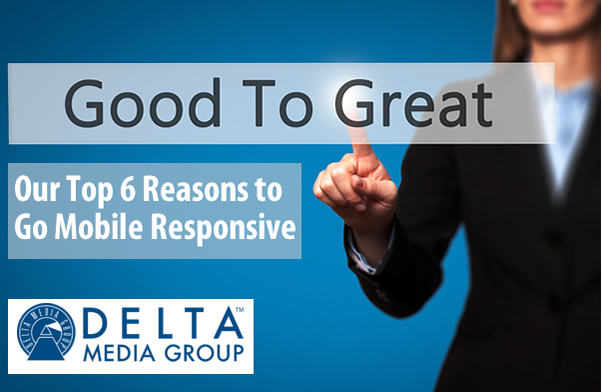 As a real estate broker, your goal is to generate leads that will increase business for your agents and company.  You probably already have an eye-catching website that generates leads.  Your business is good, but is it great? 
To turn your business from good to great means incorporating some of today's latest technologies into your overall marketing strategy.  Start with a mobile responsive website design.  A mobile responsive website design automatically scales its layout and content to fit whatever device visitors are using at the time.
With 89 percent of new home buyers using mobile search engines, it only makes sense to give your visitors a modern and easy-to-use website.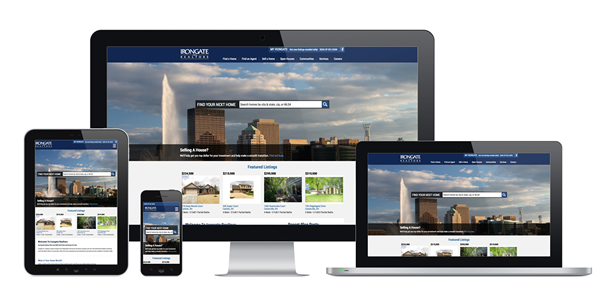 Still a little unclear about what makes a responsive design such an important part of your digital marketing plan?
Here is Our Top Six Reasons to Go Mobile Responsive.
There are plenty of reasons to implement a responsive design for your website; however providing a better user experience tops the list.   Your website should look great and function phenomenally whether a smartphone, desktop or tablet is being used.  A better user experience decreases bounce rates, increases website conversion and enhances your brand image.
Use of mobile devices is on the rise. Mobile devices account for about 60 percent of all internet traffic surpassing that generated by PCs.  Many real estate clients and prospects are standing in line at the grocery store or sipping on a cup of coffee at a Starbuck's right now using their smartphones to house hunt.  The message:  Clients take their home search with them where ever they go.  Go responsive or get left in your competitor's dust.
Responsive websites improve your SEO Rankings.  Google might just become your new best friend when you make the switch to a mobile responsive website.  Responsive development is Google's recommended approach for mobile web design.   Google recommends having one responsive website because it makes managing your SEO strategy easier and offers a better user experience.  In addition, it makes it easier and more efficient for Google to crawl, index and organize your website content.
Use of social media and blogging channels bring in more mobile visitors. Nearly 80 percent of social media time is spent on mobile devices; a responsive website will keep users engaged and help reduce bounce rates.  When users view your website's content as "shareable," they typically post it to their Facebook and Twitter pages.  If a mobile user cannot access your content easily, you risk losing return visitors to your website.
Avoid double trouble.   Some companies have two websites:  one for desktop and a second for mobile.  While this option has some merits, it requires all revisions and updates be applied to both versions translating to added costs and a lower ROI.  With a responsive website design, your website adapts to each device being used to meet the needs of your users lowering costs and increasing your ROI. 
Stay ahead of the competition.  By investing in a mobile responsive design for your business, you are placing your brokerage and your REALTORS® in position to be favored by both Google and online users.  A mobile responsive website can improve your website's clicks, conversions and return visitors.
Your clients don't want the hassle of "pinching and pulling" their way through your website.  By undergoing a mobile responsive redesign, you are helping grow your business and that of your real estate agents with a cost-effective opportunity that delivers quality leads.
If you are ready to learn how the best real estate technology just got better, contact Delta Media Group.  We have mobile responsive design options for brokers and real estate agents.