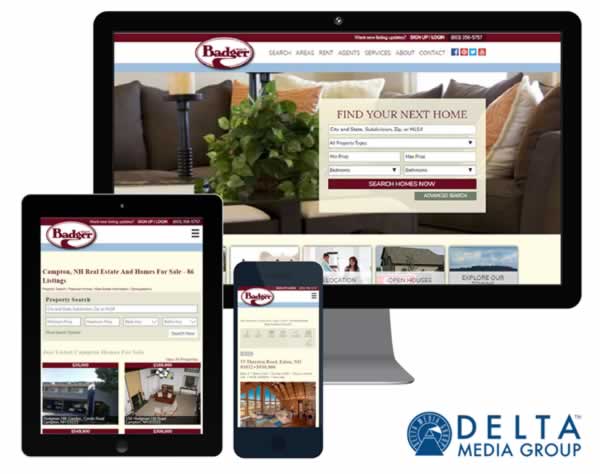 Delta Media Group recently worked with the marketing team at Badger Realty (http://www.badgerrealty.com/) to design and launch a new website that would impress their real estate clients and deliver business (aka leads) to their agents.
With an over 50-year reputation for top-notch service in their local New Hampshire and Maine real estate markets, Badger Realty wanted a website that would give their clients a quality user experience providing the most up-to-date listings plus generate leads and sales for their agents.
What Delta Media Group delivered as an attractive, professionally-designed website featuring large-scale photo galleries, listing info and an easy-to-use property search. We filled Badger Realty's website with industry-leading IDX technology that constantly updates their website with the most accurate, current information.  
Call-to-action forms were added in "all of the right spots" to make it easy for Badger Realty's customers to engage with them on the website resulting in a lead for their agents.
If your company is interested in joining a technology-based website design and online marketing team to grow your business, contact Delta Media Group for all of your web design, SEO and real estate marketing needs.