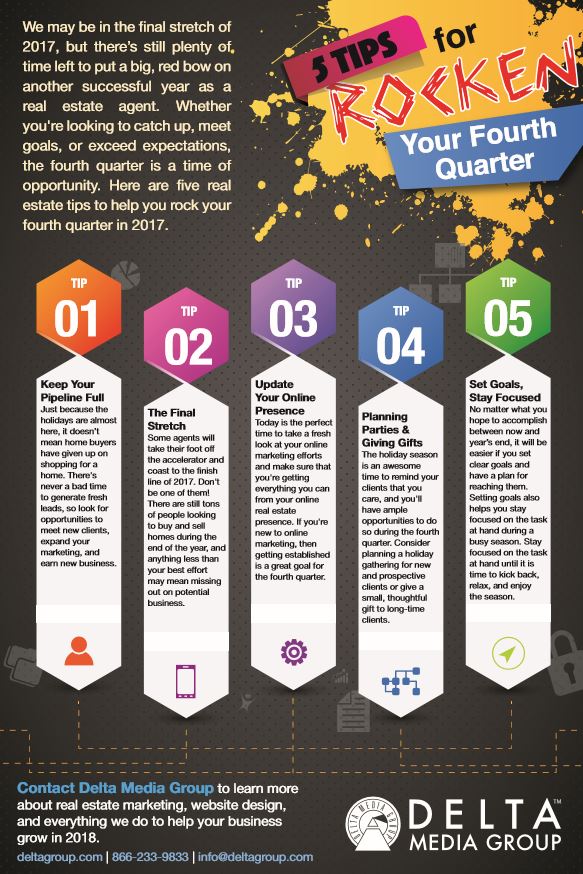 We've almost reached the final stretch of 2017, but there's still plenty of time left to put a bow on another successful year as a real estate agent. Whether you're looking to catch up, meet goals, or exceed expectations, the fourth quarter is a time of opportunity. Clients are still searching for homes, the fall foliage makes for gorgeous scenery, and there's still plenty of time before the holiday season to make this a year to remember. Here are five real estate tips to help you rock your fourth quarter in 2017.
Keep Your Pipeline Full
Most shoppers will have plenty going on between now and the holidays, but that definitely doesn't mean they have given up on shopping for a home in the fourth quarter. There's never a bad time to generate fresh leads, so look for opportunities to meet new clients, expand your marketing, and earn new business during this time. Make sure that you're dedicating time each day to generate new business.


The Final Stretch
With the holidays coming and the year winding down, some agents will take their foot off the gas and coast to the finish line. Don't be one of them. There are still tons of people looking to buy and sell homes during the end of the year, and anything less than your best effort may mean missing out on potential business. Don't worry, you'll still have plenty of time to celebrate the results of your hard work when the holidays roll around.


Update Your Online Presence
The fourth quarter is an ideal time to catch up, take a fresh look at your online marketing efforts, and make sure that you're getting everything you can from your online real estate presence. If you're new to online marketing, then getting established is a great goal for the fourth quarter. Even if you already put significant effort into marketing throughout the year, you can take this opportunity to make sure that you're keeping up with trends and maximizing your return on investment.


Planning Parties and Giving Gifts
The holiday season is an awesome time to remind your clients that you care, and you'll have ample opportunities to do so during the fourth quarter. Consider planning a holiday gathering for new and prospective clients, or make it a point to give a small, thoughtful gift to long-time clients who have stuck by your side. A small gesture really can go a long way, and giving gifts is a perfect way to reconnect with valued clients during the holiday season.


Set Goals, Stay Focused
No matter what you hope to accomplish during the fourth quarter, it will be easier if you set clear goals and have a plan for reaching them. Most agents will also have their share of non-work obligations as the holiday season grows near, so setting goals also helps you stay focused on the task at hand during a busy season. There's certainly nothing wrong with looking forward to the holidays! Just make sure that you stay focused on the task at hand until it is time to kick back, relax, and enjoy the season.
Our team knows a thing or two about what it takes to succeed in real estate, and we're here to help you rock every quarter of the year. Contact Delta Media Group to learn more about real estate marketing, website design, and everything we do to help your business grow.