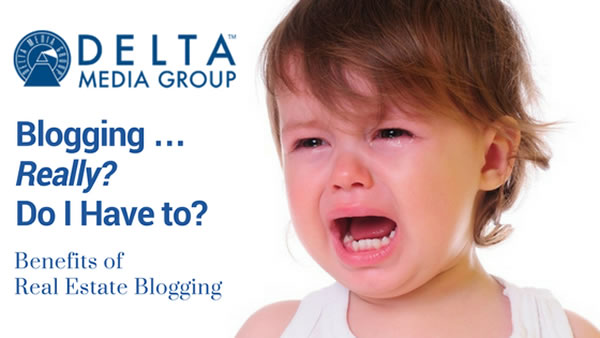 When people ask me, "Blogging ... Really?  Do I have to?"  My answer is "You Bet."
Blogging is a very BIG deal when it comes to your real estate website.  
A blog delivers benefits to your website that will more than pay you back for the time and effort it takes to create it.
I can guess what you're thinking …"What a bunch of hooey." Well, that couldn't be further from the truth.
Here's why:
Nearly all home buyers today start their searches online before they even connect with a real estate agent. This is true for Millennials, Baby Boomers and even the Silent Generation. You have to be online if you want to attract people of all ages and from all walks of life.
Your future clients are already online scouring the web for local listings and real estate services so why not give them another reason to come to your website—a blog that they like to read and share with their friends.
Three Things—Just for Starters—that Blogging Does For You
Tells People You Know What You're Talking About
From start to finish: People like working with a pro. While your website tells people you are a real estate pro, your blog shows them you are an authority on a variety of real estate topics. By writing a blog on a regular basis, you give yourself the opportunity to "strut your stuff" with readers by giving them helpful information about real estate ideas they are interested in. Your blog will show you are a trusted, knowledgeable resource. Those are the types of agents that keep clients coming back for more.


You Become the Local Person In the Know 
You'll be covering a lot of real estate—literally—with your posts. Blogging gives you the opportunity to convey ideas and communicate information. Think outside of the box and include posts about topics above and beyond basic real estate concepts. The community where you live and do business is a gold mine for blog content. Talk about restaurants, shops, galleries, local attractions, community events, and celebrations … the possibilities are endless.

These types of blogs show your readers that you care about the community you call home and have your thumb on the pulse of local activities. If a buyer has the choice to pick an agent who can only tell them the number of bedrooms and bathrooms in a home or an agent who has the scoop on local businesses, community traditions, and current events PLUS all about homes for sale, they'll pick the second agent for sure.


They Like Me…They Really, Really Like Me! 
When you give your readers a blog they enjoy, they will keep coming back for more. Posting more frequently means people will come to your site more often. And if your readers "really, really" like your blog, they'll share it with their friends on Facebook, Twitter, Instagram or other social media site of their choice.   

This increases your traffic, online visibility and business.
I Know I Said Three Reasons, But Actually, It's Four
Google Will Want to Be Your BFF
Google ranks websites based on a website's ability to supply the right type of content to satisfy searchers. Google is sensitive to websites who fill their pages with valuable information on a regular basis.  When people keep returning to your website and share your posts on Facebook or Twitter, this leads to more website visitors for you and higher search rankings in the long run.

Blogging has serious benefits when it comes to website's search engine optimization (SEO) and local SEO. Blog posts give you opportunities to mix in keywords and local SEO terms.

Ranking well on Google (and other search engines) is one of the keys to website success. Your blog is crucial for reaching that goal.
Success Takes Time
Blogging is an effective way to grow your website traffic and real estate business. Success is not instant—it takes time.
If the thought of cranking out a steady supply of quality content a couple of times a week makes your head spin, don't worry. Give us a shout. We can show you the way to blogging bliss.