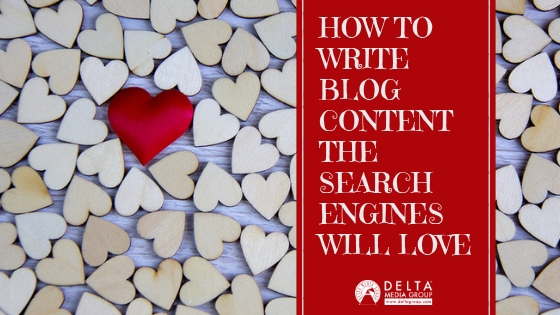 Creating captivating content for your real estate blog should be a top marketing priority, which means creating content that both your audience and search engines will love.

The good news is that more than ever, the marketing demands of search engines and the content preferences of your audience are aligned. Search engines like Google want to see that your content is relevant, timely, well-organized, and tailored to your audience which happens to be the same qualities your audience desires. Below are five tips to create real estate content that both search engines and your audience will love.
Build a Better Blog Post
Write For Your Audience
Search engines want to see content that is relevant to your audience. So much of what you do with your blog from post topics to keywords, titles, and organization impacts both your SEO and the quality of each post.

Choosing overly general topics makes it easy for your content to get lost in the sea of similar blog posts. It's essential to write about specific issues that matter most to your audience. Create content based on your target audience (i.e., luxury shoppers, first-time buyers, families), and on topics related to the communities where you do business. Whoever you're writing for, make it about them.


Organize Content & Use Subheadings
Relevant topics and an eye for what your audience wants is a great start. The next step is formatting it for the web. The thing to remember about writing for an online audience is they often prefer to skim content, rather than reading every word. That's why it's so important to create descriptive, appealing subheadings for your content, and use lists when possible to break material into smaller chunks—things that search engines like to see too.


Keep It Smart & Simple
Most people aren't looking for a full-length novel when they set aside a few minutes to read a blog post. The best, most-read blog posts are between 500 and 800 words, with simple, well-organized topics. By creating relevant content which attracts more readers, you improve your blog's authority in the eyes of search engines.


Episodic Content to Keep Your Audience Coming Back
So, what do you do if you have a topic idea that will take more than 800 or so words? Episodic content is an excellent way to keep readers coming back for more, encourage conversation, and show search engines that repeat readers consistently find relevant content on your blog. Break your big ideas into post series, and enjoy the search engine benefits.


Create a Consistent Schedule
Whether you're creating episodic content or individual blog posts, keeping a regular schedule is key to retaining readers and boosting your search ranking. You don't have to post every single day, but you do want readers to know when they can come back for your latest content so that they look forward to visiting your website.
Are you interested in learning more about what it takes to create quality real estate content, or in letting the pros handle your real estate blogging for you? Contact Delta Media Group to learn more about content marketing, and all of our real estate marketing services.