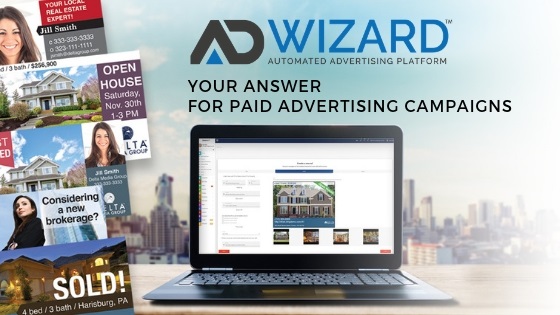 Are you tired of spending too much time—AND MONEY—on paid advertising services that charge a sizeable set-up fee, allow for little flexibility, and requires you to log in and out of third party websites?
Our team at Delta Media Group® has been hard at work developing a new DeltaNet platform feature:  Ad Wizard™--a bit of technological "magic" that takes the hassle out of launching paid advertising campaigns.
Ad Wizard gives our clients (both brokerages and real estate agents) the power to capture the attention of prospects on Facebook (Instagram and Google to follow) with only a few clicks and without ever leaving our platform.
The Wizardry is the DeltaNet

Using listing information already in our platform combined with key demographics, you can run ads to promote your services where your prospective customers spend most of their time online:  social media sites and Google.

Here's where Ad Wizard's magic comes in:
All real estate information is right at your fingertips. Using property information already in the DeltaNet, you can automate ads to run every time a new listing hits the market, an open house is scheduled, a price is reduced, or property is sold.
 
Brand yourself and your business with a few clicks.  Home sellers and buyers want to work with a person they trust.  Use Ad Wizard's branded ads to introduce yourself to prospects and give them the confidence to make you their REALTOR® of choice.


Set-it-and-forget-it or go hog-wild. Either way … we've got you covered! Our design library is filled with professional-looking ad templates and stock photos ready for you to use.   Or, if you have a creative side screaming to get out, our customizable ad layouts and photo upload system lets become the designer to advertise your real estate business as you see fit.


Ad Wizard campaign results are offered in standalone reports as well as integrated into automated reports generated through the DeltaNet.


Forget about logging into third-party applications. Manage everything—ads AND BUDGET--all in one place with our easy-to-use Ad Wizard interface.


Budget … Yes, we said that word!
Forget about the set-up fees some companies charge for targeted paid advertising campaigns. Ad Wizard doesn't do that. Get your listings and your brand in front of potential buyers and sellers without breaking the bank.


You Don't Have to Be a Marketing Expert to Advertise Like One
You don't have to be a marketing expert to get started with your paid advertising campaign.  With a few clicks and a reasonable budget, the DeltaNet will take it from there.
Delta Media Group believes in making our clients' lives easier—and that's where the real magic happens when you do business with us. 

Contact our Tech Support team to get started with Ad Wizard™.