In today's digital world, a website is essential for your real estate business: No one will believe you're a "real business" if they can't find you online. But the value of digital marketing goes further: Done right, it energizes your real estate practice with a consistent flow of buyers and sellers ready to do business.
Many real estate agents start out unsure which digital marketing tools suit their needs. They may post on social media or write blog posts for a while, only to discover getting traction is more challenging than they hoped.
Consistency is key, and a marketing mix where several digital techniques work together is more effective than any one approach. To move forward, consider these seven tools that have paved the way to success for real estate agents like you: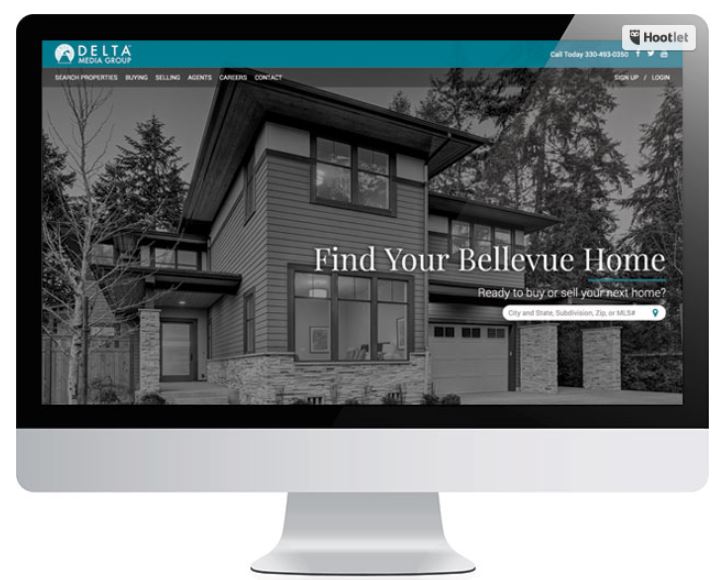 Customizable Websites
If your website looks like everyone else's, that may be how visitors treat you. There are best practices that make it easier for customers to use your site, but it should give them a taste of your personality and branding. Your site's appearance and structure should be built around your ideal customers and their needs. Brokerage & Team Packages by Delta Media Group handle all design the details for you.



CRM System
CRM stands for "Customer Relationship Management," and it should be part of your business technology platform allowing you to manage your relationships and communications with clients and prospective clients.  With the right CRM system, it's simple to organize your client lists, streamline your business processes, and grow your real estate business.  Delta Media Group's Pipeline Manager is built to help you TRACK, MANAGE and ENGAGE with your contacts right from your smartphone.



e-Cards and Flyers
For your marketing message to produce leads, you need to address your audience on multiple levels – and be prepared to follow up several times before they take action. Flyers and e-cards are one way to automate this process. You can provide your viewers with periodic reminders about local real estate trends, listings, and more with full multimedia integration. Agents who think a website doesn't produce leads can benefit hugely from these personalized digital tactics.


Email Campaigns
Email is a remarkably efficient way to gain and maintain attention. An automated email campaign makes it easy to address five people or five thousand – and you can empower each one with custom content that suits their needs. Committing to a weekly subscriber email is the best way to keep relationships warm and ensure leads will reach out to you when the time is right. Campaigns can also be trigger-based, so custom content is sent based on user behavior.


Blogging
Blogging is the fastest way to demonstrate your expertise to your audience. With informative and helpful articles, you'll differentiate yourself from the other real estate agents in your area. Blogs are the first step to building a relationship of trust and keeping your brand top of mind as your future customers go through the weeks leading to their decision to buy or sell a home. Creating real estate blogs that drive traffic may be the one digital skill all agents need.


Facebook and Other Social Media
Facebook is a powerful platform for maintaining ties with current and former customers, while Twitter is great for finding new leads. With a professional presence on these sites, you can remain part of the conversation in your market. Delta Media Group's Facebook Auto-Connector publicizes sold listings instantly, keeping your social feed consistent and accurate.


Facebook Advertising
Paid advertising is one of the fastest ways to attract meaningful online traffic. However, it can only benefit you if you already have a complete lead funnel on your site. Careful attention and ongoing optimization ensure your Facebook ads deliver a consistent return on investment. Automated paid social advertising can streamline advertising and reduce your risk at the same time. Delta Media Group's Ad Wizard™ is a self-service tool that generates custom ads as your new listings enter the market.
Discover the Delta Media Group Difference
Getting started with digital marketing isn't always intuitive, but conquering the learning curve is worth it. Once you establish a foundation, marketing your business online is efficient and cost-effective. Your website truly can be working for you 24 hours a day.
Plus, any of the strategies above can complement your high-touch in-person marketing.
Many real estate agents swear by combining traditional open houses with digital techniques that enable the events to become consistent lead generation engines. Without digital support, connections made during live events are often forgotten and transactions don't come to fruition.
A digital marketing agency with real estate expertise can be your trusted partner in planning, executing, and maintaining your efforts. Contact us to discover the difference Delta Media Group makes when it comes to growing your real estate business.