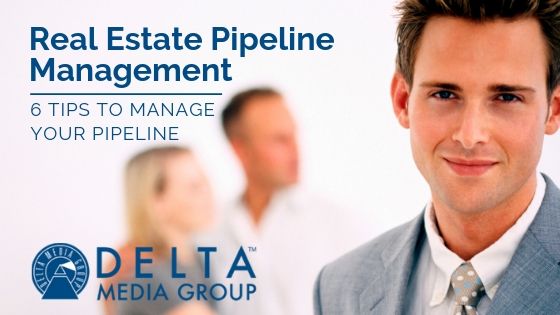 Ask just about any real estate agent, and they will tell you maintaining and growing client relationships are at the heart of succeeding in today's market. A real estate agent juggles multiple tasks daily. It's essential to find a way to organize your time to concentrate on priorities like finding prospects, converting leads, showing homes, and making sales. 
It sounds like a lot of heavy lifting, but you really can squeeze all of these things into your day by using an organized, active sales pipeline.

The goal of a pipeline is to move prospects through each stage of the sales process, from marketing to closing, while keeping your pipeline stocked with new opportunities.
We've put together six tips to manage your real estate pipeline and help grow your business. 
Use the Right Tools for Pipeline Management
Managing your real estate pipeline with spreadsheets, email, and notes is a challenging task. When you have to spend so much time managing your pipeline manually, you're losing time you could dedicate to closing deals. Manual pipeline management also makes it easier for tasks to slip through the cracks, resulting in lost business.



Delta Media Group's Pipeline Manager is a robust, back-end CRM system built with all the rights tools to prioritize your day's activities quickly. Since the Pipeline Manager gives you the power to automate your office tasks, you have more time in the day to do what you do best - close more deals.  Agents have the ability to track, manage, and engage with contacts from their smartphone with Pipeline Manager. 


Qualify Leads
Part of managing an effective pipeline is understanding which leads to prioritize, and which require more of a long-term view. Simplify the task by following up with prospects, asking key questions, and scoring each lead. Someone who is beginning the home-buying process is a much different lead than somebody ready to buy right now. Both leads have long-term value but need nurturing differently. Once you categorize your leads, you'll be able to engage with each group more effectively, while focusing your time where it will make the most difference.

Keep Your Pipeline Stocked
While one portion of your pipeline may demand extra attention at any given time, it's essential to avoid losing sight of the big picture. If you have some key clients nearing closing but don't have anything in the early stages of your pipeline, then you'll be looking at a lull in business after those deals close. That's why it's so important to focus your attention on each stage of your pipeline.

The key is to keep new prospects coming into your pipeline through effective marketing. Once you've got their attention, Pipeline Manager makes it easy to manage relationships, nurture leads, and convert. Pipeline Manager allows agents to quickly scan their dashboard, to see which tasks to prioritize each day.

Know When to Say Goodbye to a Lead
Not every lead will be worth your attention long-term. Even though it's hard to say good-bye, letting go of dead leads will save you time in the long run and let you focus on prospects with a better chance of a conversion.

Stay Top-of-Mind to Nurture Leads and Win Business
In addition to keeping your pipeline stocked with new prospects and saying goodbye to dead leads, you'll want to make sure you're keeping current with existing leads. Staying top-of-mind is essential because you want prospects to think of you the moment they're ready to buy or sell. By staying in contact, you also make it easier to move prospects to the next stages of your pipeline.

Every agent has a routine for keeping in touch with prospects, from phone calls and face-to-face meetings to digital tools like drip email campaigns. Pipeline Manager allows agents to easily see what they have to do to maintain relationships each day, and automate tasks to improve your productivity.

Close the Deal
All of the effort you put into managing your pipeline and moving prospects through each stage ultimately has one goal – closing deals! That's the payoff, and effective pipeline management puts you in the best position to succeed. As each prospect moves through your pipeline, you discover more about what they want, and how you can provide it. When the time comes to convert, you have all the information you need to close the deal.
Managing your pipeline is so much easier with the right tools, and our Pipeline Manager provides everything your agents need to succeed.  Contact our Tech Team to get started using the Pipeline Manager today.