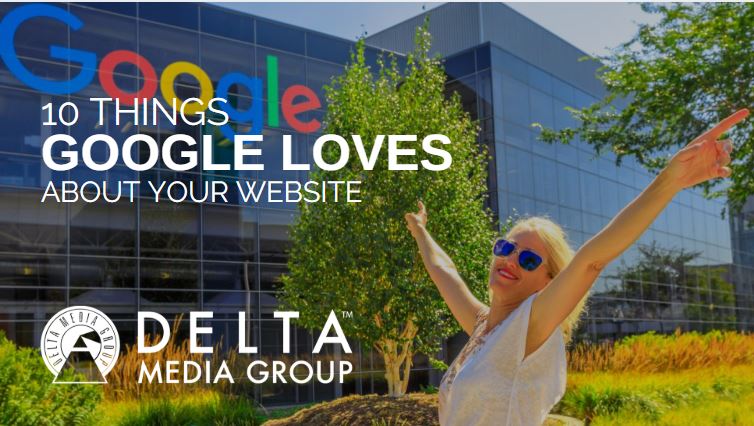 There's no doubt about it: you don't just want Google to like your real estate website, you want Google to LOVE it. Why? When Google loves your website, you get a higher ranking in search results for real estate businesses and topics in your area. Most prospects don't look beyond the first few links on the first page of results, so a higher search ranking ultimately means more leads and more business. Fortunately, this love story doesn't have to be complicated.
Delta Media Group is known for having the #1 search engine optimization (SEO) platform in the real estate industry by a significant margin. Our team helps real estate businesses with search engine optimization (SEO) every day. Let's take a look at ten ways to make Google fall in love with your website.
Keeping Things Fresh
If your website looks the same every time a prospect visits it, they'll eventually lose interest. Google knows that users want updated sites and rewards websites that keep things fresh. This doesn't mean you have to overhaul your real estate website constantly. You will, however, want to frequently add new content and other small updates to keep things fresh.
Content Is King
The content on your website, from blog posts to videos and page content, is the key to winning Google's heart. A regular supply of content is one of the easiest ways to keep your website fresh. It also allows you to integrate best practice SEO tactics. Your content is a chance to demonstrate your real estate expertise, dig deep into your market areas, and incorporate local SEO to help prospects find you.
Consistent Quality
​​​​​​​While content is king, it can only deliver on its promise if you have a consistent approach to quality. For consistency, develop a regular schedule for creating blog posts and other content for your website, then stick to it. Quality is a matter of picking the right topics, editing your work effectively, linking to other authoritative sources, and integrating SEO tactics in a seamless, natural way. If creating content isn't in your wheelhouse, don't worry.

We have a staff of content strategists and professional writers ready to create website content that will grab your prospects' (and Google's) attention and keep it.
Diversify Your Content
For most real estate websites, blog posts are among the best, most effective ways to add fresh content. But you don't just have to limit yourself. Google loves to see diverse content, like videos, infographics, and even podcasts. Try out different types of content to see what works for your brand, and earn some points from Google in the process.
Optimize Keyword Usage
Use keywords relevant to the real estate industry and your market area to help Google rank your site and prospects find it. Be careful not to overdo it with keyword usage--optimization is key.
Compelling Titles and Meta Tags
Your post titles and meta tags should be compelling, both to attract the attention of readers and rank better in search results. Creating targeted, relevant titles and detailed, appealing meta tags make the user more likely to click on your website in search results.
High-Quality Links
Earning inbound links from authoritative, well-known websites can do wonders for your search ranking, but these links can be challenging to obtain. By creating consistent, high-quality content, you give your website the best chance of earning strong inbound links.
Speed and Loading Times
Google doesn't like waiting around, and neither do real estate customers. Make sure that your website is optimized to load quickly, and that all features are working as intended.
Mobile-Friendly Is a Must
If you want to win Google's heart – and reach the maximum number of real estate customers – then your website absolutely must be mobile-friendly. You want your website to look as great on smartphones, tablets, and other mobile devices as it does on bigger monitors. You can achieve this through responsive design which scales to screen size, or a mobile-first website that prioritizes mobile devices.
Aged to Perfection
While it is not the top factor, the age of your domain does play a role in how Google ranks your website. An older domain has more authority in Google's eyes and may get a ranking above similar but newer pages. Just one more good reason to establish your real estate website ASAP, and keep building it up over time.
Contact Delta Media Group to learn more about SEO, and all of our digital real estate marketing services.