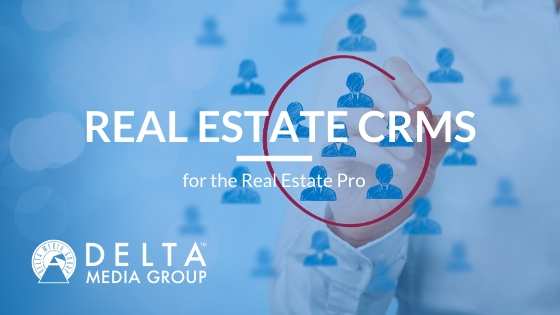 Real estate software has not always been the most impressive around. In fact, surveys continue to show that most sales associates use their own blend of off-the-shelf technology solutions.
We all know the usual suspects like Excel, Gmail, and Slack. Some are great productivity tools and others are simply familiar, but none have features especially for real estate.
The problem: Sales associates are dealing with a more complex competitive landscape. Many are promoting listings, managing their marketing, and nurturing 10-20 leads at once.
For a clear roadmap of the most productive ways to focus their limited time, more sales associates and real estate firms are implementing Customer Relationship Management software.
CRM Software is Essential to Competing in 2020 and Beyond
A good CRM gives a total view of the most crucial business activity:
Where your leads stand in their decision-making process
Where current clients are in their real estate transactions
The best times and methods to follow up with each one
CRM is highly informed by sales departments in complex industries. Many ideas from CRM suites are useful for real estate because they are built around long sales cycles and a high-touch approach to relationship management focused on following up.
Here's why you need CRM:
You'll Save Time on Pipeline Management
CRM enables you to save hundreds of hours a year you would otherwise spend tracking others' activities and trying to stay ahead of the curve. Many suites let you monitor leads and clients with a visual layout that makes it clear what tasks if any, you need to do next. That gives you more time to invest in building your practice through marketing and skill development.
You'll Attract More Motivated Leads
Customized lead capture forms are essential to ensuring visitors to your website or listings can get in touch with you. You can develop your forms from right within your CRM, which will automatically sort your leads and notify you whenever you get a new contact. Then, you can instantly send those same leads weekly lists of relevant listings or other content.
You'll Simplify Your Marketing Process
Many sales associates are scratching their heads over email marketing, social media, and more. With a CRM, you can centralize all these crucial marketing tools into a single interface that makes the learning curve much simpler. Using built-in analytics from a feature like Facebook Connector™ you can be sure you're getting tangible results.
You'll Make Open Houses Successful
An open house is still the most effective face to face marketing event for real estate. But: Without the right preparation and promotion, it could go nowhere. Open House Connector™ is a CRM feature that allows you to manage your open house from a mobile device, quickly set up self-service registration for guests, and capture the contact details you need.
You'll Stand Out as an Expert
A CRM not only gives you more time for those "stretch goals" that make you stand out in your area – it can even help you achieve them. Delta Media Group CRM allows you to instantly compile detailed Market Watch reports on your local area. You can also show the value of your insights with Seller Reports and keep buyers equipped with up to date HomeFinder Reports.
Delta Media Group's All-in-One Platform is Your Source to Strengthen Customer Relationships and Close More Business
Customer Relationship Management is used in many industries, Unfortunately, most CRMs import ideas and features from other fields that aren't relevant. They're made by large software companies that make a premium selling add-on "modules" for features you need.
Using feedback from thousands of sales associates, Delta Media Group has created the first true real estate CRM. It's called Pipeline Manager and helps you communicate with leads in a timely, compelling way from the moment they show interest. No matter how their needs change over time, you'll be ready to help them.

Our team has worked hard to take the best concepts from CRM and adapt them for end-to-end real estate success. We are constantly expanding our software based on client feedback.
To find out more or get started, contact our team today.