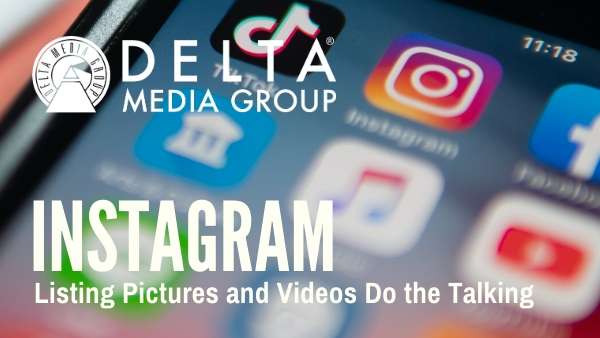 Are you searching for a new and exciting way to connect with potential buyers in your market? Instagram is a perfect resource for real estate agencies and brokerages. If a picture is worth a thousand words, then Instagram is a treasure chest. Imagine showing your target market every delightful property in your portfolio without seeming intrusive or overly "sales-y." Sharing great listing images on Instagram isn't difficult. In fact, developing this type of content and seamlessly integrating it into your current marketing strategy is easier than you'd believe.
Showcasing Listings on Instagram
If your agency or brokerage hasn't created an Instagram account, we recommend that you sign up and link this service with your other social media profiles like Facebook and Twitter. Signing up is effortless — all you need to do is create a username (which should be your business name if available) and upload a profile picture. Because the same company owns them, you can sign up using your company's Facebook profile to link them immediately.
Once you're signed up, take some time to navigate around Instagram and learn how to use this service flawlessly. Unlike some other social media apps, Instagram is straightforward. You can post either photographs or videos and write captions, tag other users, and add a location to each post. For example, you could upload a photo of a newly listed home, detail the home's notable features in the description, tag the city or neighborhood it's located in, and tag the account of the real estate agent or broker representing the listing.
How to Create High Performing Real Estate Listings on Instagram
Now that your account is active, it's time to create consistent, engaging content. While Instagram is essentially a digital photo album that you can share with millions of people, you need to manage it much more professionally than your personal collection of candid photos. When used strategically, Instagram can be a platform where you tell a story. Using images, videos, and brief descriptions, each of your listings can captivate the audience by emotionally engaging them.
Before you begin uploading pictures, you need to make sure that you're producing high-quality content that will impress other users. Consider how curb appeal, thorough cleaning, and strategic staging help sell a home. When it comes to photography, you want to be just as deliberate in what you photograph and how you photograph it.
When possible, hire professional photographers and videographers. If you can't enlist the help of a professional, consider taking an introductory photography course to learn about lighting, composure, and the other basic elements that create a visually appealing image. There are a variety of editing tools (on Instagram and through other third-party apps) that you can use to enhance the photographs. Here are a few other tips for creating great listing images to share on Instagram:
Use the Instagram collage feature to showcase multiple photos in a single post.

Show before and after photographs of a home that's being renovated before its official listing.

Remember that less is more at times, and you can focus a single element of a home (such as the front entryway or the backyard pool) as the subject of the photo.

Showcase other elements of the neighborhood, such as local parks or cafes to paint a picture of the entire area.

Include hashtags in the description to reach a larger audience.

Follow your prior clients' accounts and share their photos of updates they've made in their homes.

Post a virtual walkthrough of the home that includes commentary on notable features.

Remember that while Instagram is an image sharing service, you can also create text images (such as tips for buyers and sellers or announcements) to share with your followers.
Instagram is one of the easiest social media platforms to use for real estate marketing. Incorporate it into an online plan that also includes virtual open houses using DeltaNET 6 and Facebook Premiere video for a complete social media strategy. Contact us today to learn more.