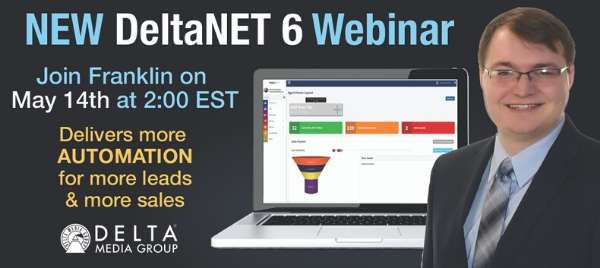 Join Franklin Stoffer (Senior Key Accounts Consultant / Sales Manager) on May 14th at 2:00 EST for a webinar where he will lift the hood of the new DeltaNET 6 platform. Delta Media Group is changing the future of the Real Estate industry with the launch of DeltaNET 6. The automation and seamless integrations empower agents to focus less on the tech and more on their business. 
Register Here to Attend "DeltaNET6 Redefines Real Estate Technology"
Topics Franklin will cover are:
• Who is Delta Media Group in 2020, what is Delta's vision
• Stunning customizable websites with focused lead capture tools
• Industry-leading SEO strategies to drive business
• DeltaNET 6 platform introduces patent-pending Quick Action tools that will streamline the way the CRM is used
• SSO, Email Campaigns, AI-driven Newsletters, e-card, and flyer creation, Open House Apps, AdWizard, Facebook Connector, Testimonials, Seller Reports, and more!
• DeltaNET 6 admin-level highlights to showcase how a brokerage can truly leverage the tools to run their company
• What's Next? Look into the future of DeltaNET 6
• Pricing/Promos/Rollout for existing clients
• Q&A