Attract Attention and Clients with Your Website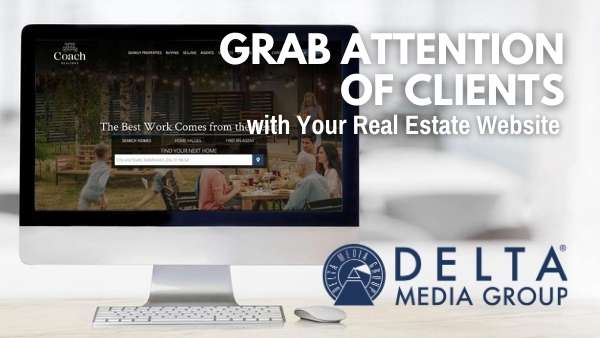 A high-quality real estate website isn't a luxury for your business––it's a necessity. Think of your site as the hub where all of your other digital marketing efforts converge, making it a powerhouse for lead generation and capture.
It's also the spot where many would-be buyers and sellers will form their first impression of your real estate brand, learn what services you have to offer, and take the next steps to engage with you directly.
Let's take a look at what to include in your real estate website to grab the attention of prospective clients:
Responsive Design So Your Website Shines on Every Device
Your next client might find your website from the comfort of their home computer, but there's an even better chance they'll be browsing on their smartphone or tablet when they see your brand online. Without a website that looks as great on small screens as it does on big ones, you're working from behind. Responsive design is a must for a seamless, powerful real estate website because it allows your website to look and function great on any device used to access it.

Robust, Easy to Use Search Tools for Listings
No matter what device they use to access your website, your next client is probably coming to look at listings of properties in your markets. And they're not just looking for any old home, so they want to see properties that suit their needs. Ensuring that your website makes it easy to search for listings with filtered results based on their needs is key to keeping their attention and earning their business.

Real Estate Content to Demonstrate Expertise
In addition to looking for listings, many potential clients will be visiting your website to see why they should choose your services over the competition. Your real estate expertise will be a significant factor in their decision, and the content on your website is a powerful tool for demonstrating that intelligence. Whether it's in the form of blog posts, video content, listing tours, or neighborhood guides, make sure your content shows the best of your brand.

Testimonials, Reviews, and Social Integration
Social proof is a key ingredient in attracting your next client, and your website should make it easy to find social proof about your business. Our websites allow you to integrate client testimonials and link your high-performance website to your social media presence.

Lead Capture and Easy Contact Options
To find your next client online, you need to capture leads. Your website is the perfect place to do that, through calls to action in content, contact forms, landing pages, and exclusive offers. You also want to make sure that potential clients can easily contact you, both through traditional means and online. The easier it is for clients to contact you through their preferred channels, the more likely you are to earn their business.

How to Get a Powerful Website for Your Real Estate Brand
To get a great website, you need the right real estate marketing team, and we'd love to help you build a website that shows off the best of your business. Check out our Partner Portfolio to see the powerful results that you can expect from our team, and find some inspiration for your real estate website.
Promote your brand with a power-packed website from Delta Media Group, and catch the attention of your next client online. Contact us to learn more, and take the next steps toward having the real estate website of your dreams.