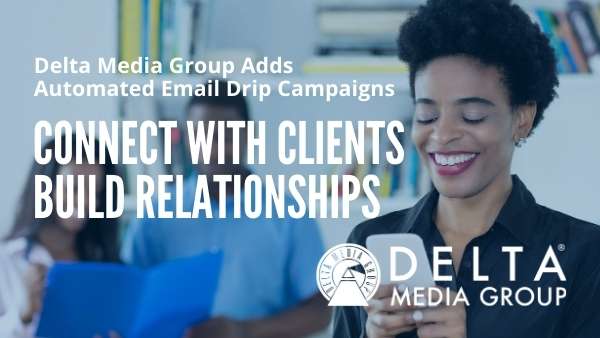 Keep Client Conversations Going with Email Drip Campaigns
Being successful in real estate means finding ways to keep the conversation going long after the first handshake is over. However, with all of the people you meet, it's nearly impossible to grow those relationships, run your current business, and still have time to sleep at night.
What's the Answer?
Delta Media Group comes to the rescue with the latest addition to its DeltaNET 6 toolbox with pre-built, automated email drip campaigns. We make it easy to stay in front of your clients with targeted email campaigns, offering them precisely the information they want to see.
Email drip campaigns add a dose of high-octane to your current marketing strategy. Stay in touch with clients by sending timely, relevant messages to your client base.
We Make Marketing Easy

DeltaNET6 takes the hassle out of email marketing. First, we create email campaigns filled with information that connects with your clients and continually remind them you're the real estate "pro to know."

Second, we set the delivery schedule for DeltaNET 6 to send the campaigns for you.
Wait! We're not leaving you out of all the fun. You can segment your heart's content by attaching specific customer lists to the campaigns you want to send. 
You can edit the campaign contents that suit your particular business. Brokerages can disable all campaigns at a global level or individual campaigns.
Here's What You Can Expect
At the start, you'll find a library of a dozen different email drip campaigns––ready to use.
But that's just the beginning!
Just like we add ecards/flyers and My Customer For Life e-newsletters to DeltaNET 6 every month, we'll stock up our library with new monthly email campaigns perfect for sending to buyers, sellers, and homeowners––at all stages of their real estate journey.
Our automated email drip campaigns save you hours every day to spend more time on your real estate business.
Contact us today to get started using Delta Media Group's automated email drip campaigns for your real estate business.