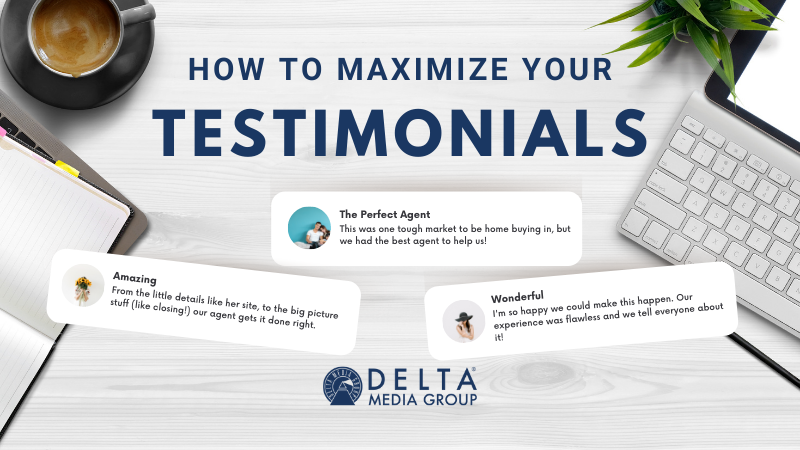 Social proof is one of the most important elements of your real estate marketing mix because testimonials and reviews play a key role in helping potential clients decide which real estate company to choose. When a prospect can easily find out what satisfied clients have to say about your business, they will have more confidence that they can trust your agents to help them achieve their own real estate goals. If you've been wondering how to make the most of the testimonials that your business earns, you've come to the right place. Let's take a closer look at maximizing your testimonials and using social proof to earn new business.
How to Maximize Your Testimonials
What Testimonials Are and Why They Matter
Maximizing the value of testimonials requires an understanding of why they are so important for potential clients who are researching real estate businesses. When someone is shopping for or planning to sell a house, there's a natural level of anxiety that comes with such a major decision. While other elements of your marketing are sure to pique their interest, there's nothing like the real words of a satisfied client to help soothe that anxiety. They're the modern version of word of mouth, providing a natural way to build trust and eradicate doubts for prospects.


The Best Testimonials Include Specifics
Getting the most from your testimonials starts with knowing what to ask for, and details are key. A very general testimonial that simply says your business is great to work with doesn't have the same value as a more specific testimonial that details exactly why and how you helped that client achieve their goals.

So when you ask for testimonials, don't be shy about requesting details. Ask specific questions about why they chose your business, how you helped them overcome challenges, what surprised them about the process, and what their favorite part was about working with your team. The client giving the testimonial likely had their own concerns about the real estate process initially, so showing how you helped them overcome their concerns and challenges is a compelling form of marketing for prospects who may share the same concerns.


Showcase Your Testimonials Front and Center
To earn a glowing testimonial from a client, your agents had to do a great job of helping that client with their real estate needs. That's certainly something worth celebrating! When you get a great testimonial, make sure that it's showcased prominently — ideally on the home page of your real estate website. You can also create a landing page dedicated entirely to testimonials to display all the best ones in a convenient location. Integration of testimonials is a dependable way to add value to your website and increase conversions.


Authenticity Matters
Social proof works best when it's authentic, and that's certainly true for testimonials. Prospects will encounter many heavily edited or even fabricated testimonials during their research and will tune out those that don't feel authentic. A testimonial that includes specific details and examples will feel much more authentic than a more general, impersonal example.


Add a Name and Face to Testimonials
If you want an easy way to increase authenticity, try adding a photo of the client to the testimonial (with the client's permission, of course). Being able to pair a face with the name at the end of the testimonial helps build trust. You can even take your social proof to the next level by requesting video testimonials. While recording testimonials does add some extra work, it's worth the effort. A video testimonial is an incredibly powerful form of social proof, and it's tough to top the authenticity of a client talking directly to the camera about your business.


Integrate Testimonials Throughout Your Real Estate Marketing
In order to maximize the value of your testimonials, you need to maximize the chances for prospects to see them. So while displaying them on your website is a great start, you will also want to sprinkle them in with the rest of your real estate marketing. Start by sharing them to your social feeds and encouraging other clients to engage in the comments with their own experiences. You can add testimonials to your profile on many of the most popular national real estate websites and integrate them with your email marketing. Don't be afraid to innovate and find new places to display your best testimonials.
Maximizing your testimonials is so much easier with the right real estate marketing team on your side, and we'd love to help you make the most of all your marketing tools. Contact us to learn more about DeltaNET 6 and how we can help you grow your business and take your real estate marketing to the next level.