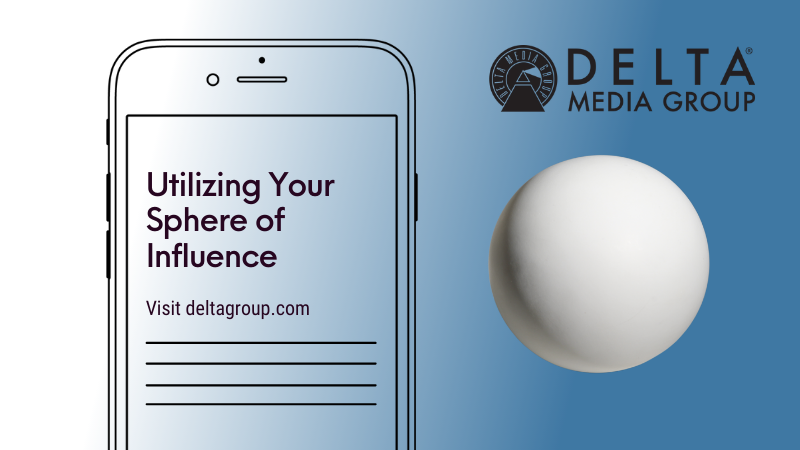 Your sphere of influence should be one of your greatest assets for generating leads as a real estate agent, but only if you make the effort to maintain and utilize it. Thanks to online marketing and social media, your sphere of influence can now expand much further than it would have in the past. That's in addition to your more traditional sphere of influence, which of course includes friends, family, and everyone that you connect with in your community. By utilizing your sphere of influence and taking advantage of the tools available to make your life easier, you can generate a steady, sustainable supply of fresh, highly qualified leads as a real estate agent.
How to Define Your Sphere of Influence
Your sphere of influence starts with the people you know best but should also expand far beyond that group. Think about all of the people who you interact within your community: small business owners, community organizations, volunteer groups, sports leagues, places of worship, service providers, former colleagues, other parents from your children's school, and any other group that you connect with on a regular basis.
Now, add in your online sphere of influence, which reaches beyond the communities where you work and live. There are people you connect with through your social media, real estate website, the content that you create, and the leads generated by your online marketing. When you add it all up, your sphere of influence likely extends much further than you'd guess at first glance.
Consistency Counts with Your Sphere of Influence
It's a mistake to think of your sphere of influence as a "set it and forget it" source of leads. Instead, think of it as something that you consistently have to maintain and nurture in order to generate the best results. The more effort that you put into building and maintaining relationships with the people in your sphere, the more business you can expect to generate. That means reaching out at the right times, being a trusted source of advice, connecting on a personal level, and being as consistent as possible with maintaining relationships.
Use Your Real Estate CRM to Segment Leads and Plan Your Outreach
Utilizing your sphere of influence is much easier when you have the right tools for the job, and your real estate CRM is at the top of that list. Use your CRM to organize your contacts, keep track of vital information about each connection, segment your leads, and ensure that you're reaching out to the right people at the right time. Take advantage of tools like drip email campaigns and AI-driven newsletters to stay in touch while lightening your workload, thanks to automation.
Stay Active and Engaged on Social Media
Naturally, your social media presence is one of your best tools for growing and nurturing your sphere of influence online. Social media marketing can help you build new connections, and engaging with your social connections is key to generating leads from your sphere of influence. When you share content, get involved with the conversation that it generates. Join social media groups where you can share your real estate expertise, and build connections with your community. Be mindful of how you interact with people, show genuine interest in their needs, answer questions, and be helpful.
Use Real Estate Content to Share Your Expertise
Your real estate content is a great way to grow your sphere of influence, provide valuable advice, demonstrate your expertise, build trust, and help convert leads that come from your sphere of influence. Whether you create real estate blog posts, video content, or a mix of both, make sure that you're sharing your content where your sphere of influence can see it.
Showcase Your Social Proof
Even people you already know may need a little extra push to trust you with their real estate needs, and integration of social proof is the perfect way to provide it. Make sure that you're asking clients for online reviews and testimonials after they've used your real estate services. Showcase those testimonials on your real estate website and your social media pages.
Do Some Good, Old Fashioned Networking in Your Community
Near the beginning, we mentioned some of the many groups within your local community that may be part of your sphere of influence. Getting out and networking in person is a dependable way to maintain your connection with those groups while bringing new people into your sphere of influence.
Your Sphere of Influence Is Always a Work in Progress
If there's one thing to remember, it's that utilizing your sphere of influence is a constant process. Investing consistent effort and utilizing the right tools to make your life easier will allow you to maximize the lead generation potential of your sphere of influence.