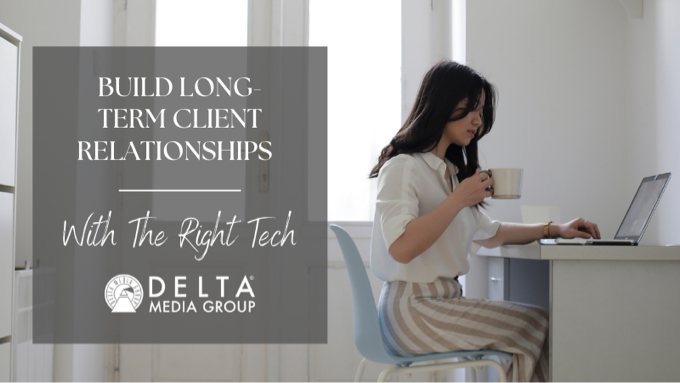 As a real estate agent, building long-term client relationships is essential to growth. There are two times when having a deep relationship is especially vital.
First comes the initial decision to choose a real estate agent. By sharing helpful, informative content on your real estate website, you can build credibility as a trusted expert. This is important because it might take weeks or even months before someone actually decides to dive into the market.
If you've built a foundation with a potential client, you are more likely to be chosen in the end.
The second time strong relationships come into play is after the initial transaction. No matter whether you work with buyers or sellers, you can expect that they will take 4-7 years on average before needing your services again. But, all the while, they can be providing you with referral business.
In the first year of any agent's career, it's normal to spend most time "chasing down leads." You need to learn the ropes, decide what works for you, and define your ideal customer. Beyond this point, however, it's crucial to start generating leads in a less effort-intensive way, and referral business is a big piece.
Some of the most successful real estate agents in the United States today get the majority of their work from qualified leads through their website, combined with referral business from satisfied customers.
That starts by focusing your attention on long-term customer relationships. And the process is much easier when you have the right technology in hand.
How Your CRM Can Boost Your Long-Term Client Relationships
To cultivate deep relationships, real estate agents need to make the best use of their time. That means cutting down on repetitive tasks and focusing on what moves you forward. Now, more than ever, that's achieved by implementing customer relationship management software for real estate.
Customer relationship management, or CRM, gives you complete visibility into all your relationships, so you never lose track of the people who matter to your business. You can easily see where your leads, prospects, current customers, and past customers stand in relation to their transactions.
An AI-driven CRM becomes a "center of excellence" that connects the dots between thousands of data points to keep you informed. It will clue you in on exactly when and how to follow up to maximize the positive impact you can make on those in your network.
Plus, it means spending less of your energy on time-intensive marketing tasks — those things you know you should do but that often slip down the priority list. Your CRM is a powerful machine learning multi-tool that helps you prioritize and execute in a fraction of the time.
Let's take a closer look at how technology can enhance your relationship-building efforts:
Faster, More Targeted Email Marketing
Email marketing is one of the most effective ways to spark a new relationship. Subscribers preview the value you have to offer, fostering rapport and trust. But writing weekly emails can add up to hundreds of hours of work. A CRM can help you deliver attractive template-based emails in just a few clicks.


Social Media Without the Time Sink
Real estate agents are the most successful of all professionals at turning their social media following into concrete business value. But even they run a risk of hours of scrolling their feed with nothing to show for it. Event-driven social media updates from a CRM save time and zero in on what matters to followers.


Complete Integration with Listings
Listings are the gateway to action for your buyers. But without data, you can't tell which listing features are driving interest. With your CRM, you can showcase your new listings directly on your website and capture detailed engagement information, helping you improve with every new listing you publish.


The Power of Video Made Easy
Video marketing is the next best thing to being there, but real estate agents have traditionally faced a steep learning curve. Properties in Motion is just one DeltaNET®6 feature that can help you use compelling visual content to captivate buyers and get them to linger over your listings.


Digital Advertising Without the Mystery
Online advertising is often worthwhile for real estate agents. It's the key to getting immediate attention on any new listing and racking up plenty of open house registrations. But ads can be complicated, and a simple oversight may make them unprofitable. Ad Wizard offers at-a-glance ad campaigns.


The Right Technology Enhances the Human Touch


Honesty, clear communication, and a genuine interest in your customers are indispensable to real estate success. Customer Relationship Management doesn't replace these elements: It helps showcase them in all you do while saving more time and energy along the way.
Contact us to find out more about digital marketing for real estate agents.