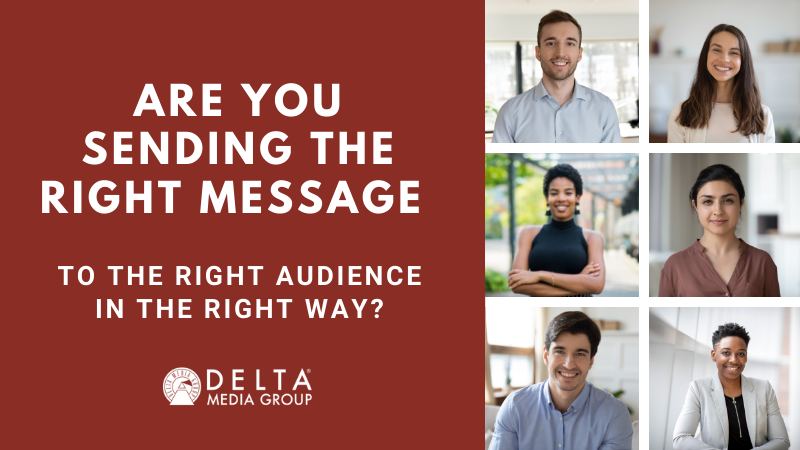 One of the best ways to create a successful marketing campaign is to segment your audience. Many agents will create "buckets" by dividing their client and prospect contacts, then focusing most of their efforts on the most likely to buy or sell soon.
That's not a bad strategy, but this approach often only yields short-term benefits. The system creates a marketing cycle of "prospect, prospect, prospect – secure leads – then process, process, process" these transactions. The challenge for agents is this becomes a roller-coaster approach to business growth. You feast after closings and famine when hunting for more business.
By leveraging the potential of the DeltaNET® 6 CRM, you can end the roller-coaster nature of your business. Delta's tech toolset allows you to create ongoing, set-and-forget marketing campaigns that build both immediate and longer-term business.
Targeting both ready-to-transact prospects and nurturing longer-term potential clients is particularly valuable when statistics now tell the average homeowner tenure is just over 13 years. As a result, real estate agents often face one of the most prolonged business cycles in terms of repeat business.
But real estate veterans will tell you that a lot, if not the majority of their business, comes from referrals. And although people live in their homes for a long time, these same people buy vacation homes and investment properties.
Generational Marketing
Another way to design your marketing campaigns to fulfill short-term and long-term business needs is to segment your contacts by generation. How many would fit in each bucket when you look at your total sphere of influence?
· Generation Z (ages 12-23)
· Millennials (ages 24-42)
· Generation X (ages 43-57)
· Baby Boomers (56-76)
(Ages shown are based on National Association of Realtors research)
And more and more, demographers are breaking these generations down even further by bifurcating two of the largest groups – Boomers and Millennials. The National Association of Realtors makes its distinction this way:
· Generation Z (ages 11-23)
· Younger Millennials (ages 24-32)
· Older Millennials (ages 33-42)
· Generation X (ages 43-57)
· Younger Boomers (ages 58-67)
· Older Boomers (ages 68-76)
· Silent Generation (ages 77+)
What if you also knew the buying and selling habits, overall, for each of these generation segments? Fortunately, the National Association of Realtors recently released its "NAR 2022 Generational Trends" report.
This 140-plus page survey document is a treasure trove of statistics to help you better reach each of your audiences.
A great example is the share of buyers and sellers in today's marketplace by generation.
Share of Sellers by Generation
· Generation Z: 2%
· Younger Millennials: 6%
· Older Millennials: 20%
· Generation X: 24%
· Younger Boomers: 23%
· Older Boomers: 19%
· Silent Generation: 6%
Share of Buyers by Generation
· Generation Z: 2%
· Younger Millennials: 18%
· Older Millennials: 25%
· Generation X: 22%
· Younger Boomers: 17%
· Older Boomers: 12%
· Silent Generation: 4%
NAR explains that they broke apart both the Boomers and Millennials by age into two groups because these segments have "differing demographic and buying behaviors."
For example, researchers found that Younger Boomers were more likely to purchase in a rural area, while Older Boomers (likely due to retirement) moved the furthest distance. In addition, Older Millennials had one of the highest shares of married couples among these generations (64%), while Younger Millennials had the highest share of unmarried couples (21%) buying homes.
Generational Impact on Real Estate
It's valuable to understand the massive influences that each generation has today – and will have tomorrow. For example, Millennials comprise the largest – and growing – share of home buyers at 43%. Eighty-one percent of Younger Millennials are first-time buyers, more than any other age group.
Boomers are motivated to move closer to friends and family, move due to retirement or a desire to have a smaller home. They also are more likely to purchase homes in a small town. Gen Xers have the income – the highest earning power at a median annual income of $125,000. Gen Xers also buy the most expensive homes: $320,000 with a median average size of 2,300 square feet. They are more likely to purchase a multi-generational home or move because of a job relocation. They are the most racially and ethnically diverse population of homebuyers.
And while Gen Z currently has little impact on buying and selling homes as they capture just 2% of the market, play the long game with this crowd, and you could win. Gen Z is a group that is interested in becoming homeowners.
How do You Reach Each Generation?
Different generations rely on different communication methods and social channels. For example, Boomers primarily use email and are active on Facebook. Millennials and Gen X are text-centric and engage with businesses on Facebook and Instagram. Gen Z loves the video-oriented platforms YouTube and Tik-Tok.
More importantly, understanding what's important to each generation and where they are in their buying and selling cycle can help you connect in the right way. Knowing your audiences and their communication habits is the first step to successful marketing.
The new NAR 2022 Generational Trends Report allows you to see each generation's buying and selling habits. Knowing these differences unveils the myriad of business opportunities each group can offer you.
Next, you'll need to provide the right content that engages each generation. That's different too. Just as you need to understand the communication preferences of each generation, you also need to understand the content consumption habits.
Once you better understand generation habits, you can use this knowledge to create more effective communication strategies and content.
The Power of Social Media
Market research from Sprout Social tells us that more than three-in-four consumers (76%) have used social media within the last year, and 63% have bought from it.
Millennials are avid social media consumers. Their social media usage is up: 72% report their social media activity has risen in the last year. Millennials are more likely to use Facebook (70%) and Instagram (64%) to connect with businesses. They also are the generation most likely to buy something after seeing an ad, watching a video review or reading a review on social media.
Gen Xers are not digital natives, yet they are the second biggest consumers of social media among generational groups. Their appetite continues as their consumption rises: 76% said they used social media more in the past year. Gen X's first choice of social platform is Facebook, followed by WhatsApp and Instagram. They also value responsive customer service.
Baby Boomers may have come late to the social media party, but they use Facebook the most today: 92% of Boomers have an account. Their social use is also growing, with two-thirds of them reporting an increase in social media use in the past year.
According to the Social Sprout study:
· Baby Boomers' primary motivations for liking or following companies on social are to learn about new products/services (69%) and stay up to date on company news (51%).
· Most Baby Boomers (87%) are likely to buy from a brand when someone they trust recommends a product/service.
· More than two in 10 Baby Boomers reach out to businesses on social when they have feedback, second only to email.
You can see why the popularity of Delta Media's Ad Wizard is at an all-time high. It's tough for agents to engage on one social channel, much less manage ads and budgets on a social channel.
That time-consuming process is automated by Ad Wizard, built to help agents maximize their exposure on Facebook and Instagram.
The Impact of Email
If you have deep knowledge about your targeted audiences and know their communication and social media behavior, you now know your audiences and have the right way to engage with them figured out.
But you still need to deliver to each audience the right messages. If you are like most real estate agents and brokers, creating content is challenging and takes time. The good news is that Delta Media can do the heavy lifting for you.
One of the most powerful and easiest to use tools within the all-in-one DeltaNET® 6 CRM platform is its AI-drive email marketing and newsletter campaigns. When you are looking to deliver the right content at the right time to the right audience, this is your go-to solution.
According to researchers, email is still the most preferred communication channel overall for communication from a business. That's true of Millennials, Gen X, Boomers and even Gen Z.
The best part of the Delta Media drip email campaigns is that they are ready to go, so you don't have to create content. But, most importantly, the interaction that prospects have when they read your emails and newsletters helps determine the future content they will receive. The magic of using artificial intelligence for marketing is that it gets smarter by learning what the reader wants, sending them more of the content they prefer.
This is how Delta helps you achieve marketing that has more impact and success: by helping you send the right message to the right audience, the right way, and at the right time.