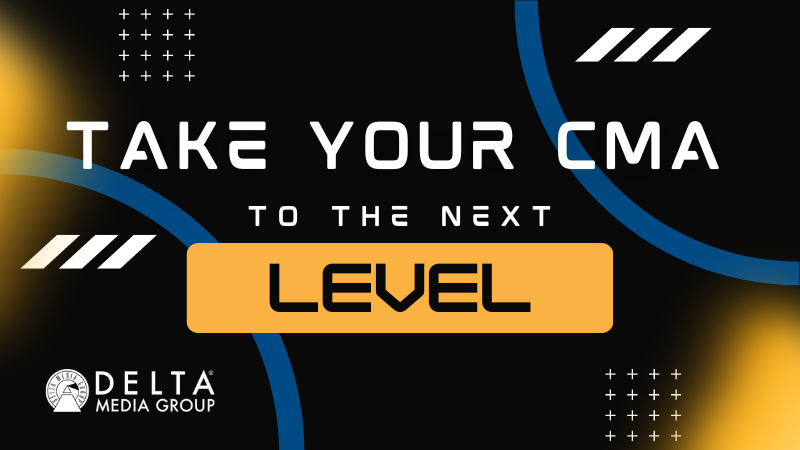 As a real estate agent, one of the most important services you provide to any client is pricing the home to sell. A home is priced "to sell" when it meets both the seller's needs and those of the actual buyers who may put in a bid. Without that, a home could easily languish on the market.
You know that when a home lingers on the market, it's not a good sign. Traditionally, real estate agents have tried to close on a home within 30 days. With every passing day beyond that mark, more potential buyers are likely to wonder if something is wrong with the property.
Conventionally, a property that takes 90 days to sell ends up getting relisted.
Over the last two years, some homes have sold in as little as 24 hours. But the market is changing, and it is more crucial than ever to be attentive to the right price. The Comparative Market Analysis — or CMA — is the key to ensuring sellers don't accidentally price themselves out of the market.
With a CMA, you estimate a home's value based on recently sold similar homes in the area.
Some of the key dimensions of comparison include:
Zipcode

Square footage

Bedrooms and bathrooms

Amenities
No two homes are "identical," but the closer you can get, the better. With the right software tools, you can even cut down the time it takes to generate market-level insights in your area. That can be decisive when you need to act quickly to win a customer's confidence.
A traditional CMA is a hallmark of a well-informed real estate agent. The problem: It takes time and effort, and it could be out of date by the time the seller is ready to act. Plus, sellers may or may not understand all the information in the CMA. How can you make it really work for you?
Delta Media Group has the solution.
Delta Pitch Brings the Comparative Market Analysis to the Next Level
Through our experience working with thousands of users of the DeltaNET®6 all-in-one real estate solution, we've learned about the drawbacks of the CMA — and developed ways for you and your customers to get even more value from it at the click of a button. The results are here in Delta Pitch.
Delta Pitch integrates completely within our AI-driven real estate CRM, creating a center of excellence you can use to generate precise, accurate, beautifully designed CMAs for any property in the United States. Delta Pitch means real business impact from every CMA you create.
With Delta Pitch, you can:
Finish Your CMA in Just Seconds (When It Really Counts)
When a seller is ready to price a home, they don't have time to wait. Even a few days of delay may shake their confidence. Even more significantly, it could leave you with inaccurate data. With Delta Pitch, you have results within seconds. There's no complicated setup, research, or math involved.


Design Your Branded, High-Impact CMA with Easy Templates
Since Delta Pitch is so fast, so you can focus your attention on getting more value from each CMA. Want a beautiful, data-rich CMA customers and leads will remember? It's easy. You can customize the colors, structure, and how the information is presented, then save your favorites as templates.


Make a Lasting Impression with Interactive FlipBooks
An annotated FlipBook is more than just a report — it's a rich multimedia experience. Your contacts are more likely to review it in full, remember what it says, and actually act on it. And you don't need any expensive software or multimedia design training to make the most of it.


Share With Your Clients and Contacts in a Single Tap
Even people who are only "thinking" about selling are fascinated by accurate, actionable data about their neighborhood. Now, you can whet their appetite with a single tap. There's no limit to how many CMAs you can develop, how you can tweak each report, or how often you can share them.


Launch Video Calls Directly from Delta Pitch


Video is the next best thing to being there. Now, you can launch video calls from Zoom or your favorite alternative directly from Delta Pitch. That makes it a snap to go over information you just sent to your contact in a Comparative Market Analysis or interactive FlipBook.
Delta Pitch isn't just a tool for making the best CMAs in the industry — it's a complete proposal generator that strengthens your brand's reputation for excellence. And just like the rest of our growing technology suite for real estate agents, it only takes a few minutes to learn to use it. In a single year, you could save hundreds of hours on CMA research.
Contact us at Delta Media Group to learn more about real estate marketing automation.