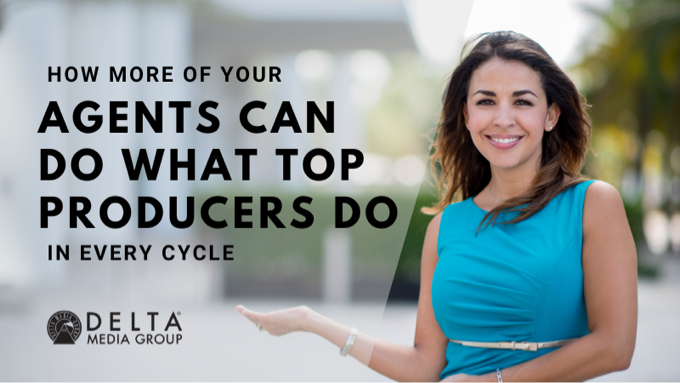 What is it about established, top-producing real estate agents that no matter what's happening in the real estate market – higher interest rates, lower inventory – they still thrive?
It comes down to how top producers approach their business. They often do things other real estate agents don't do when the market shifts. They also avoid doing things many agents are prone to do, especially when a great market tightens.
As a broker/owner, can you imagine what impact it could have on your business if you could harness the good habits of your top producers for more of your agents?
Let's look at four secrets to success that many top producers share:
1. Top producers have well-honed systems and processes. They execute a steady stream of actions and activities daily, weekly, monthly, and annually. Top producers embrace the adage, "If you fail to plan, you plan to fail."
Planning out each day, creating and executing activities needed to achieve your goals each week, revisiting those goals monthly, and reviewing them annually to prepare for the next year are crucial to success. But most importantly, one of the most common traits among top producing agents is that they have a system. For most, it has taken them years, if not decades, to create, implement, and perfect.
But other agents have something available today that most top producers did not have when they started: a system instantly available to use. So, agents don't need to create a new system because we have already built it for them.
Today's all-in-one DeltaNET® platform can deliver the system agents need to become top producers. Most automated features take just minutes to "set and forget." The content and processes are available inside the DeltaNET platform. Once in place, these marketing campaigns automatically keep agents in front of their sphere.
Most importantly, agents don't need to maintain, improve, or add to their DeltaNET system; we do that for them.
Agents can adopt a platform that took tens of thousands of development hours and more than $40 million to create as their system.
A great example of how agents can use DeltaNET as their system comes from Key Realty in Toledo, OH. Donika was recruited from a small brokerage with a half-dozen agents early last year. During the first six months, she sold three listings.
In June 2021, Donika adopted the DeltaNET platform – white-labeled KeyWorld – embracing it entirely as her system. She first loaded 150 contacts into her CRM and started using the marketing tools built into the platform.
In the second half of 2021, Donika posted 37 more transactions. Remarkably, 30 of those deals, or 80% of her new business, came from DeltaNET marketing tools.
Donika is a "true believer" in DeltaNET – her top-producing system – and is now training others at Key Realty, sharing how she transformed her business with its marketing tools and ready-to-send content.
2. Top producers remain consistent. When the market turns, watch top producers' behavior and then look at what other agents are doing. When market conditions make it more challenging to generate new business, top producers never hunker down – they double down.
One of the first things that happens when a market tightens, other agents will start to cut costs. They are paralyzed and stop doing many of the things they did before. These agents mirror a self-fulfilling prophecy: the market is tough, so my business will drop. And guess what? It does!
Top producers put on blinders and ear plugs. They ignore herd instinct. By disregarding the noise around them, they continue to do what they have been doing. Top producers do those same things throughout every market change and type. And sometimes, they do even more. They understand that when everyone else is panicking, the ones who remain calm and steady are the ones who are going to thrive.
Consistency is easy to maintain when an agent fully uses the DeltaNET platform. Take our My Customer for Life (MCFL) campaign. All an agent needs to do to generate new business from this automated program is set it up once and continue to "feed the bear" by adding new contacts as they build their spheres.
Think about it. Using DeltaNET's MCFL campaign, a new agent can get an average open rate of over 60 percent! Most marketing emails are lucky to bring about a third of that. And that's just one program.
In DeltaNET, a single click can create new Delta Pitch CMAs. Agents can automate social media campaigns with Social Connector and benefit from powerful websites that are lead generation machines. At the core of DeltaNET is the most powerful and easiest-to-use CRM integrated into everything.
Leveraging all the features and benefits of DeltaNET makes it painless for agents to remain consistent throughout every real estate cycle.
Here may be the best part: with the work that Delta Media Group® tech developers are close to completing, every agent will benefit from more automation, more artificial intelligence, and more machine learning. That means more time spent face-to-face with clients and less time sitting in front of a screen.
3. Top producers measure and adjust. Gone are the days of using newspaper ads to promote listings as a "go-to" marketing tool. Top producing agents also know that recipe postcards are not the best way to stay in front of their clients. And leaving self-promotional flyers or business cards on a neighbor's doorknob or front porch is unlikely to win any business.
Yesterday's marketing tactics have one thing in common: they are nearly impossible to measure their effectiveness.
That's no longer true with digital marketing, which is the backbone of most top producers' marketing programs today. The best thing about digital marketing for real estate isn't that it works. It's that you can measure it.
And sometimes, like all types of advertising and promotion, digital marketing doesn't work. But unlike your old newspaper ads that didn't work either, you can track and see when digital marketing isn't working.
While top producers may have the luxury of having more marketing dollars to spend, they want to spend those dollars wisely. Of course, no one wants to throw good money after bad, but if you're not measuring – or can't measure – your marketing effectiveness, you may very well be.
DeltaNET automatically monitors and tracks agent digital marketing activity. That's the benefit of having an all-in-one, fully integrated platform: to see how things are going in real-time.
If you can measure your marketing, then you can adjust it, and that's what top producers often do. When something isn't working, they can replace it or tweak it until it does.
Most importantly, because DeltaNET shows you what works well, you can do more of that and less of what's not working. If you don't track and adjust your marketing efforts like a top producer, you may be throwing good money after bad – and not even know it!
4. Top producers respond quickly. Technology can be a mixed blessing when it comes to customer service. Many brokers and agents attempt to leverage technology to generate new leads. But the challenge remains industry-wide that too many leads go untouched.
Studies continue to find a disconnect between agents and lead responsiveness. Potential customers expect a rapid response. Yet several studies show that over 40% of internet-generated leads of potential customers never got a response.
When we live in an age where a customer expects a response in five minutes or less and most agents respond hours – or days – later, a great customer experience is lost. Top producers understand the short-term value and the long-term importance of a quick response. They see every inquiry as a potential opportunity to create future business. By treating everyone well today, they start the relationship off right and may have the chance to work with them tomorrow.
Every inquiry becomes a potential customer when you have a system that helps you generate and manage leads – like the DeltaNET platform. Every prospect can be added to your CRM database, allowing you to stay in touch with even the coldest leads. Top producers will tell you that if you incubate those cold leads, they will warm up and one day be a hot prospect.
One thing is certain: if you don't respond quickly, you will likely lose potential business, which is something top producers understand.
Turn more of your agents into top producers
Every agent has a go-to marketing tool or tactic that they rely on to maintain current connections and generate new ones. But when they embrace more tools and implement new tactics, they develop a lot more business.
The DeltaNET platform can help more of your agents become top producers. When agents do more within DeltaNET, they get more in return. Innovations in automation speed up their ability to work smarter, not harder. All agents have to do is just set something up once, and their DeltaNET system does the rest.