Growing Your Brand Isn't Optional
Customer Reviews are vital in any industry where a product or service is made available to consumers. Entire companies have been founded on the concept of customer reviews such as yelp and Angies list. And other businesses such as Amazon have deeply integrated customer reviews into their business ecosystem.
The growth and world-wide adoption of the internet in the past twenty years has ushered in an era where technology has been used to mimic face-to-face human behavior. Prior to the internet, if I wanted to know how good a product or service was I would ask people around me what they thought of the product or service.
Today, I no longer have to ask my friends. If my friends are on yelp, Amazon or Facebook I get notifications or I see what they think of a product or a service immediately. In some cases I even see pictures or video that visually illustrate that great meal or great product including what their exact thoughts are.
At the end of 2010 Zillow launched agent ratings, roughly fifteen years after Angie's list and about five years after yelp launched their companies. Since the end of 2010 the concept of REALTORS® being rated has been widely accepted by the industry.
However, it's my opinion that the real estate industry is not paying enough attention to reviews.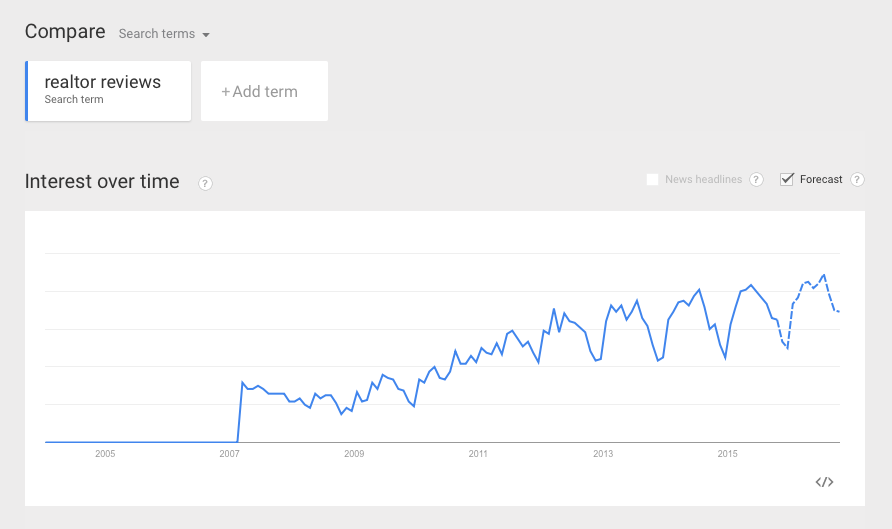 Take a look at the search behavior interest over time from Google for the phrase "realtor reviews" on the screen shot above. Since 2009 there has been a steadily growing trend of search volume for this search phrase. Be sure and notice how, in 2012, the shape of the line graph began to change. The more pronounced peaks and valleys should look very similar to anyone that is familiar with real estate web site traffic. The valleys occur during the holidays starting around Halloween and continuing until the new year. But one thing that does not need pointed out is the peaks in the line graph are going higher and higher over time indicating more interest and more people searching the phrase "realtor reviews."
Something else that you may notice on the line graph is that the growing trend is expected to continue as can be seen through the dotted line on the right hand side of the graph. Google is projecting that search interest for the phrase "realtor reviews" will continue to grow in 2016.
So, what does this tell us?
If you are a REALTOR®, or Sales Associate, you need to pay close attention to your reviews. You need to ask your clients to review your services and share those reviews. Ask them to be honest about your service. The fact that one of your customers rated your service a four out of five stars doesn't reflect negatively on you. It is an honest reflection of the service you gave them. People realize that it is not realistic to expect thirty perfect, five-star reviews on the service you provide.
Something to keep in mind as a Sales Associate is that you need to have your reviews on Zillow and on your personal web site. Why? Because you want your web site to appear in search results on Google when a potential client Googles your name. Look at what comes up when I Google a local REALTOR® in North Canton, Ohio on the screen shot below. As we would expect, when I Google the phrase "dominic fonte realtor reviews" we get results featuring Dominic. What I like to point out about the results is that the first three results are linking to Dominic's personal web site and one of these results features his overall star rating of five with forty-nine reviews. Number four on the list is Zillow, further down the list we find Dominic's Facebook page and under that we find more reviews for Dominic on Cutler Real Estate's site. This is exactly what you want when someone searches for you if you are a Sales Associate.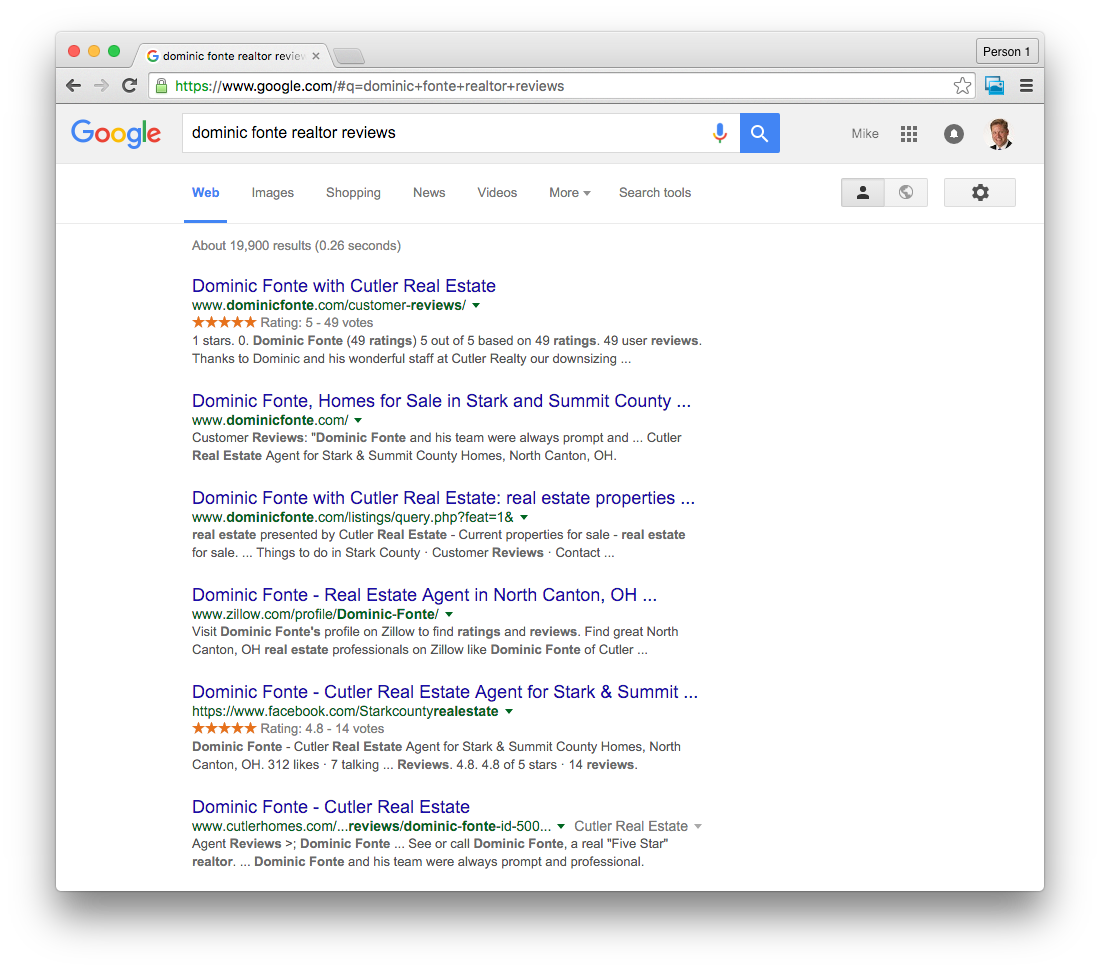 If you are a company owner, Director of Marketing, Director of IT, or responsible for a real estate firm's web presence you also need to pay attention to your reviews and the reviews of your Sales Associates.
For all the same reasons outlined for the Sales Associate above you need to offer client reviews on your company web site. You also have the opportunity to have the "power" of having reviews for all the Sales Associates within your company. I purposely used the word "power" because these reviews become a collection of content that can be leveraged on your site for getting more traffic to your web site and higher conversion rates for quality leads.
So to close out my thoughts I want to ask you a direct question: Do you have reviews on your web site?