The trend of increasing mobile web site traffic continued in September 2016. Last month showed that mobile real estate web site traffic to be at 52% of overall real estate web site traffic for real estate companies.
So, what does this mean for your real estate business?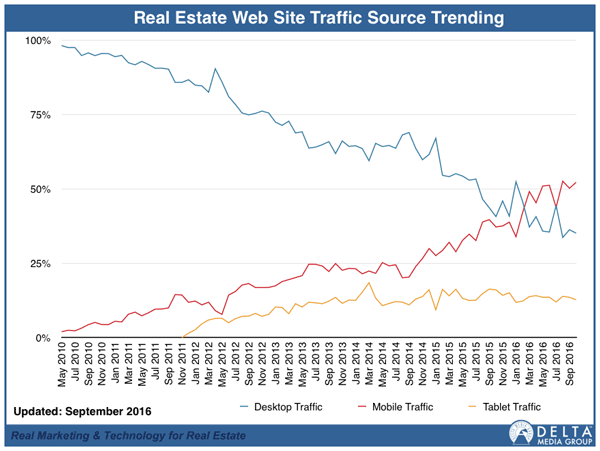 With mobile now taking a solid lead in real estate web site traffic now, more than ever, is the time for real estate companies and agents to focus on the mobile consumer. But, what does it really mean to focus on the mobile consumer?
Here are four mobile real estate web site tips:


Tip 1: Look at your web site experience on mobile
Too often business owners, including myself, do work on our work computer. Our work computer is usually our laptop or desktop computer at the office. This means that when we look at our web sites to make changes, work on them, or to review changes and plan our marketing we usually do it on the wrong device. As a business owner you need to review your web sites on mobile devices to experience what your web site users experience. If you work with a web site company or a marketing company you should first review mobile mock-ups of your site content.
Tip 2: Look at web site lead reporting for mobile vs desktop vs tablet
I assume you are using Google Analytics...right? If not, get it setup and start using it! Since I know that you are using it, or at least seeing reports from it, be sure to view reports that show your mobile web site visitors in comparison to all visitors. I tend to look at Google Analytics reporting for Mobile Visits vs All Visits. This way you can gauge how well your mobile web site is doing, especially with the leads that are generated by your web site. If you aren't paying attention to mobile web site visitor reporting I would bet that you aren't generating as many leads on your mobile web site as you should be!
Tip 3: Pay attention to the size of your text
One mistake that I see on a regular basis is that text size, known as font size to tech geeks, is too small. The text on your web site should be easy to read on mobile devices. If you have to zoom in to view your text it is probably too small.
Tip 4: Give your mobile web site visitors the same experience
Can you access the same content on your mobile web site as you can your desktop web site? What your property search? Can you search all the criteria on mobile as you can desktop? Are open houses, property tours, and all property data available on your mobile web site? If you answer no to any of these you need to correct it!
As always, the team at Delta Media Group would love to help you with your real estate web site...feel free to reach out to us!
Save
Save
Save
Save
Save