Sean Garaux, Delta Media Group's Data Manager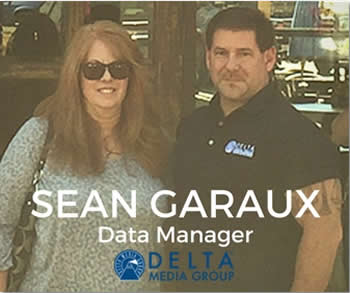 Sean Garaux has been a part of the Delta Media Group team for over 16 years. As Delta Media Group's Data Manager, Sean downloads and processes all data and photos from multiple listing services and translates it into a readable format that consumers use to find their next home.
When we asked Sean, "What is your favorite thing about working at Delta Media Group," he commented, "We are always evolving.  We do not settle for being good at our jobs. We want to be the best at our jobs and everything that we do."
Here are Sean's answers to some of the other questions we asked:
Before working at Delta Media Group, what was your most unusual job?
My most unusual job was painting oil tanks when I was in high school.
What do you like to do outside of work?
Outside of work I focus on my family. I am married and have four children and three grandchildren. I enjoy riding my motorcycle, going to events, working out and home remodeling.
If you could witness any historical event, what would you want to see?
I can't say that there is any historical event that I would want to see. However, I think if there were I time I would have liked would have been in the early-1950s when a person's word was as good as a contract and our country was all working together to make a better place and future for ourselves and our children.


Tell us something that might surprise us about you.  
I am a closet board game enthusiast. I have always loved to play cribbage and chess.