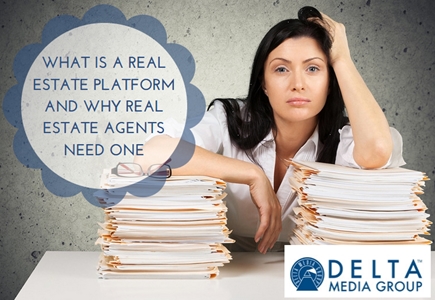 As a real estate agent, your time is easily one of your most valuable assets. The best agents are always looking for opportunities to make the most of the limited hours available each day. A real estate platform fits naturally with the related goals of using your time on the job as efficiently as possible, and freeing up more time for the money-driving tasks that have the biggest impact on your bottom line. But what is a real estate platform, how does it work, and why do you need it? Our experienced marketing team is here to help, with answers to all of your burning questions about real estate platforms.
What Is a Real Estate Platform?
One of the best ways to understand real estate platforms is to compare them with popular social media sites like Facebook, Twitter, and Google+. Social sites are designed to integrate a wide range of applications and functions—even when those apps weren't initially part of that social platform. So when you log into Facebook, you're also getting access to Instagram, Foursquare, WhatsApp, and much more, all integrated with the standard Facebook app and website.
A real estate platform works in much the same way, integrating a suite of useful real estate tools in one convenient, centralized package, in order to make your life easier. Platforms are often built around customer relationship management (CRM) software, with integrated tools for lead management, prospecting, analytics, email marketing, power dialing, and more. The goal is to get as many of the real estate tools as you need in one place, working together to provide added functionality that wouldn't be possible with standalone apps.
Why Do Agents Need a Real Estate Platform?
Are you the type of agent who always has enough time to get the job done at a leisurely pace, with sight-seeing breaks in between? Of course not! There are never enough hours in the day to accomplish everything you'd like, and the number one benefit of a real estate platform is that it can save significant time every day. Better yet, a real estate platform streamlines some of the most time-consuming tasks like recording prospect data, creating email marketing campaigns, and managing transactions, so you're free to focus on the activities that have the most impact on your bottom line.
Saving time and automating tedious tasks is a great start, but a real estate platform also makes life easier in other important ways. One of the biggest benefits is that you get to use all of the tools that you're already working with independently, but in a package that makes it easier to find the tool you need, when you need it. You don't need to coordinate passwords and remember usernames for 15 different services, because so many of your core services are tied together in one convenient package. You simply reach into the toolbox, grab the right tool for the job, and get to work.
An effective platform will also continue to grow in its own right, adding new real estate services and tools as they emerge on the market. So you get to enjoy the benefits today, along with the comfort of knowing that you'll have the tools to adapt to the future.
Are you ready to take your real estate marketing to the next level, but still looking for the right place to start? Contact Delta Media Group to learn more about real estate platforms, real estate marketing, and everything else we do to help your real estate brand shine.