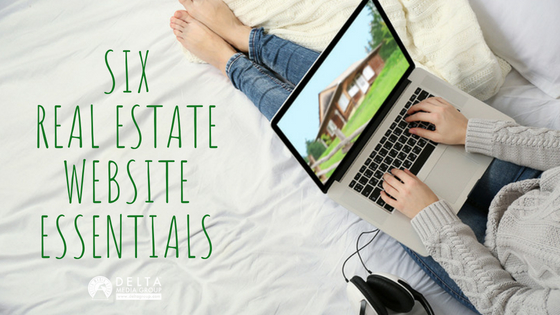 Your real estate website is the center of your online marketing and the place where prospects go to learn more about your business. It's one of your most important properties and deserves just as much care as a home that you are listing. Start by learning the essential elements of a successful website, and making sure that your site has everything that visitors need. Our team is here to help, with a guide to 6 essential elements for real estate websites.
Six Ways to Build a Better Website
Responsive Design
Real estate shoppers don't want to wait until they're sitting in front of a computer to check your latest listings and content, so it's critical to make sure that your website works well on the mobile devices that so many members of your audience will use to access it. Responsive website design allows your real estate website to scale to the size of any screen so that visitors get a positive user experience no matter what device they're using to view your site.


Easy to Find Listings
If you want more traffic for your real estate website, make it as easy as possible for visitors to scan your listings. IDX allows you to share up-to-the-minute listings to your real estate website and allows website visitors to search listings based on precisely what they want from their next home. It's necessary for a successful real estate website.


Search Engine Optimization (SEO)
Your clients and prospects, like most internet users, rely on search engines to find the services, businesses, and content that they need. SEO is all about helping your audience find you, through the content that you create and the technical details that make it easier for search engines to rank your website. The more prominently your site places in search engine rankings, the more likely clients will choose your website.


Build a Blog
Creating a real estate blog and producing a steady supply of content is crucial for SEO success, and for keeping the attention of your audience. Your blog is an opportunity to touch on local topics of interest, provide real estate advice, and establish your position as a helpful expert. Blog posts are also great fodder for your social media pages and can help you spur conversation about what your real estate business has to offer.


Social Proof
Modern shoppers research agents extensively before choosing a match, and they want to see what current/past clients have to say about your business. Including social proof, in the form of testimonials, reviews, and social media, provides prospects with the chance to learn more from people who have seen first-hand what your real estate business has to offer.


Convenient Contact
Provide detailed directions to your offices, how to contact your company by phone, and how to find email addresses for key employees. Be sure to link to your social pages, too, for people who prefer the convenience of online communication.
Whether you're creating your first real estate website or you want to make sure that your existing site includes all of the essentials, our team is here to help. Contact us to learn more about website design, and all of our real estate marketing services.