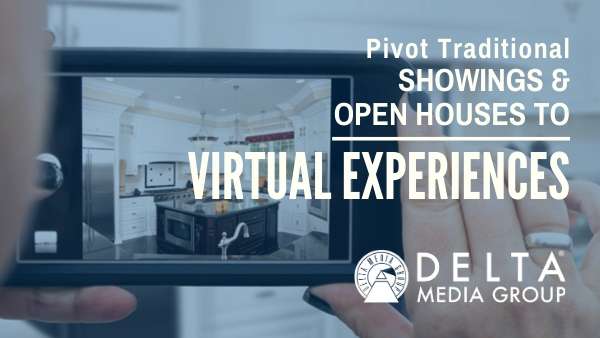 We live in a different world, but that has not stopped buyers and sellers from wanting to engage with the real estate market. The economic realities of the COVID-19 crisis are giving some sellers reason to close the deal, and many buyers see "shelter in place" orders as motivation to find a home that they truly love. While coronavirus precautions have made it impossible to conduct business in the traditional way in many markets, innovative sales associates are pivoting to virtual showings and open houses to keep business moving.
Choose the Right Apps for Virtual Experiences
When hosting a virtual showing, it's helpful to choose an app that your client is already comfortable with, to make the process as simple and dependable as possible. Whether through social channels, FaceTime, or meeting apps like Zoom, you should be able to find a good match. When you're trying to generate a maximum audience for a virtual open house, using a video app from a social channel where you already have a following – like Facebook Live, Facebook Premieres, YouTube Live or YouTube Premieres – can make it easier to generate interest.

Don't Forget That Practice Breeds Confidence
We are all navigating uncharted waters these days, so don't be discouraged if this is your first time using virtual experiences to market homes. Your clients will likely be happy that you're doing everything you can to market their home in a safe way, and nobody expects virtual tech to work flawlessly every time. The trick is to keep at it, practice, and develop your skills. Creating a simple script for virtual experiences can help you feel more comfortable and confident in front of the camera when you're getting started.

Prep Sellers and Remember to Record
In some markets, sales associates may be unable to travel to the home of the seller to host a virtual showing due to local restrictions, so it's wise to prepare the seller as well. Do a practice run virtually before you do the real thing, coach the client on key areas of the home to highlight, and remind them that you'll be joining virtually to help with the real showing. Since not every buyer will be able to block out the same time period for viewing, it's also wise to record your virtual showing so buyers can view it when it's most convenient for them.

Use Virtual Staging to Show the Home in a Different Light
Communicating the size of a space can be one of the more significant challenges with virtual experiences, but there's another virtual tool that can help. Use virtual staging to bring out the best in any home that you're showing, and make it easier for buyers to imagine what their lives would be like in the home.

Keep in Touch with Clients and Make the Most of Your Marketing
Virtual experiences are an important part of the new marketing mix, but they're far from the only tools that you should pursue. Since face-to-face marketing may be out of the question, it's crucial to use digital marketing to stay in touch with clients. Reaching out through your online marketing channels is especially valuable in a time when clients are spending more time at home and online than ever before.
During these unprecedented times, the sales associates who thrive are those who are nimble, creative, and willing to adapt. Virtual showings and open houses take practice, but being able to deliver seamless service to your clients during trying times is well worth the effort.



To find out more about digital marketing for real estate, contact us at Delta Media Group.