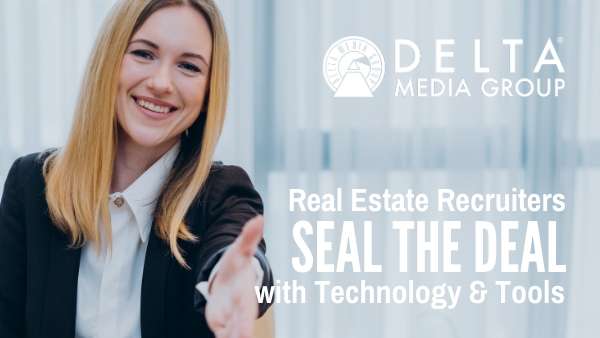 When you're the one in charge of recruiting for your firm, use top-of-the-line real estate technology and tools as motivation to attract new sales associates. Technology that simplifies an associate's daily life is one of the best ways to stand out from others vying for top talent in your market.
Supercharge your recruiting efforts with next-gen technology giving your associates reliable business-building solutions to help source leads and establish their reputations.
So, What Technology Should You Offer to Recruit Sales Associates
Online Listings
An array of sites and services live on the internet, where sales associates connect with clients and colleagues. The Multiple Listing Service (MLS) is the most visible of these, but dozens of others exist. Start by offering MLS listings on your site to sales associates. Likewise, boost their efforts on other industry sites and social media platforms, too. This gives associates a running start by taking the guesswork out of tasks that might otherwise go undone. Plus, it shows your company is willing to share their successes.


Customer Relationship Management (CRM) Software
Savvy sales associates use CRM software to figure out where prospects, leads, and clients stand at any point in their transaction process. With a well-designed website, associates gain visibility into what leads are doing long before they decide to move forward in their real estate journey. A CRM flags turning points, such as attending an open house, and reminds associates to do follow up.


Website and Digital Marketing Toolkits
A sales associate is practically invisible without a website to create a brand that excites clients and keeps your team member top-of-mind. Anything and everything your firm can do to help recruits launch their digital presence tips the scale in your favor. Digital marketing is how associates make the leap from chasing leads to drawing crowds. Email marketing lets associates build long-term relationships with clients and prospects through messages sent on a regular schedule.

A website, social media presence, automated emails, and video content work together for a powerful digital strategy. Add these things to your recruiting toolbox, and new associates will flock to your firm before you know it.


Document and Signature Management Tools
Buying and selling homes involve a ton of paperwork! Nothing brings a deal to a screeching halt like a problem with legal documents. Once sales associates know the ins and outs of a real estate contract, they quickly tire of doing things the old-fashioned way. It's technology to the rescue with solutions that accelerate signings and catch common mistakes.


Software Adds More Value to Clients
Productivity rules when it comes to business software. That said, clients and associates benefit when technology equips them to solve their challenges. Over 95% of American adults own a cell phone, and the majority have a web-ready smartphone. If you offer a useful piece of software, you can be confident most clients can use it.


Webinars and Distributed Digital Training
Growing a real estate business means learning new skills, tools, and techniques. Mentors and leadership circles are a natural fit, but associates will often be looking for solutions on their own time. Many firms embrace the role of a real estate success coach. One way to do this is to provide associates with a library of multimedia materials, helping them to grow. A webinar library lets associates learn on the go. Experienced associates can give talks on the success strategies that worked for them, which bolsters their skills at the same time. Junior colleagues, meanwhile, can reach those all-important designations sooner.
Put Your Associates On The Road to Success with Technology
Like real estate, technology is continuously changing. It's essential to align technology choices with the needs and goals of associates. Contact our team at Delta Media Group to see how our technology and tools can be your magnet for attracting top associates to your team.