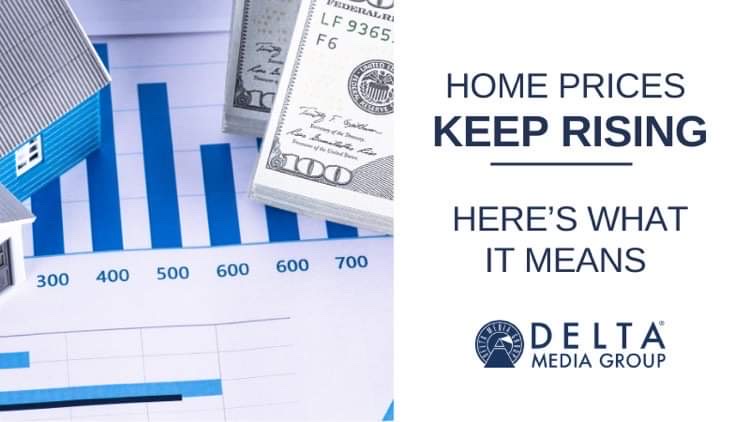 The trend of rising home prices from 2020 has continued with vigor in 2021, and it feels like every month we see a new record high in median home list prices. To say that we're living in a seller's market is a major understatement, as there are simply not enough homes available to meet demand in most markets. While high home values are good news for sellers, buyers feel frustrated with the lack of options available and the premium they must pay to land a home. Why are home prices rising, is there an end in sight, and how can real estate agents manage this unique market? We'll cover it all ahead.
How the Pandemic Has Impacted Home Prices
The COVID-19 pandemic is the elephant in the room when it comes to rising home prices, with both direct and indirect impacts on real estate markets around the world. High demand is a key ingredient nearly any time that home prices start rising, and being required to shelter in place in so many communities throughout 2020 has motivated many people who weren't previously in the market for a home to reconsider the benefits of owning over renting. For people who already owned a home before the pandemic, the challenges of 2020 made it less likely that they would be interested in selling.
While the real estate industry has continued to function throughout the pandemic, both buyers and sellers have had to navigate the necessary safety precautions in place. Virtual tools have helped connect buyers with homes, but both buyers and sellers have been wary of in-person visits to properties in many communities. Many potential sellers have chosen to wait until conditions improve to put their homes on the market, and buyers have been forced to choose from a limited inventory.
When Lack of Inventory Meets Low Interest Rates
The lack of inventory caused by the pandemic coincided with record-low mortgage rates that have put owning a home within reach for a wider pool of potential buyers. Of course, those interest rates dropped largely due to the economic impact of COVID-19, and they presently remain at record lows. When you mix together a paucity of inventory, the lowest interest rates of our lifetimes, and an especially motivated pool of buyers, you have all of the ingredients for the meteoric rise in home prices that we've seen over the last year-plus.
And it's not just the prices that have been so favorable to sellers. It's also the speed with which homes are selling and buyers' willingness to overlook issues with homes that may have made them look elsewhere in less of a seller's market. Buyers are more willing to waive contingencies and purchase homes as-is, while still often making offers above asking price in order to beat out the fierce competition. In the most competitive markets, homes barely have a chance to hit the market before the seller receives multiple high-quality offers.

A Look at the Near Future of Home Prices

Even as home prices continue to rise, there are signs that we will start to see a return to a more balanced real estate market in the relatively near future. COVID-19 vaccines are becoming more widely available, and more communities are beginning to open up as the number of vaccinated people rises. Many potential sellers who have been hesitant to put their homes on the market will feel more comfortable doing so as communities re-open, and an increase in inventory will be a huge factor in stabilizing home prices.
The low interest rates that have motivated many buyers to search for homes in such a competitive market are also likely to rise, as the overall economy begins to return to normalcy. With higher interest rates and more inventory available, we may see more balance between the number of buyers and the number of homes on the market. The when of all this happening is the tricky part during these uncertain times, and individual real estate markets are likely to evolve at their own pace.
How Real Estate Agents Can Navigate the Trends in Home Prices
Whether home prices are rising or falling, the best way to serve your clients is to have the right tools for the job. With DeltaNET 6, you will have all of the tools you need to unlock inventory, market homes, manage relationships, and keep your clients updated on the latest market trends. The right real estate tools help you make the most of the current seller's market, maintain the interest of buyers who are waiting out high home prices, and prepare your clients for what's to come as markets begin to normalize. Contact us today to learn more.