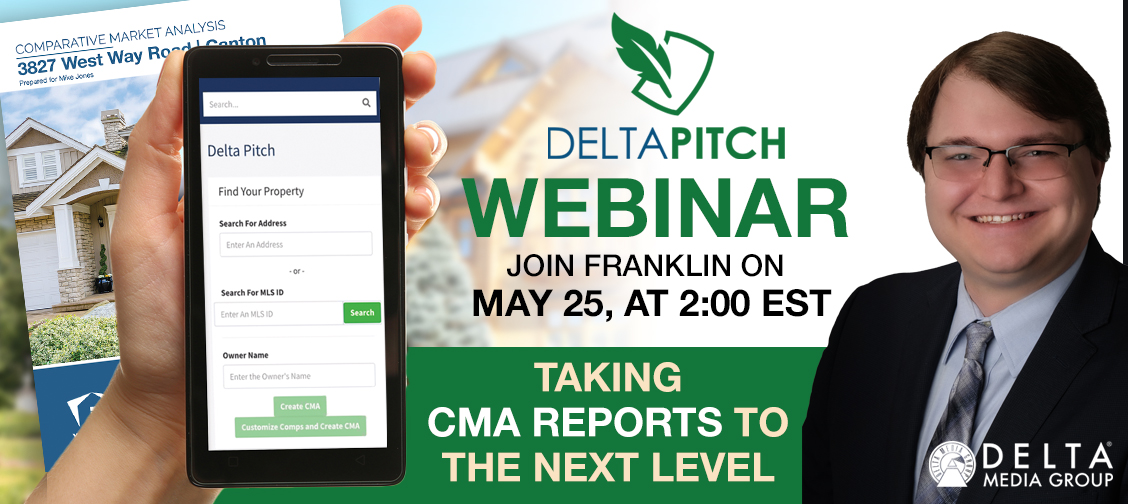 Building a Custom CMA Has Never Been Easier Than With Delta Pitch.
On May 30, Delta Media Group® will release Delta Pitch, a Comparative Market Analysis tool that makes it possible to create a CMA in as little as one click.
Building a custom CMA has never been easier. And to top it off, Delta Pitch is integrated with the DeltaNET®, so you don't have to look far for it. This feature goes hand-in-hand with DeltaNET® 7, Delta's next generation of customizable, automated real estate technology releasing this fall.
So, how does it work? It's as simple as entering an address and clicking the link to build a CMA. You have a beautiful, company-branded CMA with comps, recent pending's, and more in just one click. Built on top of an AI platform, it will provide all relevant properties and other important information in an attractive, interactive flipbook. Other features include:
Customization of comps and templates
Add custom pages
Automatically created flipbooks with annotations to be shared with customers
Automatically launch Zoom/video calls directly from Delta Pitch
Delta Pitch will also be integrated into our AVM platform. When a customer comes to your website and enters their property address, they automatically get an automated estimate based on the current listings in their area. As an agent, this gives you the opportunity to land a new listing. Making it easy, the system creates a digital CMA, comparable to a flipbook that you can then send to the lead, with little work on your end.
Michael Minard, Owner and CEO of Delta Media Group, says, "Delta Pitch is more than a CMA builder; it's an entire presentation builder."
Join Franklin Stoffer (Vice President of Sales at Delta Media Group) on Wednesday, May 25 at 2:00 p.m. EST to take a first-hand look at the new DeltaNET Pitch. Don't miss this chance to see Delta Pitch first-hand and how it can transform your presentation process.
Click (here) to register for the webinar.