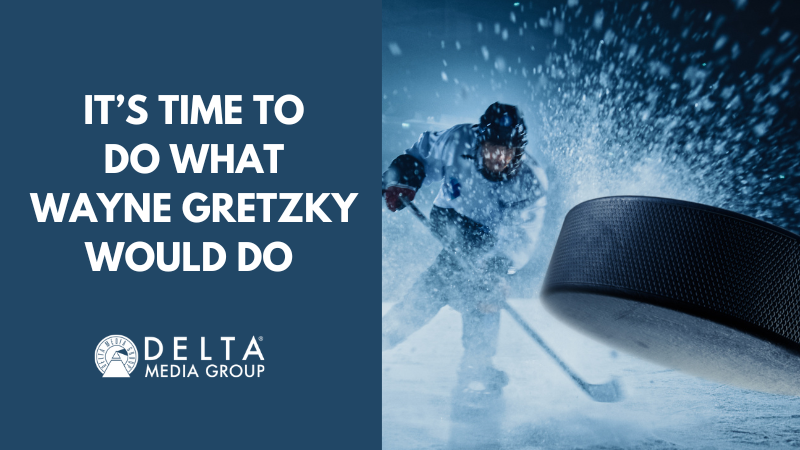 What does a real estate firm have in common with the greatest hockey player to ever lace up a pair of skates? More than you might think. In sports, your opponent rarely cooperates with your best-laid plans, and more often than not, success requires innovating on the fly. In real estate, so much of what we do is dictated by both market and broader economic trends. What works one month may be outdated the next, and what works in one type of market may fall flat in another. So how do you get ahead when there's so much inherent uncertainty to contend with within the industry?
Wayne Gretzky said it best: "I skate to where the puck is going to be, not where it has been."
Anticipate, adapt, and thrive. Think one step ahead of what your opponent – or the market – is doing right now, and gain advantages that others miss. In challenging markets, the best aren't satisfied with the status quo. They discover ways to adapt and thrive while others are busy burying their heads in the sand.
When your competition is clinging to the way things have always been or sticking only to the strategies that worked in the past, you have a natural opening to innovate. A willingness to try new things, adapt to shifts in the market and reexamine the effectiveness of old habits gives you a substantial advantage over competitors who aren't willing to do those things.
But if it were as easy as "skating to where the puck will be," why doesn't everyone do it? One reason is that you run the risk of being wrong. But is that really so scary? After all, even Gretzky sometimes missed the mark. The occasional miss is simply the cost of doing business and staying one step ahead of the competition.
You can keep going to where the puck was and get the same results. Or you can skate to where the puck is going, dictate what happens next, and unlock opportunities that your competitors don't even see.
The Time to Innovate is Right Now
If you look at a challenging market as an opportunity, you will see possibilities where others see roadblocks. Before you can innovate, however, it's wise to take stock of how things are right now. One easy place to start is with your marketing. Which marketing activities are generating the most qualified leads? How well are you segmenting leads, and what steps are you taking to convert leads at varying stages of their real estate journey? Are you taking advantage of all of the modern marketing channels available to reach new clients?
These questions are always worth asking, no matter what the market looks like. Discovering what tactics are and aren't working is the first step toward adapting to what comes next. Sometimes, the answer is as simple as doing more of what works and less of what doesn't. At other times, success is all about embracing new ideas.
Here are a few adaptable marketing tactics and tools that every agent should have in their toolkit:
The right real estate CRM makes life much easier for your agents and their clients. You want a CRM that provides easy access to all of the modern marketing tools that agents need to connect with clients and prospects. Of course, you also want your agents to take advantage of everything your CRM offers. This may require some training for less tech-savvy agents or experimentation for agents who are already more comfortable with technology. When agents see the value that the CRM has for marketing, easily accessing client information, and maintaining strong relationships, they should be happy to integrate it into their daily workflow.
Just like with real estate markets, trends with social media can change quite quickly. One thing that doesn't change is how valuable social is for connecting with modern real estate prospects and clients. There are so many effective platforms for social media marketing, which makes it easier for agents to find a platform that suits both their needs and the needs of their clients. If your agents aren't making the most of social media marketing, now is the time to change that and reap the benefits.
Email Newsletters and Drip Campaigns
What do you do with the prospects who aren't quite ready to make a real estate transaction right now but seem primed to need your services in the relatively near future? Email marketing is a great way to stay in touch, stay top of mind, and be ready to convert when the time is right. Email drip campaigns make it easy to stay in touch through informative, automated email marketing tailored to each client. AI-driven newsletters are ideal for keeping clients up to date on market trends and helping prospects see when the time is right to plan their next move.
A high-quality, feature-rich real estate website is the essential tool that you have for connecting with the vast majority of clients who start their search for real estate services online. It's where people go to search listings, consume your content, learn about your team, and discover all that you have to offer. If you feel like your website could use a "fresh coat of paint," now is the time to get a website that helps your brand stand out from the competition.
Virtual Open Houses, Showings, and Tours
People aren't just searching for real estate agents, firms, and listings online. More than ever, they expect to be able to tour a listing in-depth from the comfort of their favorite devices. Virtual open houses, showings, and tours make it easy for buyers to fall in love with homes and for sellers to maximize the marketing impact of their listings.
Providing Your Agents With the Tools and Skills to Thrive
Just like with your business, your agents should be asking themselves questions about what works, what doesn't, and what could be improved. Every agent has strengths, and every agent has some things that they would probably like to do better. Of course, agents shouldn't be alone in their pursuit for improvement, or for new agents, their adjustment to the real estate industry as a whole.
Providing the necessary training, resources, and continuing education for your agents should always be a priority. If you want agents who adapt, you need to give them the tools to do so. The right training can make all the difference for new agents who are trying to gain a foothold in the industry. Continuing education keeps experienced agents fresh while allowing them to adapt more easily to the ever-changing nature of the real estate industry.
It's important to note that training doesn't just apply to agents' day-to-day actions to serve their clients. All the marketing tools mentioned above become much more valuable when agents are trained in how to use them and shown how each tool can help them attract new business. The best agents never stop learning, and the most successful real estate firms provide them with the tools to do just that.
Making Your Investments Work For You
Anticipation isn't the only thing that separates once-in-a-lifetime athletes like Wayne Gretzky from their peers. The most successful people in any field tend to invest in themselves and work hard to maximize the value of every investment that they make. In sports, that may mean investing in the latest tools to keep their bodies in great shape and the best trainers to help them hone their already sharp skills.
In real estate, that investment comes in the form of the many marketing tools that we've mentioned so far and the educational resources that you provide to your team to help them maximize their skills. The ability to adapt, adjust, and go where the puck is going doesn't come about by accident. It's a result of the investments you make in your team and the investments that each team member makes in developing their own real estate skills.