Delta Media Group Launches Century 21 Mertz & Associates Mobile Responsive Website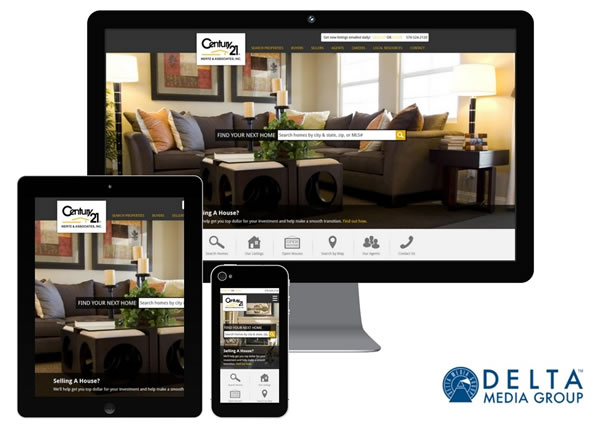 When visitors go to Century 21 Mertz & Associates, Inc.'s (http://www.century21mertz.com/) new real estate website, they'll find a professional-looking website featuring large-scale photos, real-time IDX listing information and an easy-to-use property search designed and developed by Delta Media Group.
The best part about their new website is no matter which device—smart phone, tablet or desktop--their visitor is using, www.century21mertz.com will look and work great because it is a 100 percent responsive website.  Modern home buyers don't want to "pinch and pull" their way through a website.  They want to navigate through a website seamlessly.  Delta Media Group's team worked together with Century 21 Mertz & Associates to create a mobile responsive website that automatically scales to the device the visitor is using making their experience easy and hassle-free.
Google recommends responsive website development as their preferred approach for mobile web design.  Google rewards companies with mobile websites (done correctly) with with priority indexing and potentially better rankings.  When Google reviews a website, they score it for Mobile Friendliness, Mobile Speed and Desktop Speed. Google gives each website a score from 0 – 100 in each category. Google considers websites scores at 90 or above as performing well.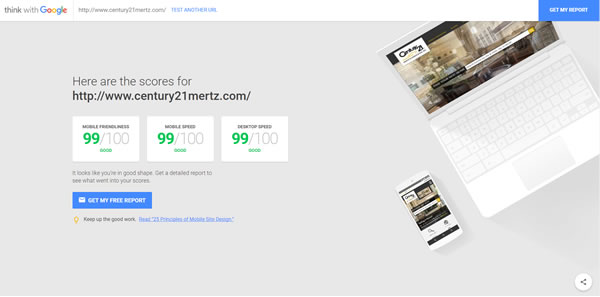 When we tested www.century21mertz.com using Google's Test My Site Tool, Century 21 Mertz & Associates, Inc. scored 99 out of 100 in each category.  The good news is  the majority of Delta Media's mobile responsive websites score at 90 or higher in each of the three categories.
Contact us for more information about mobile responsive website designs and Google rankings.