Coldwell Banker HPW Joins Delta Media Group's All-in-One Business Management Platform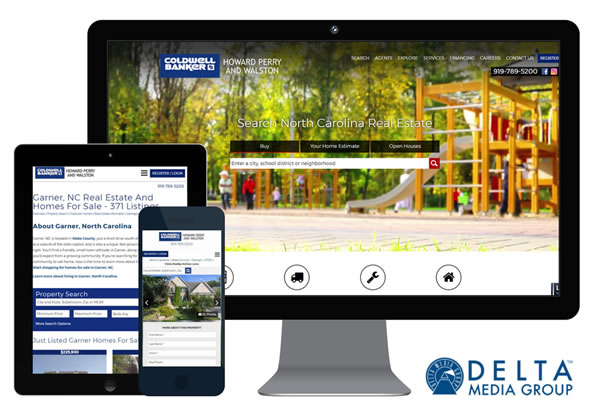 Delta Media Group is proud to announce the launch of Raleigh, North Carolina based Coldwell Banker Howard Perry and Walston's new website (www.hpw.com) and partnership with Delta Media Group.   
Coldwell Banker Howard Perry and Walston is the leading and largest brokerage in the Raleigh, North Carolina and greater Triangle area with over 900 sales associates and 14 offices. 
Michael Minard, Delta Media Group President/CEO, said, "We're proud to unveil Coldwell Banker HPW's new website to the public.  It's the culmination of over three month's work by both the Delta Media Group staff and Coldwell Banker HPW team lead by Kent Hanley.  We completed over two dozen integrations, imported countless CRM, client activity, and agent-related records to create a business management platform to specifically meet HPW's real estate needs."
About Delta Media Group
Since 1994 Delta Media Group has been a technology leader in the real estate industry providing enterprise marketing and business management solutions for real estate professionals. Delta partners with companies and top-performing agents at the point where marketing meets technology, helping clients efficiently navigate their business pipeline from lead to close. 
About Coldwell Banker Howard Perry and Walston
Locally owned and operated for more than 40 years, Coldwell Banker Howard Perry and Walston is the North Carolina Triangle's leading and largest residential real estate company.  Coldwell Banker HPW has consistently been recognized as one of the top places to work in the Triangle area according to the Triangle Business Journal and has been named the #1 real estate company in the Triangle by REAL Trends, the nation's leading real estate research resource.