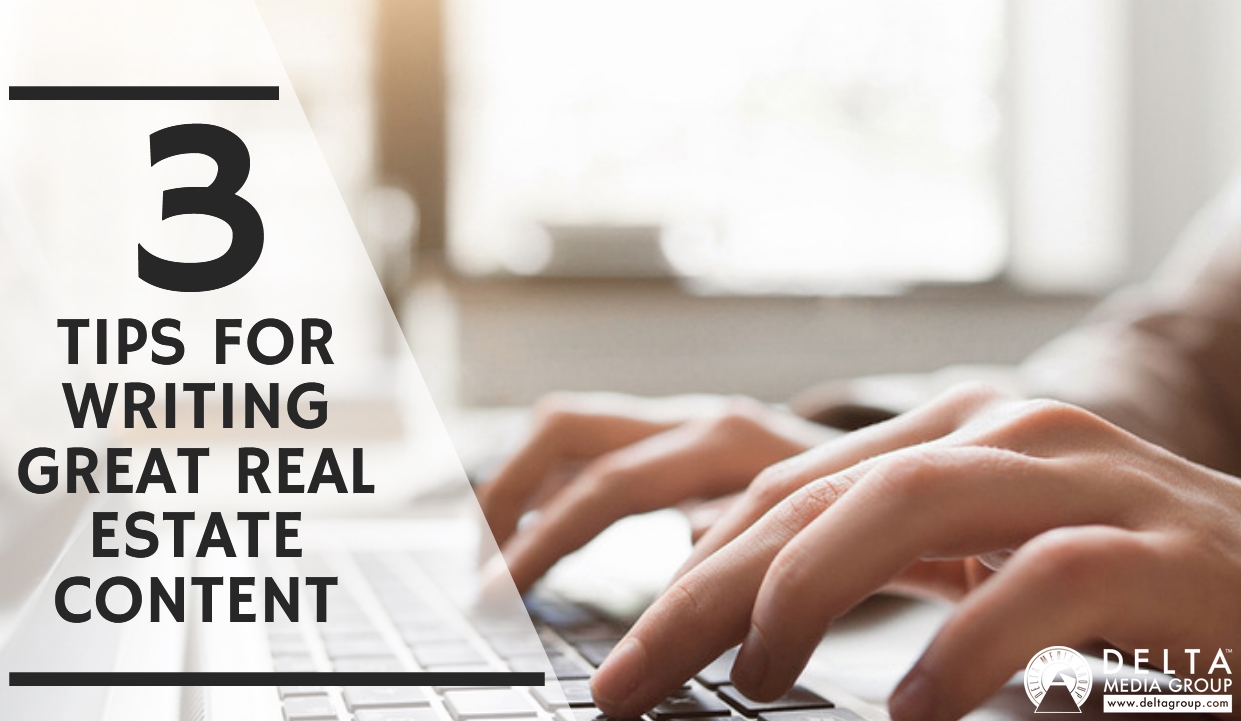 Whether you're an experienced real estate writer or just getting started, you've likely experienced writer's block. You sit down with all of those great ideas you brainstormed, grab a cup of coffee...and then BAM! You just can't get the right words on the page.
The good news is there are plenty of different ways to make your life easier when creating real estate content. Taking the time to learn about content creation, develop your skills, and practice regularly will have you blogging like a pro in no time! Below, our team offers these three tips to help you create great real estate content.
Three Tips from the Pros for Creating Better Real Estate Content
The first thing to remember about creating real estate content is that it takes practice. Most agents don't moonlight as novelists; consequently, devoting a regular time to learn about and practice content creation is a great start. You don't have to be perfect from the beginning. The best way to practice is creating content, and engaging your audience.
Brainstorm Ideas & Become a Local Expert
Brainstorming blog ideas is a big part of content creation; it's also something you can work on whenever you have a spare moment. Be sure to keep your favorite note-taking app up to date on your phone, so you'll always have a place to record ideas when inspiration strikes. Your expertise is central to your real estate content, so consider brainstorming ideas for buying/selling tips, home improvement, and neighborhood guides.

Becoming a local expert will make it much easier to come up with content ideas, because there will always be something interesting to talk about in the communities where you do business. Get out there, experience the community, and return to the office with new ideas for your blog.


Editing, Formatting & SEO
One of the easiest ways to make your content look professional is to make sure that you're taking care of any errors in spelling, grammar, or word choice before you press publish. Your real estate content can also provide a big boost to your local search engine optimization (SEO), so while you're editing it's also a good idea to make sure you're using the right keywords, linking to the right resources, and doing everything you can to make Google happy.

Formatting also plays an important role in the quality of real estate content. Be sure to use lists when relevant, keep paragraphs short, and always use subheadings to let readers know when you'll be moving onto a new concept.


Be Consistent & Publish Often
This is one of the easiest tips to miss because it's common to start a blog with enthusiasm but not keep up with it over time. Persistence is absolutely crucial to successful real estate blogging because it gives you time to develop your skills and lets your readers know that they should check back often for fresh content. Publishing articles on the same days each week is a great way to keep your readers coming back, and will also make it easier to get into a writing routine that works for you. Block out writing time in advance, and stick to your schedule when possible.
Our Real Estate Content Writing Services
Are you searching for an engaged, experienced marketing team to help your real estate business grow? Contact Delta Media Group to learn more about content development, SEO, and all of our marketing services for the real estate industry.