Blog Posts Provide Top Placement for Wardley Real Estate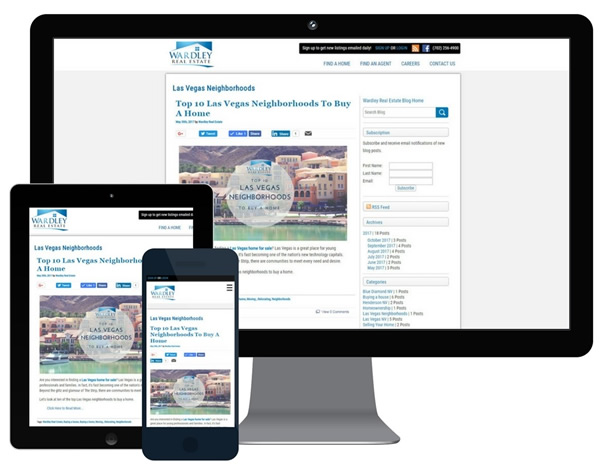 Creating a blog for your real estate website is one of the best things you can do to attract leads to your business because it allows you to:
Demonstrate your real estate expertise to the right audience,
Keep your business top-of-mind with prospects by consistently sharing content to your social media pages that is appealing to your audience, and
Drive traffic to your website.
Since most people today are using the Internet to house hunt, it only seems natural to use online marketing strategies to keep interested parties coming back to your real estate business for more--and that's exactly what blogging can do for you.
Your blog is a great place to weave in popular keyword strings and local SEO terms giving you the opportunity to land on the first page of search results, and your blog is a crucial tool for accomplishing that. 
Consider the example of Delta Media Group's client, Wardley Real Estate, and recent SEO success achieved ranking on Google's first page for Las Vegas neighborhoods.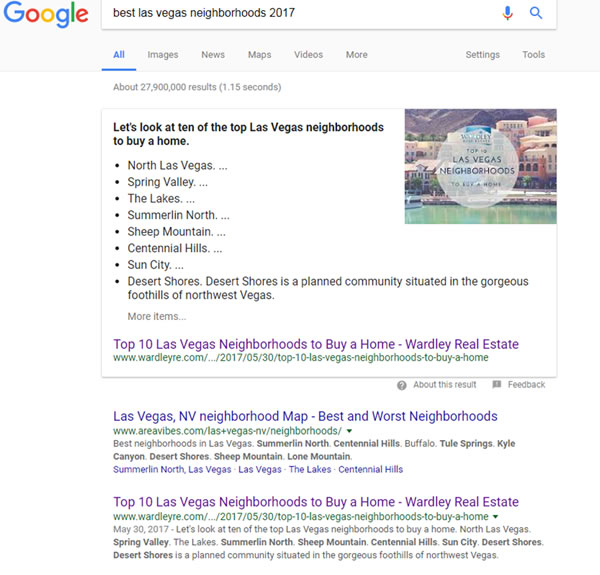 The blog post entitled, Top 10 Las Vegas Neighborhoods to Buy a Home, targeted Wardley Real Estate's potential home buyers interested in buying a home in Las Vegas and showcased ten of the area's best neighborhoods and communities.

Similarly, page one success was found for Wardley Real Estate in a blog post entitled, "10 Things You May Not Know about Living in Henderson."
This blog targeted living in Henderson, Nevada and ten things why it might make it perfect location to relocate for home buyers. 
The next time you sit down to write a blog for your real estate website, use these tips to improve your strategies:
Pick a topic that will attract a specific audience—first-time home buyers, people selling their homes or current home owners.
Use social media sites to research and understand your prospects' needs supplying them with the type of information they are looking for.
Create and format your blog into shorter sentences and paragraphs using bullet points, photos and other graphics.
Contact Delta Media Group to learn more about real estate blogging, and all of our real estate marketing services.