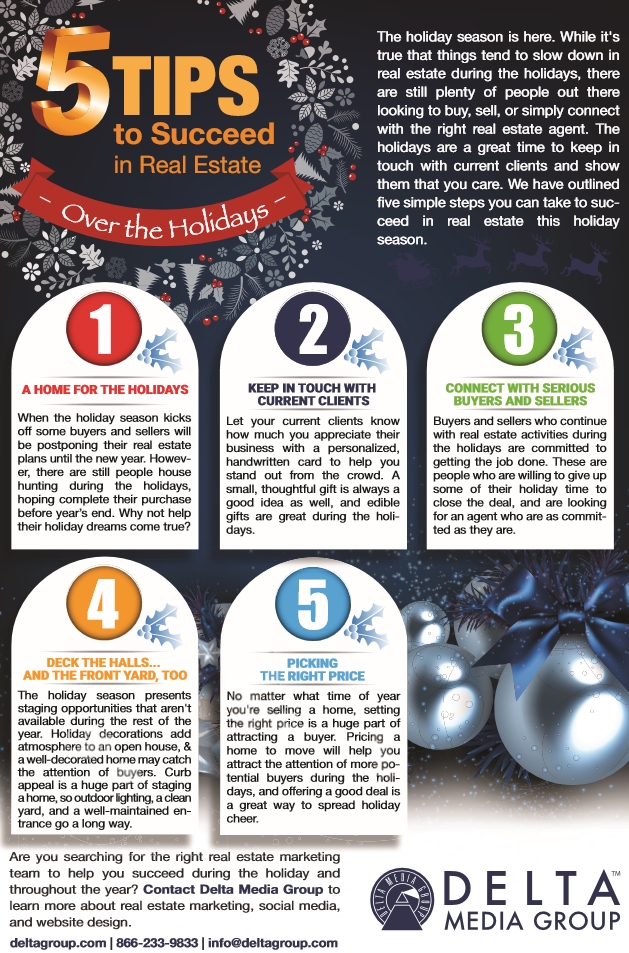 The holiday season is fast approaching. Many real estate agents will be packing things up and preparing for 2018. Don't be one of them! While it's true that things tend to slow down in real estate during the holidays, there are still plenty of people out there looking to buy, sell, or simply connect with the right real estate agent. The holidays are a great time to keep in touch with current clients and show them that you care. We have outlined five simple steps you can take to succeed in real estate this holiday season.
A Home for the Holidays
When the holiday season kicks off around Thanksgiving, some buyers and sellers will be suspending their search with plans to get started once January rolls around. However, there are still plenty of people out there looking for homes, and hoping to close the deal during the holidays. Anyone shopping during the holidays certainly qualifies as a motivated buyer, so why not help their holiday dreams come true?


Keep In Touch with Current Clients
There will be opportunities to generate new business during the holidays, and this is also an excellent time to let your current clients know how much you appreciate their business. Sending an e-card is better than nothing, but a personalized, handwritten card is really the way to stand out. Everyone loves getting a holiday card in the mail, and taking the time to write it by hand shows that you truly care. A small, thoughtful gift is always a good idea as well, and edible gifts are great during the holidays.


Connect with Serious Buyers and Sellers
While the market does tend to slow down for the holidays, the buyers and sellers who remain are often very committed to getting a deal done. These are people who are willing to give up some of their holiday time to close the deal, and are looking for an agent who can make it happen as quickly and painlessly as possible. Since fewer homes are available during the holidays, this is also an excellent time to showcase any listings that you do have on the market.


Deck the Halls... and the Front Yard, Too
Staging a home takes work, and the holiday season presents staging opportunities that aren't available during the rest of the year. Decorating a bit for the holidays can really add some atmosphere to an open house, and a well-decorated home may even catch the attention of buyers who were planning to pack things in during the holidays. Remember that curb appeal is also a huge part of staging a home, so outdoor lighting, a clean yard, and a well-maintained entrance go a long way.


Picking the Right Price
No matter what time of year you're selling a home, setting the right price is a huge part of attracting a buyer. Pricing a home to move will help you attract the attention of more potential buyers during the holidays, and offering a good deal is a great way to spread holiday cheer. There's no reason to go too far below the going rate, but choosing a price that's a bit lower than comparable homes in your market may give you a leg up during the holidays.
Are you searching for the right real estate marketing team to help you succeed during the holiday and throughout the year? Contact Delta Media Group to learn more about real estate marketing, social media, and website design.