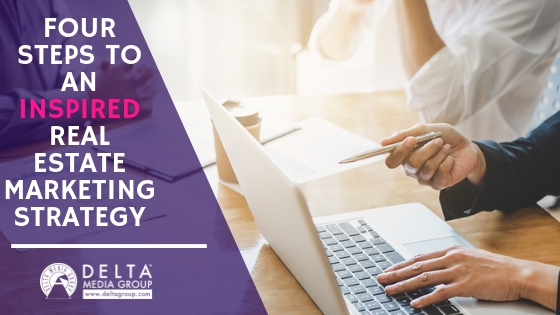 Are you looking to take your real estate marketing strategy to new levels, and set yourself apart from other businesses in your area? Then it's time to get inspired! By innovating, stepping out of your comfort zone, and taking a fresh look at your business, you can create an inspired marketing plan to bring more customers to your door. Research the latest marketing trends, find what works, and add your unique spin to create marketing that truly represents the best of your real estate business. We're here to help you get started, with four steps to creating an inspired real estate marketing plan.
Tired of the Same Old Marketing? Try These 4 Steps to a Better Marketing Plan
Take Stock of Current Marketing Trends
Marketing trends come and go, so you don't necessarily have to jump on every bandwagon to find success—but it's still a good idea to find out what's popular in marketing, what's not, and how you can put the latest tools to work for your business. Some trends, like SEO, social media, and email marketing, have more than proven that they stand the test of time, and are worth adapting to your business. Others trends, like banner ads and keyword stuffing, should never have been popular in the first place. So take stock of current marketing trends, look for new things to try, and don't be afraid to say "no" when a trend doesn't fit with your marketing goals.


An Honest Assessment of Your Current Marketing
There are many good reasons to want to create an inspired marketing plan, whether you're launching a new business, have grown unsatisfied with your current marketing mix, or want to see what else is out there to help you grow your business. Just like you did with marketing trends, make an honest assessment of the current marketing plan for your real estate business. If there's something you don't like, that's okay! It's a perfect excuse to try something new with your marketing.


Don't Be Afraid to Try Something New
While you'll want to look at keeping what works, the key to an inspired marketing plan is not being afraid to try something new. Not experienced with creating video content, or unsure how you'll feel about being on camera? Well, there's only one way to learn and find out! Want to make some updates to modernize your real estate website, or feeling nervous about stepping out into the real estate social media waters for the first time? There's no harm in giving something new a try, even if you ultimately wind up ruling out a tactic that doesn't fit your business. Chances are, the hits will be far more frequent than the misses.


Find Feedback to Tailor Your Marketing Plan to Perfection
There are so many moving parts to an effective, inspired real estate marketing plan, so it's a great idea to get feedback from trusted sources when you're trying new ideas. Ask real estate colleagues and other trusted sources who have marketing experience about your new marketing plan, receive honest feedback, and use what you learn to tailor your marketing to the unique needs of your real estate business.
There is another option available for you to find an inspired marketing plan for your business, and all you have to do is identify the right marketing team. Contact Delta Media Group to learn more about how we can help you create an inspired real estate marketing plan that works for your unique business.