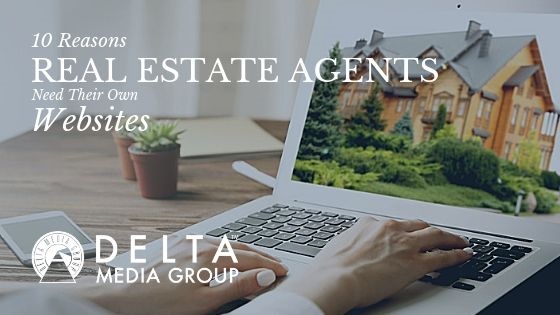 Every modern real estate business needs its own website, from the smallest brokerages to the biggest brands. Your website is the face of your business online, and the place where customers come to learn what you have to offer. But it's also so much more. Check out our ten reasons why real estate agents need their own website.
Customers Rely on Websites to Find Homes, Agents, and Real Estate Businesses
Real estate customers from Boomers to Gen Z rely on websites and online search to connect with businesses, scout listings, and find agents. So while a website is essential for connecting with younger customers, it's just as important for customers from nearly every other demographic! Real estate customers want easy, reliable access to the information they need, and your real estate website is the best place to provide it.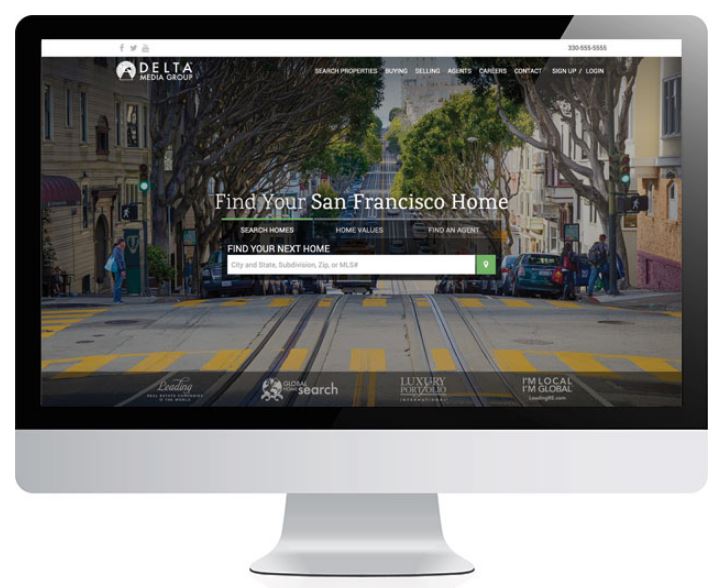 DIFFERENTIATE YOURSELF FROM THE COMPETITION
Brokerages and teams with 50 agents and under can have the same technology as large enterprise brokerages.
Build Your Brand and Set Yourself Apart 
Why be just a face in the crowd? Your website is the chance to set yourself apart with unique, attractive design, branding, and features. It's a place to differentiate your business from the competition. Speak directly to the target demographics that matter most to your business, provide valuable information, and build trust with quality website content.
Appeal to the Next Generation of Buyers and Sellers
The youngest generations of homebuyers are also quickly becoming the largest, with Millennials leading the way and Gen Z soon to be entering the real estate market in force. If you want to reach this young demographic of customers, then you need a website.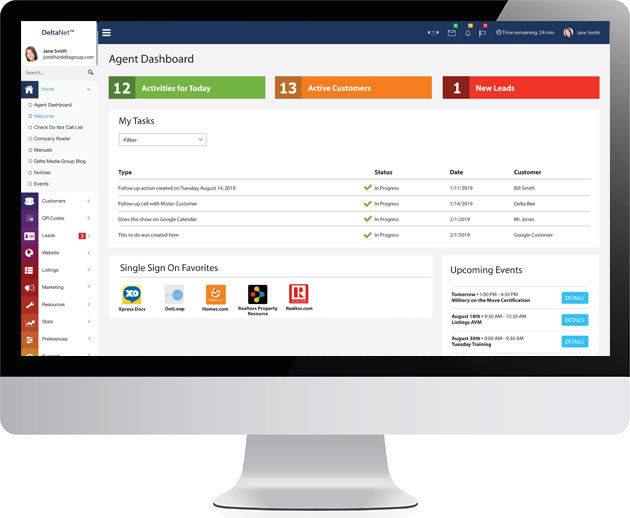 DELTANET CRM SYSTEM
Our CRM system is built specifically for real estate professionals to manage your contacts more effectively, close more deals and provide better service. 
Connect with Customers and Build a Community
Your website is a great place to connect your social media with the rest of your online presence. You can post automatically to Facebook from your website, get involved with the conversation that your content generates, and build a community for people interested in real estate. Our DeltaNet CRM makes it easy to stay on top of your customer relationships, lead nurturing, and so much more.
Build SEO and Create Community by Blogging
An active blog is a central feature of successful real estate websites because it allows you to share knowledge, establish trust, build SEO, and use hyperlocal content to highlight the communities where you sell homes. Your blog is a resource for customers and a great place to start conversations that carry over to social media. Whether you're building a blog on your own or working with our team to create original blog posts for you, our DeltaNet platform's Content Management System (CMS) works easily when you're entering content and looks great to clients when they're reading your blog.
A Central Hub for Online Marketing
There are so many tools in online marketing, and most of them lead back to your real estate website. At Delta Media Group, we provide the marketing tools you need to attract customers, the attractive, accessible website you need to keep their attention when they arrive, and the CRM you need to manage relationships.
Make It Easy for Customers to Search Listings and More
Even if you strip away all of the other benefits, IDX listing search alone is more than enough reason to have a real estate website. Customers want to search listings easily, so search capability generates traffic while also making it easier for all of those eyes to see what you have to offer. All of our themes feature IDX listing integration, so you can connect customers with the homes they want to see.
Education and Helpful Resources
As a real estate agent, you have extensive knowledge of both the real estate industry and your local communities. Your website allows you to share that knowledge in a way that helps customers and establishes credibility. Educational resources are easy to create and provide long-lasting value to your audience.
A Constant Source of Leads and Visibility
Your website is always waiting, ready for every customer no matter their schedule. When you combine your website with effective digital marketing, it provides a constant source of real estate leads and visibility for your brand.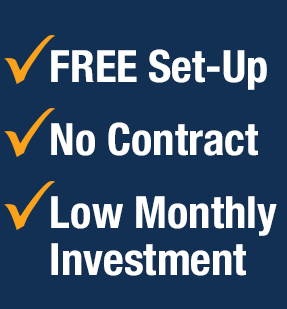 DELTA MEDIA GROUP PUTS YOU IN CHARGE OF YOUR ONLINE PRESENCE
Brokerages and teams with 50 agents and under can have the same technology as large enterprise brokerages.
Take Charge of Your Online Presence
Your digital presence is one of the most important assets of your real estate brand, and a website allows you to control your presence. Delta Media Group offers website and marketing packages for real estate businesses with 50 agents and under, which give you the same tools and resources as some of the world's biggest brokerages. You choose the package – including website design, marketing, and software – that fits your business and customize your options to suit your size.
There are so many great reasons to have a real estate website for your business and provide all that the modern real estate client requires when shopping for a home. Contact us to learn more about our real estate website design, and all of the marketing tools we use to help grow your business.