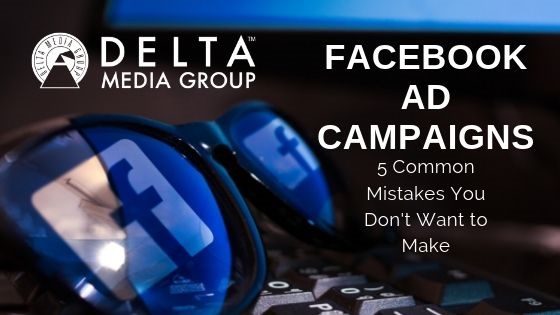 Facebook ads can be a powerful part of a real estate agent's marketing repertoire.
Digital ads are attractive for their ability to spur immediate response to your listings or services. Unfortunately, the learning curve for using them is much steeper than it first appears.
Some approaches to Facebook ad management seem like intuitive sabotage and can negatively impact your results at the end of the day. When this happens, your ad budget can become pure overhead: You'll either get no website visits or visits only from people who never follow up.
That turns ads into a waste of time and money. Frustrated by the experience, you could end up walking away from valuable online opportunities.
Beware of these common Facebook ad mistakes in real estate:
Not Targeting the Right Audience
All digital advertising should target a specific audience. Facebook lets you define your audience using many different traits, including geographical area, age, gender, and interests. You can even customize your ad audience based on Facebook Groups they like.

Some aspects of targeting are apparent. For example, you only want to target people living in your area. Most options, however, are quite a bit more subtle. Ads that do not target the right audience will most likely underperform, making the trial-and-error approach costly.


Not Creating Great Landing Pages
In any form of online business, landing pages determine whether website visitors take the next step toward becoming customers. Landing pages are the optimized pages people "land" on when they click your ad. The landing page must match their expectations and provide a compelling reason to connect with you.

A landing page's design depends on what you're promoting.

For example, a landing page for an open house needs to have a form where prospective participants can sign up right away. If you use your real estate listings as landing pages, then they need to make it easy for potential buyers to contact you about the property.

What's more, relatively small mistakes in landing page design can render the page nearly useless. So, an ad that would otherwise boost your business can falter thanks to its landing page.


Using Low-Quality Images
The process of buying a home is more visual now than ever before. When people go online to look for properties, they want to know \ what they're getting. For your ad to get all the attention it deserves, it needs eye-catching photographs.

Photographs that are small, blurry, or unflattering will sink an ad. Attractive photos should be taken with a professional camera and staged to emphasize a property's best features. This trend should carry through on the landing page – where video should be used, if possible.


Not Focusing on Headlines and CTAs
The headline of an ad is the one piece of text you can be sure people will read – after your eye-catching photo pulls them in, of course. A headline must provoke a positive emotional reaction in just a few words, getting Facebook users excited to learn more.

Your CTA ("call-to-action") is the other half of that equation. Your ad should be built around the CTA: A short, action-focused phrase that tells the user to do something. Without a CTA, most people won't take the next step, even when they know what you want them to do.


Not Optimizing Ads Over Time
Facebook provides plenty of opportunities to discover how your ads are performing. An essential part of raising your ads' impact is making the most of analytics tools that show you whether, when, and how your audience responds to your ads.

Learning the ins and outs of analytics takes time. Once you've got a clear understanding of what it all means, you have the challenge of adjusting your ads to get more clicks and reduce costs. This can mean revising the header, text, image, audience, and more.

What about when this is done? Well, it all has to be repeated a week or two later. Incremental improvement is the name of the game, but it can be time-consuming for busy real estate pros.
Delta Media Group's Ad Wizard™ Does the Work for You
With Ad Wizard™, you never have to worry about ad mistakes that hamper your performance. You can use property information already on DeltaNet to automatically create and deploy optimized ads. Take advantage of Ad Wizard™ to promote when a new listing occurs, an open house is scheduled, or property is bought or sold.

Our resource library lets you craft ads in seconds based on successful designs. You can promote your business in a few clicks with branded ads that introduce your business to future buyers and sellers. You can review all the performance data at a glance in the DeltaNet.
Plus, there's no set-up fee.
Ad Wizard™ can simplify your life. Watch our video to learn more about getting started with our Ad Wizard™ tool found in the DeltaNet.  Contact us to find out more.