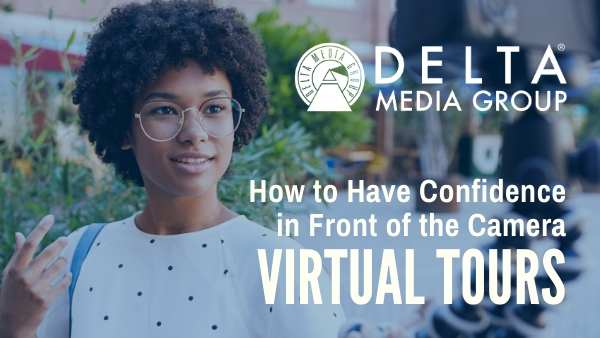 Video marketing has become a more vital tool for real estate sales associates than ever before, as the coronavirus disrupts how the real estate industry normally does business. But speaking on camera can also be intimidating, especially if you haven't done it before. Nobody handles video marketing flawlessly the first time they try, and that's okay! With the right tips and a bit of practice, your intelligence, integrity, and honesty will shine through for your audience to see.
Talk about Anything to Practice Talking about Real Estate
Before you start talking about real estate on camera, it helps to practice by talking about anything at all. The point of this exercise is to speak a few sentences on any topic, paying close attention to get used to your own unique cadence, phrasing, and natural manner of speaking. Bonus points for practicing in front of a mirror, where you can also get familiar with your facial expressions. This will make it easier to speak naturally on camera, and tailor your presentation to your strengths.

Creating a Script Inspires Confidence
After a bit of practice, you'll likely feel much more prepared for the integration of Virtual Open Houses and Showings. The next step is creating a simple script, which will make it much easier to avoid "uhs" and "ums" on camera. Your script doesn't have to be seamless or include every single word you'll say, but it's wise to at least have an introduction, along with a general structure for moving through the open house or showing. Get familiar with your script, and practice how you'll improvise as you move through the home.

Dress to Look and Feel Your Best
Think of any situation that would normally make you nervous: a job interview, a first date... or perhaps your first foray into video marketing. When you want to feel confident, picking an impeccable outfit that makes you look and feel your best is the perfect place to start. There's no dress code, of course, so the important thing is to pick a look that makes you feel great.

Practice and Don't Expect to Be Perfect
One secret to creating video content? There's no substitute for experience, and even the most experienced video marketers still make mistakes. Don't let little slip-ups discourage you! Everybody is being forced to adjust to this new normal, and your clients will be happy that you're doing everything possible to market their home under these challenging circumstances.

It's Okay to Have Some Fun
Since there's no way to be perfect on camera, sometimes its better to acknowledge mistakes and even have a little bit of fun with them. It's perfectly okay to playfully acknowledge when something doesn't go as planned, and doing so can even make you feel more approachable to your audience. It's easy to forget to smile on camera, but trust us – your smile is one of your most powerful assets.

Don't Forget Your Traditional Online Marketing
While getting up to speed on video content may be a top priority right now, the rest of your marketing mix is still crucial for keeping your pipeline stocked. Make sure to use digital marketing to stay in touch with clients after they've connected with your video marketing, to build strong relationships and generate leads.


The right real estate marketing team can help you adapt to any challenge, including the unprecedented times the industry currently faces. Contact us to learn more about virtual tours, online marketing, and everything we can do to help your real estate firm grow.