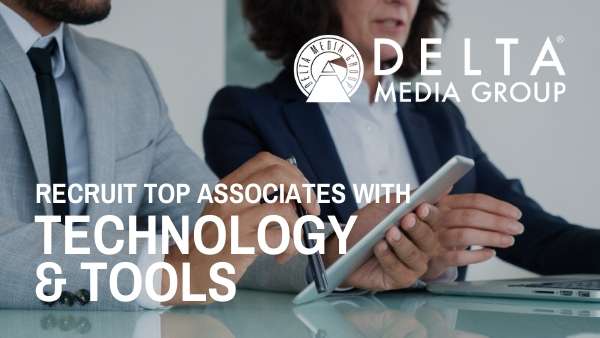 Real estate is a competitive and fast-paced arena. To recruit and retain top-notch sales associates for your firm, you need to supply easy-to-use, state of the art real estate technology and tools to deliver the best customer experience.
Continuous learning is the name of the game, but adopting the right technologies can make your sales team's life so much better.
Delta Media Group fuses marketing and technology tools that allow your associates to stand out from their competition.
Technology at the Core of Your Recruitment and Retention Plans
Today's Millennial buyers typically start their search online. They might research for weeks or months before they contact you. On the other side of the transaction, your associates need the right technologies to get their attention and inspire action.
When you recruit, associates are making sure you're the best fit--and a full suite of digital marketing tools can go a long way to building confidence in you. Let's look at some of the ways you can distinguish yourself as "the" employer of choice in your local market:
Offer Modern, Mobile-Friendly Websites
What makes a website modern? With more and more traffic coming from smartphones, the simple answer is mobile compatibility. A sleek, fast-loading website that emphasizes your brand is an absolute "must-have" for all sales associates. For new hires to get out there and start landing leads, an impressive website should be part of your standard onboarding package.
Make the Most of Your Online Listings
Online listings are indispensable in today's uncertain world. Most buyers turn to online listings first to get a sense of what's available in their future neighborhood. Advanced digital marketing features like virtual showings and open houses can make each listing more magnetic. They can be so powerful, an in-person tour isn't needed, but a real showstopper depends on great digital video technology.
Use Video Marketing in Agent Recruitment
Video marketing is the best way to get your message across to future agents, too. Video helps humanize your firm and ensures watchers will remember more of what you have to say. Every second of the video you share with new team members is a testament to your firm's ability to excel in a world where YouTube is the #2 search engine in the world, behind only Google.
Leverage Customer Relationship Management Integration
Gone are the days of keeping track of all your leads on a set of Post-It notes. When an associate has dozens of transactions and leads to keep track of, Customer Relationship Management is the way to do it. A trusted real estate CRM provides complete, end to end visibility into all active clients at any stage of the journey. Your CRM can save every associate hundreds of hours a year.
Showcase Your Social Media Savvy
Real estate professionals are among the most active on social media. Getting real results from a social network, however, requires a little bit more. Your brand should be active, making terrific multimedia content that gets engagement from clients. Instagram and Facebook are essential.
Embrace Distributed Digital Training
There's always something to learn in real estate. A "one to many" approach with video training material ensures your team is always up to date. It's another way to give yourself a long-lasting competitive advantage with a seamless and stable content delivery system.
Want to do high-performance agent recruitment with confidence and integrity?
Once they are hired and onboard, delivering that "promised experience" will be key to retention.

Get ready today by discussing your needs with our experienced team at Delta Media Group. We'll help you harness the power of technology and innovation to attract top talent to your business. Contact us today.