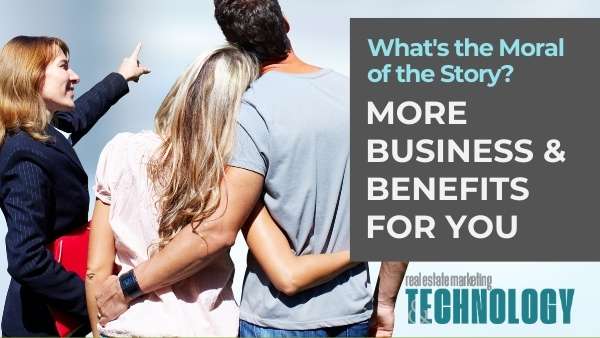 When you tell a story, every detail matters. The more vibrant the portrait you paint, the more likely the story's receiver becomes invested in its outcome.
This fact is true when you're telling a traditional story, and it's equally important in real estate storytelling. The story you tell through your blog, your real estate website, or social media channels is your best opportunity to help shoppers fall in love with your local markets and your business.
Why Storytelling Matters in Real Estate Marketing
The vast majority of real estate customers start their search for a home online. Often, their search entails more than searching for a house. Perhaps they want to move closer to the heart of the city, find a home in a school district that's perfect for their child, live closer to family members, or find the ideal starter home. Without those additional motivations, they may be less invested in searching for a new home.
When someone is shopping for a home, they're thinking about so much more than just costs, contingencies, and closing procedures. They want to imagine what their life will be like in a neighborhood––where they'll eat, which local attractions will appeal to their family, and how they'll create memories that last a lifetime. They're searching for a home, yes, but they're also searching for a place where they can realize their vision of the future.
While they're thinking about all of those things, they're also searching for homes, real estate sales associates, and real estate firms online. If you want to stand out from the pack, you need to communicate your business's story, listings, and market areas where you sell homes.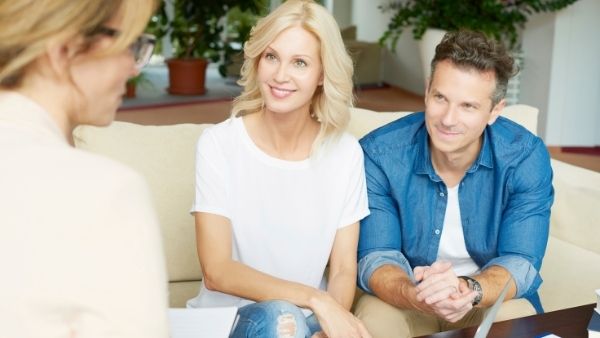 How to Use Storytelling to Create Connections and Build Your Real Estate Brand
Make Your Audience the Star
Telling great stories takes practice, but it's much easier to remember that your audience is ultimately the star of the show. The best way to demonstrate your brand's value is to show your audience how they will benefit from choosing your services. How will you help them find the perfect home, identify the right neighborhood for their family, and address any challenges during the process? A well-crafted story answers essential questions for your audience without ever feeling like a routine Q&A session.


Why Structure Matters for Storytelling
A good story has a natural progression, so the first thing to remember about telling any story is that you need a beginning, middle, and end. Structure helps keep your audience invested in the story's progress and guides them to your desired endpoint.

However, it's wise to remember that you don't necessarily have to create the story in order. If the opening or ending gives you trouble, it can be beneficial to start with the middle and build out from there. As long as the end product has a natural progression and flow, you can create your stories in whatever order works for your creative process.


Using Drafts and Outlines to Create a Polished Finished Product
Whether you're creating a blog post, video content, listing story, or quick-hitting social media tale, it helps to plan. Creating an outline of your story's critical points, progression, and structure will help organize your thoughts and envision the final product.

When you have an outline in place, you can start working on a rough draft of a written story or script for a story told through video. The rough draft will be much more detailed than the outline, but it doesn't have to be perfect.

While working on your draft, take the opportunity to look up any facts, figures, and links you wish to include. Consider how your opening will get the audience invested in the story and how the ending will tie together the message you want to present.


Tips for Polishing Your Final Draft
The editing process is the time to make sure your spelling, grammar, and sentence structure are just right. It's also an opportunity to add anything you may have forgotten to include in the rough draft and remove "fluff" to help keep your story at your desired length. 

If you were happy with your rough draft, you might not need to make any substantial revisions for the finished product. If not, this is also your opportunity to revise, add more context to the story, or remove elements that don't quite fit.


Don't Forget to Include a Call to Action
No matter what type of story you're telling or what medium you're using to convey your message, it's essential to include a call to action. Your call to action is to motivate the audience to take action by contacting your real estate firm, learning more about your markets, and taking the next steps toward buying a home. Placing your call to action near the end is vital because it gives the audience a chance to see the full story's value before asking them to take the next step.


Oh, the Stories You'll Tell! Three Key Types of Real Estate Stories
Listing Stories Help Buyers Build Connections with Homes
Any buyer can look at a listing and get the basic facts about a home, so context is king for listing stories. A listing story is your opportunity to take them from room to room and help them imagine what their lives would be like. High-quality photos of the listing are crucial to telling a good story, so make sure to capture the home's best features. If you want to provide an overall impression of the house, then adding a narrated video tour can be a great way to tell the story.


Neighborhood Stories Allow Your Audience to Imagine Their Lives in Your Markets
Neighborhood stories offer much more latitude for the content you include and how you craft the story. The best neighborhood stories highlight local attractions, events, traditions, and celebrations. What makes a neighborhood special, and what will your audience enjoy when they live there?

Your audience can learn so much about a neighborhood when you give them a first-hand account of the most important things to the people who live there. Highlighting local businesses, parks, and family attractions will also be vital to providing a full picture of each neighborhood.


Personal Stories Build Engagement and Put a Face to Your Brand
Telling your own stories as a real estate sales associate or team leader is an excellent way to build your audience engagement. When you're talking about a neighborhood, tell your audience a little bit about your own experience. When you're creating a listing story, you can demonstrate your real estate expertise by anticipating what your audience will most want to know.

But personal stories can also be just plain fun! If you have a great experience at an event in your market area, be sure to take a few photos, record some notes on your phone, and create a story about it when you get home.


Using Technology to Promote Stories and Save Time
Integrate Video to Attract an Increased Audience
Video is both an excellent medium for telling stories and one of the most popular online content forms. There is a wide range of apps available to help you record quality video content from your favorite mobile device and edit your content to look great for your audience.


Promote Content and Engage with Social Media
Social media sites are perfect for sharing your stories and building engagement with your audience. Schedule posts to make it easy to plan your content schedule, and check back often to engage with anyone who comments on or shares your stories.


Automate Posts and Email Campaigns
While creating stories takes work, sharing them with the world doesn't have to take much time from your day. Whether through your favorite app or your real estate marketing platform, use automation to make your life easier—schedule posts in advance for your blog and social pages. Use email campaigns to share the right stories with your audience's right members at the right time.


Use Software That Suit Your Style
Whether you're looking to create, publish, or promote your stories, there are a ton of apps available for each step in the process. If you don't like one option, don't be afraid to try another. Finding software that suits your approach and style makes it much easier to get the job done efficiently.


Take Notes with Your Phone or Tablet
You never know when you might have an idea for a new story or an anecdote that would fit perfectly into something you're working on already. Make sure your mobile device has an app that makes it easy to take notes, keep them organized, and pull them up when it's time to work on a story.
While there's a lot in creating great real estate stories, the process isn't as tough as it may seem. The real trick is to get out there, start creating stories and learn from your experience. The more you do it, the easier it gets. With the right tools, you can also significantly reduce the time it takes to tell your brand's story.
There are so many ways to tell stories through modern marketing that there's sure to be a format that works for you. The payoff is more than worth the effort it takes to learn how to tell your real estate brand's story.
---
Not getting your copy of Delta Media Group's magazine, Real Estate Marketing & Technology?
Sign up today. Your subscription is FREE.