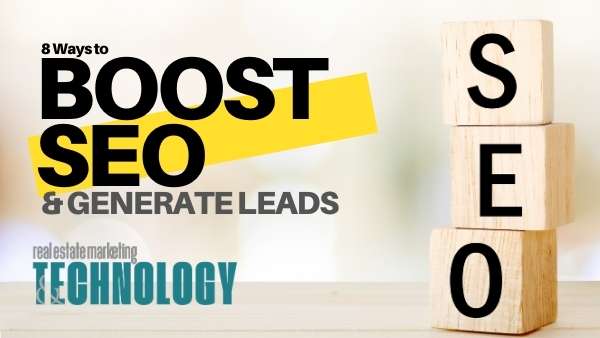 Generating real estate leads starts with building a great website but ensuring your target audience can find that website ultimately plays a significant role in the overall success of your lead generation efforts. Search engine optimization (SEO) is the key to directing more traffic to your website and turning that traffic into a steady supply of fresh leads. While SEO is complicated and the best results take time, there are steps you can take today to start your website on the path to becoming a lead generation machine. Take your real estate website to the next level with these eight tips to improve your SEO and generate more leads.
Content Is Key to Real Estate SEO
With SEO, it pays to remember that Google wants to send search users to useful, information-rich websites that answer the user's search query. That's one reason why it's so important to fill your website with content that has value to your audience. In addition to boosting your SEO, your website's content is key to generating interest in your real estate firm when a prospect finds your website. By telling them about your markets, providing general real estate advice, and letting them know what your real estate firm has to offer, you educate prospects in a way that makes them want to do business with your brand.


Know Your Keywords and How to Use Them
How do you help people find both your website and all of the great real estate content you've created? Using the right keywords within your content is the perfect place to start. Informational keywords, like "how to buy a home for the first time," will help you generate leads from people who are looking for valuable advice from a trusted real estate source. Transactional keywords, like "homes for sale in (your market)," will help you attract people who are already searching for homes in your market areas. Just remember that it's essential to use keywords naturally, both for the quality of your content and to maximize your SEO benefits.


A Busy Blog Boosts SEO and Helps Convert Leads
While it might be nice to build a website, fill it with content, and call it a day, that doesn't cut it for SEO. Google wants to see a steady supply of new, relevant, valuable content posted to your website, and your real estate blog is the ideal place to keep the content flowing. Your blog is an excellent place to publish content based on buying and selling homes, preparing a home for the market, securing financing, home improvements, and anything else about real estate that your audience would like to know. It's helpful to create a content schedule, to ensure that there is always new, valuable content found on your website.


Create Location-Specific Pages for Your Markets
Location-specific pages are another type of content that both your website visitors and Google consider very valuable. These are the pages about cities, towns, and neighborhoods where you do business. They are the place to attract people searching with transactional keywords because they want to know more about the communities where they're shopping for homes. Include information on local attractions, school districts, places to shop and dine, local events, traditions, and homes available in each neighborhood.


The Importance of Website Structure and Internal Links
All of the real estate expertise you share throughout your website is only valuable if site visitors can find it. It's crucial to have the right structure for your website and include internal links that make your site easy to navigate. Website structure starts with your home page at the top, followed by category pages that help visitors narrow their focus, and individual pages to find specific content. Internal links should direct visitors to other parts of your website with related information. They should always include descriptive text so that the website visitor knows where the link will lead them.


Mobile-Friendly Is a Must for SEO
Google favors responsive websites that scale to the size of screens on any device, and your potential real estate clients do, too! A mobile-friendly website is a must-have for every real estate firm in 2020 because your clients want to access your listings and real estate expertise no matter what device they are using. There isn't much overall strategy to review because the answer is simple, make sure your website is mobile-friendly, and you will reap a variety of benefits, SEO included.


Claim and Optimize Your Google My Business Page
While good SEO does take some time to show the biggest benefits, there are things you can do today to give your real estate firm a boost on Google. One of the most important is to create your free Google My Business page and make sure that it's filled out completely. Google uses your page's information for local search, including your business's name, address, and phone number, so it's important to keep this information up to date. There's much more to your Google My Business page, and all of it helps make your business more visible in search results, so filling it out completely is worth the time.


Ask Current Clients for Reviews and Testimonials to Provide Social Proof and Boost SEO
Reviews and testimonials are critical to any successful digital marketing mix. Modern, tech-savvy clients use them as a key factor in determining which real estate firm will best accommodate their needs. Google also values reviews regarding SEO, including the reviews from Google users, which show up on your My Business page and search results. You'll also want to ask clients for reviews on Yelp and any directories where your real estate firm is listed. The best time to ask for reviews is typically after you've helped a client buy/sell their home when they're familiar with all that your real estate firm has to offer.
With the right SEO software, an effective strategy, and a willingness to work at the process, it shouldn't take long to start seeing a difference in your SEO results. While that initial difference is noticeable, it does take time to reach the top search rankings in competitive real estate markets. That's why it's important to commit to a quality SEO plan and do all of the little things necessary to keep your plan on track. Trust us, the lead generation results are more than worth the effort.