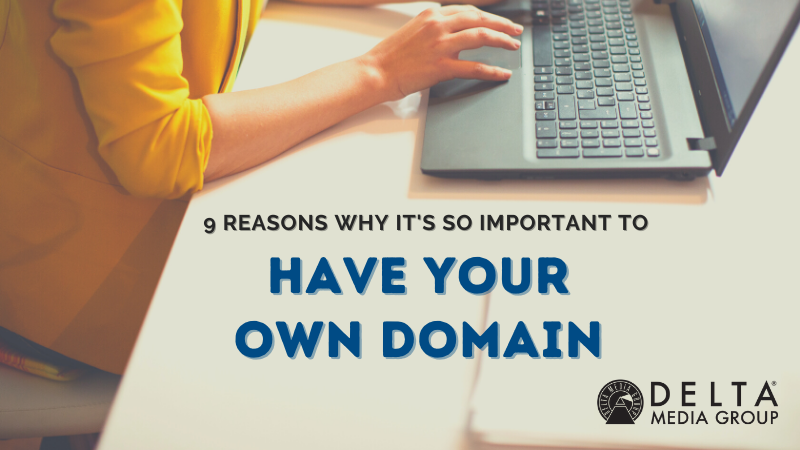 Not all websites are created equal. Just as no two real estate agents are the same, each agent's website highlights the differences between other agents vying for the marketplace. Though content is king, it's important to understand that even your website's domain name has a significant impact on your agency's performance and perception. 
9 Benefits & Advantages of Having a Custom Domain Name
1. It's a No-Brainer
Why should you have a custom domain name? Why not? It's simple, especially when you're trying to encourage clients to access it. Instead of asking clients to remember a confusing web address, simply adding a ".com" to your business name makes engagement effortless. It also makes it easier for clients to find you passively, for instance, when they search for you online. If they search "John Smith" and find "johnsmith.com," they'll know that they've found the correct address.
2. It Gives You a Leg-Up on the Competition
Do you know how many of the other agents in your market have their own custom domain names? Chances are high there are many which simply use web address provided by a hosting site. By locking down your custom domain name, you have another leg-up on the competition by demonstrating your legitimacy.
3. It Demonstrates Legitimacy
How does having a custom domain address demonstrate legitimacy? First, it shows that you're using the latest technologies. Though websites are nothing new, you'd be surprised how many agents still do not use custom domain names despite the relative ease of obtaining one. It also helps a user feel more comfortable following your link. "johnsmith.com" appears much more legitimate than "johnsmith.domainhosting.com."
4. It Increases Your SEO Ranking
SEO. Three letters your small business needs to know regardless of which industry you serve. If you're online, Search Engine Optimization is essential to your success. With so many other agencies selling homes in your area, you need the best search ranking possible on Google. Having a custom domain is one way to increase your SEO ranking in the eyes of Google's algorithm.
5. It Enables Custom Email Addresses
Similar to your web address itself, your email addresses are small yet important elements of how your business is perceived. Sure, an @gmail.com or @outlook.com address will work just the same, but having an @johnsmith.com address will once again enhance your legitimacy and reassure customers that you're the real deal.
6. It Elevates Your Brand
The brand you've cultivated in the real world can be easily integrated into the digital world with a custom website address. It also helps your brand consistency to have a legitimate domain name that matches your other online profiles, like your social media accounts.
7. It Enhances Your Branding
"Branding" is different from "brand." Your brand is the business; your branding is what your business does. For instance, you may be a luxury real estate agent, but the content you supply that highlights your listings is an act of branding. A custom domain name is an investment. When clients click that link, they're taken to your website to interact with you through your branding. If you're trying to wow your luxury home market, for example, your domain name is the doorway to these interactions.
8. It Opens Potential for New Leads
You don't need an open house to generate new "walk-in" leads. As you strengthen your website's content with a custom domain, you increase the chances that new customers will organically visit your site when they find it through a search engine. With the right tools, you can convert these visits to potential leads by continuing to engage them after they've left your site.
9. It May Be the Future of Virtual Businesses 
Thousands of new websites are created each day, which means many domain names become unavailable every instant. It's clear that more and more agents are adopting custom domain names. Keep in mind other agents may also scoop up domain names that you're interested in. 
Delta Media Group's digital marketing platform will easily integrate your custom domain, ensuring you reap the maximum benefits from your online presence. If you lack a custom domain name, we encourage you to consider these advantages and discover how quickly a new website address can benefit your agency.