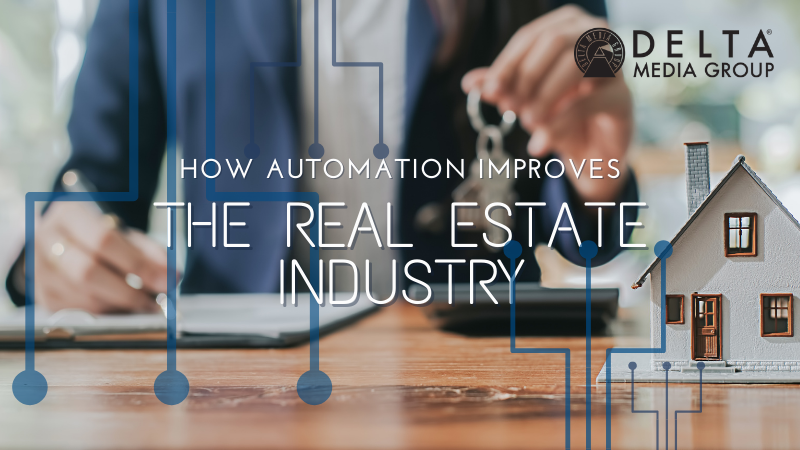 It seems like technology advances and integrates into new aspects of our lives every day. Even the jobs in which in-person communication and physical interactions are relied on, somehow, technology seems to find a way to connect. The real estate industry is no exception; technology has dramatically changed the way agents, buyers, and sellers accomplish their goals. While at times it may seem like these new systems and software may overly complicate certain processes, technology like automation can immediately improve existing practices. Agents will quickly discover that automation improves the real estate industry in more ways than one.
The Newest Trend in Real Estate Technology
Though automation is not a new concept, its application in the real estate industry is relatively young. Many real estate agencies, even industry-leaders, have been hesitant to adopt certain technologies that would dramatically alter these transactions. It's fair to assume that some buyers and sellers were hesitant as well. Since buying a house is one of the largest financial transactions a person will make in their lifetime, the thought of conducting parts of these transactions online may be uncomfortable.
However, many agents realize automation can present significant advantages to the real estate industry. Technology will continue to advance the way we live and work, which means these solutions will inevitably continue to integrate into the real estate industry in unique ways. By adopting automation in certain processes, agents can reduce the time, money, and effort they put into tasks that can be easily accomplished with a hands-off approach.
4 Ways Automation Improves the Real Estate Industry
As a real estate agent, your tools and your team are your greatest resources. With so many technologies at your disposal, the tools you choose must benefit you and those you work with. Automation is one of the most versatile resources you can add to your repertoire.
Time Saver
The number one reason you should integrate automation into your agency or brokerage is to save time. There are so many tasks you complete daily, weekly, and monthly that can be easily automated. Simple tasks like typing up and sending follow-up emails from open houses may seem like quick duties, but when added up, they actually take up a sizeable portion of your time. Automation will instantly give you hours of free time each month to devote to other tasks, like closing on contracts.


Automatic Lead Generation
Of course, you can't close on a contract until you have a client under contract. Lead generation is one of if not the most important tasks on your to-do list. Finding buyers or sellers can be tough in an uncertain market, and even if you're able to make contact with potential clients, there's always a chance they'll reconsider. An increase in leads can increase your clientele. Automated lead generation allows you to constantly chase new leads day and night without actively doing the legwork. Once new leads are generated, you can continue the conversation with those most-interested in entering into a real estate transaction.


Automated Content/Client Management
Along with automated lead generation, you can also automate your content and client management systems. For example, you can automate marketing campaigns on your website, social media, and through email. You'll also be able to instantly generate analytics to help you track your engagement with your audience.


Integration With Other Tech
The beauty of automation is that it's a capability, not a single-program or software. Because of this, you can choose which elements of your agency that you automate and which you choose to handle manually. At any time, you can also increase or decrease the level of automation you use. This is ideal for novice and experienced agents alike as it allows you to completely control the way you work. With other aspects of the real estate industry evolving alongside technology, automation's dynamic scalability will help you stay up-to-date on industry changes and stay on-par with or even surpass the competition.
While some technologies are nice but not essential, real estate agents are discovering the many benefits of automation integration. By automating certain tasks like lead generation and customer management, real estate agents will have more time to focus on touring homes and closing sales.