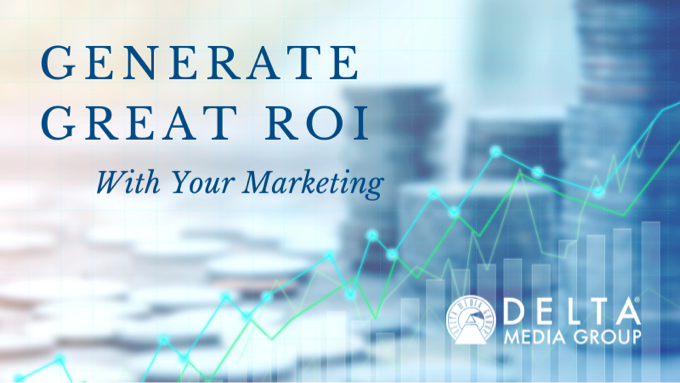 There are more tools available than ever before to market your real estate business, but finding the right marketing mix doesn't always feel easy. In order to generate the best ROI with your real estate marketing, it's important to understand both the tools available and how each tool fits with your audience. It also requires a willingness to set goals, and a commitment to tracking results. We'll cover it all, with a closer look at how to generate great ROI with your real estate marketing.
Set and Track Your Marketing Goals
Whether you track ROI down to the decimal or take a more general approach, there's no doubt that setting goals is crucial to both identifying what you want to improve and achieving what you set out to accomplish with your real estate marketing.

While general goals like becoming the go-to source of real estate information are helpful, the most effective goals will be more specific to different types of marketing. Do you want to earn more website traffic, generate more social media engagement, or increase the success rate of your email campaigns? Set specific goals for those areas, and track your results over time to discover what works best for your business.


Know Your Audience and How to Reach Them
In order to achieve your marketing goals, you need to understand the target audience you're trying to reach. A small, boutique real estate firm that caters to luxury buyers seeking a second home will naturally have a different marketing approach than a brand that aims to pair first-time buyers with the ideal starter home. Of course, some real estate businesses cater to a wide range of clients, and that's okay too! With a powerful real estate all-in-one solution like DeltaNET 6, you can gain a better understanding of your existing clientele, segment your audience, and discover the data that you need to make informed decisions about your marketing.


Create Content That Speaks to the Needs and Interests of Your Audience
Generating engagement with your real estate blog and social media pages starts with understanding the needs of your audience. The best real estate content informs, educates, and inspires your audience, so ROI with content depends on a deep understanding of what your audience wants to see. With custom content creation from Delta Media Group and all of the data you accumulate, you can deliver content that positions your real estate team as local experts that your clients can trust.


Tailor Your Email Marketing to Specific Segment of Your Audience
One of the biggest challenges for generating ROI with your email marketing is simply getting people to open your emails, and tailoring your email content to specific segments of your audience is a reliable way to get them to click. A buyer, seller, or someone who's just looking will all be seeking different content to help them make important decisions. Our AI-driven email newsletters and targeted email marketing campaigns make it so much easier to reach each client with the most relevant information.


Make SEO a Priority
Most real estate prospects start their search for a real estate business online, and search engine optimization (SEO) is critical for making sure that they find your business first when they visit their favorite search engine with real estate questions. Local SEO integration is a dependable way to stand out within your markets, increase traffic to your website, and position your business as the go-to source for real estate needs in the places that matter most to your brand. Generating great ROI with SEO starts with having a plan. With custom website design, custom content, and a deep understanding of local SEO, Delta Media Group can help you achieve your SEO goals.


Make the Most of Paid Online Advertising
SEO and content creation can help you attract clients organically, but reaching some members of your target audience will require a more direct approach. Paid advertising is a great supplement to your other marketing tools, allowing you to reach more potential clients through ads targeted to specific demographics on search engines and social media. Setting goals and tracking results are especially important for improving paid advertising ROI, which is why DeltaNET 6 makes it easier when planning paid advertising campaigns.
Generating great ROI with your marketing is virtually seamless when you have the right team on your side, and we'd love to help you achieve your marketing goals. With all of the tools in DeltaNET 6 and the help of an experienced real estate marketing team, you can accomplish your goals while making the most of your marketing budget. Contact us today to learn more.