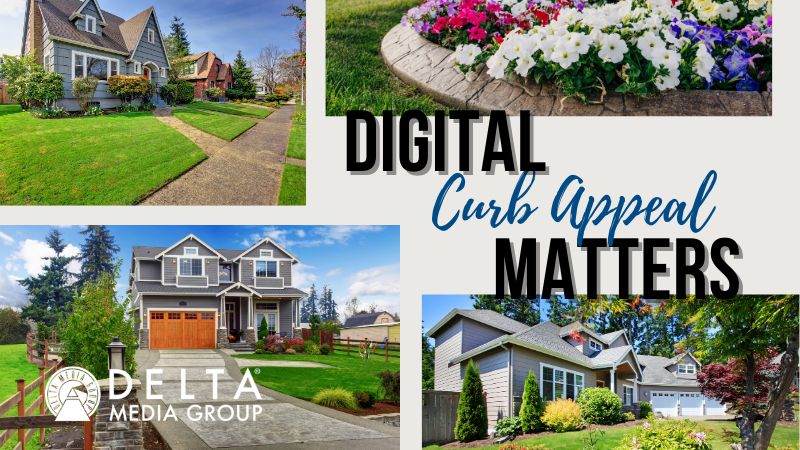 When you're showing a property face-to-face, curb appeal is indispensable.
There are many different aspects to curb appeal, but it all adds up to that essential first impression. From the moment potential buyers lay eyes on the home, right before walking through the door for the first time, they are primed for a memorable experience — and ready to find the home that's "the one."
No doubt, your mind whirls into action to improve curb appeal whenever you look at a property.
You might think of things like:
The exterior paint job, how fresh it looks, and how well it matches the rest of the neighborhood

The roof — its style, colors, and materials, and whether or not it looks ready for another ten years

Landscaping and lawn care appropriate to the season, with no yard waste or other obstructions

Presentation — how well the all-important walk to the front door is framed, and the door itself
When care is taken with curb appeal, it really can be a case of love at first sight!
It might surprise you to know that the exact same effect is at work in the digital world.
Yes, digital curb appeal is real. And it makes a winning difference for your sellers.
Digital Curb Appeal Sets Properties Apart in 2021 and Beyond
Digital curb appeal is a simple concept, but it takes creativity and hard work to master. In short, it means:
Making your online home listing as appealing as it can look

Ensuring it has a powerful preview in-home search results
Even though online home listings are extraordinarily common — most home searches now start online — not everyone has gotten the message about digital curb appeal. Look at condo listings, for example, and you're very likely to see a preview photo that only consists of a community's sign out front.
What a missed opportunity!
Similar problems can crop up with a single-family residence. If a photo is blurry, distorted, or shows only one tiny part of what the home has to offer, it won't seize the attention of would-be buyers browsing through dozens of listings. As the listing gets little attention, it ends up at the bottom of results, even less likely to be found.
First, remember what a listing preview usually shows:
A feature photo along with the option to scroll through all the home's photos

The asking price

The number of bedrooms and bathrooms, including half and quarter baths

Total square footage

The address
Special identifiers like "Hot!" or "Video tour" are also added to listings automatically. So, getting familiar with the different identifiers and how your listing can qualify is a terrific way to craft your strategy. People are far more likely to check a listing they know others are interested in!
Four Ways to Help a Listing Excel with Digital Curb Appeal
When it comes to digital curb appeal, you'll need to find new and exciting ways to help your listing tell a story. Luckily, it's not all undiscovered territory: many of the things you would normally do to prepare and stage a home are also helpful. Combine trusted techniques with new technologies and you'll stand out!
Here are our four biggest tips for digital curb appeal:
Collaborate on Pre-Listing Home Improvement
Minor cosmetic issues can sour buyers and sap a listing's mojo. In your early walkthrough of a property, make notes on anything that can be solved with a little elbow grease before your listing goes live. Major renovations should take a back seat to simple fixes, like a splash of exterior paint or new bathroom fixtures.


Invest in Exceptional Real Estate Photography
The digital world is extraordinarily visual. These days, even the best phone photos won't do — professional real estate photography is a huge advantage. Photos should be taken of every room and every exterior angle, ideally at different times of day. Aerial photos snapped by drones are especially captivating for some buyers.


Add a 3D Walkthrough and a Video Tour
These two features are highly in demand for today's savvy buyers. They also happen to be ideal ways to perk up your listings with two special identifiers buyers can see at a glance. Time spent on a 3D walkthrough is one of the biggest indicators of sincere interest in a home, so don't pass up the chance to stoke a buyer's imagination.


Stage Each Home as "Move-In Ready"


Staging for your digital listing doesn't require fresh cookies in the oven, but there are still plenty of techniques that work. Clean up, declutter, and use natural light to your advantage, giving rooms a sense of size with mirrors where necessary. And, as always, hide the cat box and any other tell-tale signs of pets.
Contact us to learn more about digital marketing for real estate.