Because Zillow wasn't simply acquiring ShowingTime.
In the two decades since Minard first considered a showing platform for Delta, ShowingTime had spread its wings. Over the years, ShowingTime had "gobbled up market share," Minard says, by acquiring other players, most notably Centralized Showing, which had the second-highest market share. Essentially, ShowingTime owned the market. With ShowingTime having cemented itself as the primary resource for MLSs, brokerages, and even individual agents, Zillow's acquisition left most of the industry with only one option: to continue working with a long-standing disruptor that's quickly grown to be a legitimate competitor.
For the real estate world, Zillow's announcement was the final move in a chess game some hadn't realized they were playing. And, for Minard, he knew the signs were there: People weren't going to be happy.
"The industry has woken up, and they now realize that Zillow is not a portal; Zillow is their competitor," Minard says. "They realized that they're competing in business. No real estate firm wants to fund its competitor. No business owner wants to fund their competitor."
In the last 10 years or so, Zillow has evolved, and ShowingTime was not the company's first acquisition. Over that decade, Zillow has slowly but surely encroached on brokerages across the real estate world, obtaining DotLoop as well as Bridge Interactive, the MLS system that gives direct access to listing data.
As Delta Media Group Sales Manager Franklin Stoffer explains, "Seeing ShowingTime acquired by Zillow was absolutely the straw that broke the camel's back."
"[Zillow] immediately gained access to all the additional data that the brokerages were trying to keep to themselves," Stoffer continues. "Zillow was also now a brokerage in every MLS board, which means they are a competitor to every brokerage in the country. So, you've got this large brokerage that now can see and has access to transaction data, listing data, and why agents cared so much about this is because ShowingTime had such a dominant market share. Roughly 85% of the showings being scheduled across the country were happening through ShowingTime. And the bread and butter of any real estate agent is running showings, scheduling a showing on a property, walking through it with a client, leaving feedback. Zillow got direct access to know how much interest there is in different properties."
Zillow has publicly said it would keep ShowingTime's data privacy policies in place, but the seeds of worry had already been planted and well-fertilized across real estate. And Delta was more than prepared to help mitigate those fears.
Turning the Tide
Stoffer remembers the moment perfectly.
Sitting in front of his computer, he saw the announcement regarding ShowingTime and Zillow on the front page of a popular real estate news site and immediately reached out to Minard and Aaron Geh, Delta's Head of Business Operations and Digital Marketing. Minutes later, and Stoffer says there were "already dozens and dozens of comments" below the story.
"Agents were saying, we're going to contact our local senators," Stoffer adds. "Saying this is potentially a violation, where it looks like it's creating a monopoly. I'd never seen the real estate industry so responsive. Immediately, a visceral response that this is not okay."
With so much sudden reaction across the real estate world, members of the Delta team began sending what Minard calls a "brain-dump of emails," going back and forth with ideas and possible next moves, one of which was to poll Delta's connections in the industry and determine if providing another showing platform held any interest. After all, offering another option for ShowingTime wasn't worthwhile if sales associates and brokerages didn't want one.
They wanted one. Overwhelmingly, in fact.
"The question we asked was, basically would you like to see another independent platform?" Geh says. "And it was a resounding yes. At that point, everybody was very emotional and raw. Then with the homework that Franklin and Mike were doing, we came up with a game plan from a technical standpoint."
"I didn't want to just make the announcement [about Local Showings]," Minard adds, "we wanted to make sure of who else was out there, what they were doing, what the industry response would be. That survey was an emphatic 100%, yes, you should do something. I was even hearing directly from people that Delta should do something. And even the chatter that I was getting on LinkedIn about it to me was big."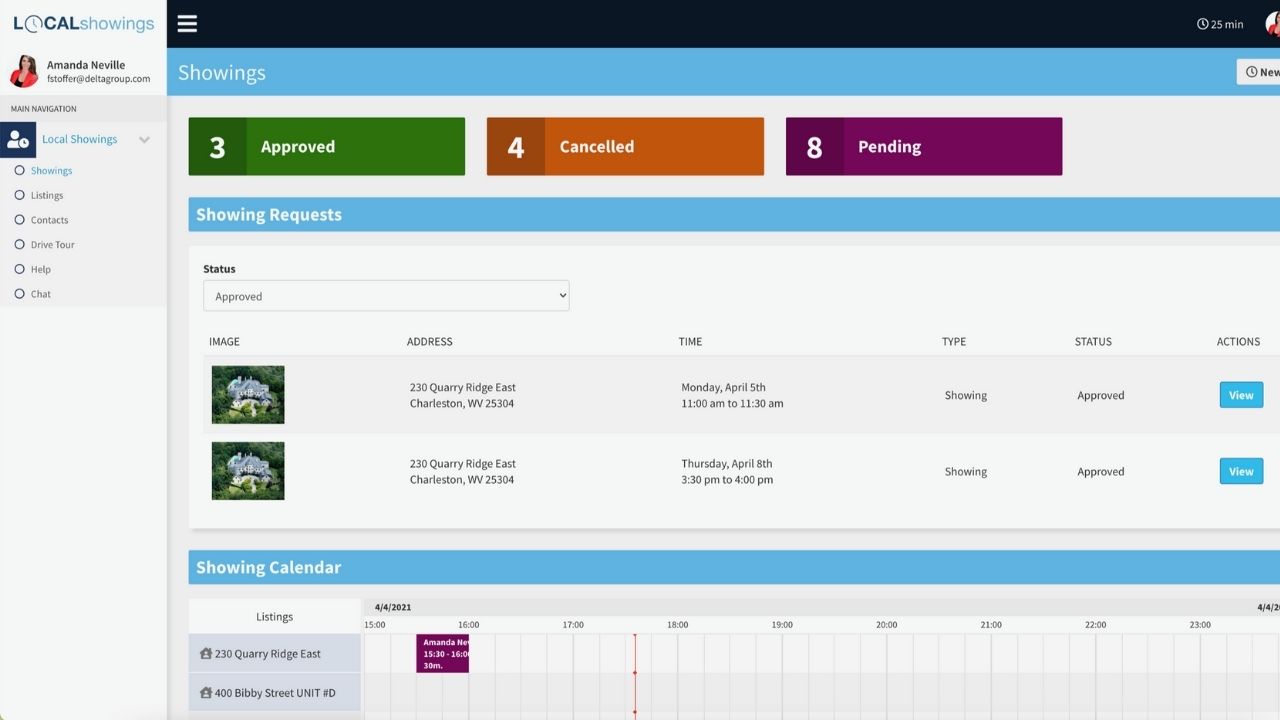 From there, it was a matter of getting in contact with the industry partners Delta already has and explaining to them what the next steps would be. Using Delta's internal call center department and established relationships with over 90% of the country's active MLS boards made it relatively simple for word of Local Showings to spread.
"We leveraged our call center to do outreach to every board in the nation," Stoffer says. "And since our announcement that we were going to create our showing product, we have presented to MLS boards that represent over 800,000 real estate agents in the country, which is 60-plus percent of licensed agents. Which is very, very significant."
Those relationships, particularly with MLS boards, are the product of 20-plus years of work, and it's the trust between the real estate industry and Delta Media Group that has led to such strong interest in Local Showings. While other startups scrambled to provide an alternative to ShowingTime, Delta Media Group didn't have to. The tech infrastructure was already there, as was the belief that Delta could provide a fully functioning showing platform. Both of those things came together to give Delta Media Group a monumental head start on the rest of the would-be competition.
"Part of the conversations that I'm regularly having and the question I'm regularly asked in the sales presentations is: 'Why did you guys decide to get into providing a showing service?'" Stoffer says. "One, we already had a platform in DeltaNET 6 that gave us 95% of the functionality and features that we needed. Two, we looked at the marketplace and saw there was nothing but new startups rushing to fill a void saying, okay, well, there's an opportunity to gain market share."
Most of those startups weren't prepared for the work a project like this would entail, either. Stoffer says there weren't many other major players looking to make moves on this project immediately, and many won't be able to bring their product to market until the latter half of 2021.
"There's a long period of time where people [would be] looking for an alternative solution, and there's not a product there, and we felt we could bring a product to market very, very quickly because of the strength of our platform," Stoffer says. "We had the MLS relationships, and we already had the platform that was built to support it; we were able to come to market and offer something within two months, within eight weeks of us deciding we were going to create this product.
"We are issuing contracts and bringing MLS boards and brokerages on board with Local Showings. So being able to bring something to market quickly was huge," Stoffer continues. "We wanted to directly leverage our independence for the benefit of our partners."
This also wasn't the first quick-shift Delta has experienced in the last year or so. In the early days of the COVID-19 pandemic, Delta Media Group developed virtual showing software that immediately helped lessen some of the stress sales associates and brokerages felt as they grappled with the brand-new world and its health-focused rules.
"That illustrated our ability to pivot and react to an opportunity," Geh comments. "Developing the virtual showing platform demonstrated our ability to invest and build something that is needed and be able to execute. This is the same type of deal, just with a lot larger upside."
Within weeks of Zillow's first announcement and those quick emails between Stoffer, Minard, and the rest of the Delta team, another statement was on the front pages of industry sites. Delta Media Group was ready to launch Local Showings, highlighting that it is independently owned and operated. No reason to worry about the status of data with Local Showings. Delta even went so far as to include a guarantee in its contracts with brokerages and MLSs that it will not sell out or be acquired.
"Delta Media Group is a 100% family-owned-and-operated technology company," Stoffer says. "We're leveraging that independence for the benefit of our clients, where we have a no-sell guarantee in our contracts, that Delta is not interested in being acquired by other large third-party entities like Zillow, which is the most important thing that companies care about right now. They don't want to feel like the rug is pulled out from underneath them again."
A Reputation to Uphold
As word spread of Local Showings in the last few months, Stoffer has continued his dialogue with Delta Media Group's hundreds of partners. All of his presentations begin by touting Delta's independent nature, ensuring everyone knows that the future of Local Showings is already well defined. There won't be any sudden sales, no shifts in philosophy. There will just be technology — some of which will naturally evolve, but that's a good thing — and the promise that whoever uses Local Showings has an ally in its corner: Delta Media Group.
"There's a three-fold philosophy," Stoffer explains. "Number one, the independence angle of providing a no-sell guarantee. Number two was we wanted to provide a frictionless transition for the actual end-user, the real estate agent, to be able to find a new showing solution software that did everything their previous solution provided to them. So, we didn't want them to have a loss in functionality by making a transition, which has been a huge part of the technical process. And number three was we wanted to come in at budget."
Delta Media Group hasn't taken money from Wall Street or Silicon Valley investors to get Local Showings on the market. That makes it all the easier to guarantee every facet of Stoffer's sale philosophy. Nothing about Local Showings is meant to disrupt brokerage budgets. This isn't a push for profit but rather a move to facilitate competition and provide options.
"We came in and said, we are an independent provider," Stoffer says. "We want to offer you an alternative solution you can feel good about using for the same price or even cheaper than what you are currently spending on your existing showing product because we know there's pain in making any technology migration. We're looking at this and saying, here's an alternative you can feel good about using, and it's going to be in line with the budgets you had."
By being so upfront about plans for Local Showings, and immediately taking action after Zillow's announcement, the interest in Delta Media Group's platform has skyrocketed. Stoffer adds that it's also a testament to Delta's reputation, particularly with MLS boards across the country, lauding Sean Garaux, who has helped foster those connections.
"Delta has always been looked at in the MLS world as a company that does things the right way," Stoffer says. "And we, in 20-plus years, have never come to the MLS and asked them for something from us. We don't typically sell MLS products. We're not reaching out to MLS boards to try to sell them a website or a CRM. We've always just done business with the best interests of their members in mind."
Now, with Local Showings, the MLS boards have a product they don't just want; but one they need. And, like any good news, it travels fast, with plenty in the MLS world approaching Delta about going live with Local Showings.
"They're coming to us, taking our calls, saying, 'We know who you are,'" Stoffer details. "Saying, 'You guys do great work, show us what you have.' They've all been very positive, qualified conversations, and fortunately for us, none of our competitors can say that."
Top-Tier Tech Know-How
Although the foundation for Local Showings was well-established long before
Delta Media Group made the official decision to go ahead with the project, there was still plenty of work to be done. And, much like sending out that initial poll to gauge interest from potential clients, from a tech standpoint, Local Showings began by doing a bit of homework.
Operations Manager Shane Rogal says the tech department started with research, determining what had to be built and how they would build it. They also did a demo with members of the Delta Media Group team, some of whom have a real estate license, asking them to detail how they've used ShowingTime in the past and what they'd like out of a new interface.
"From there, it was taking Franklin's lists of features that we needed, trying to figure out how they float inside the application and get anything inside the sales associate's head," Rogal explains. "So, then we really started to assemble the pieces, [programmer] Dan Hall got in and found the feature list, matched it up to stuff we already had."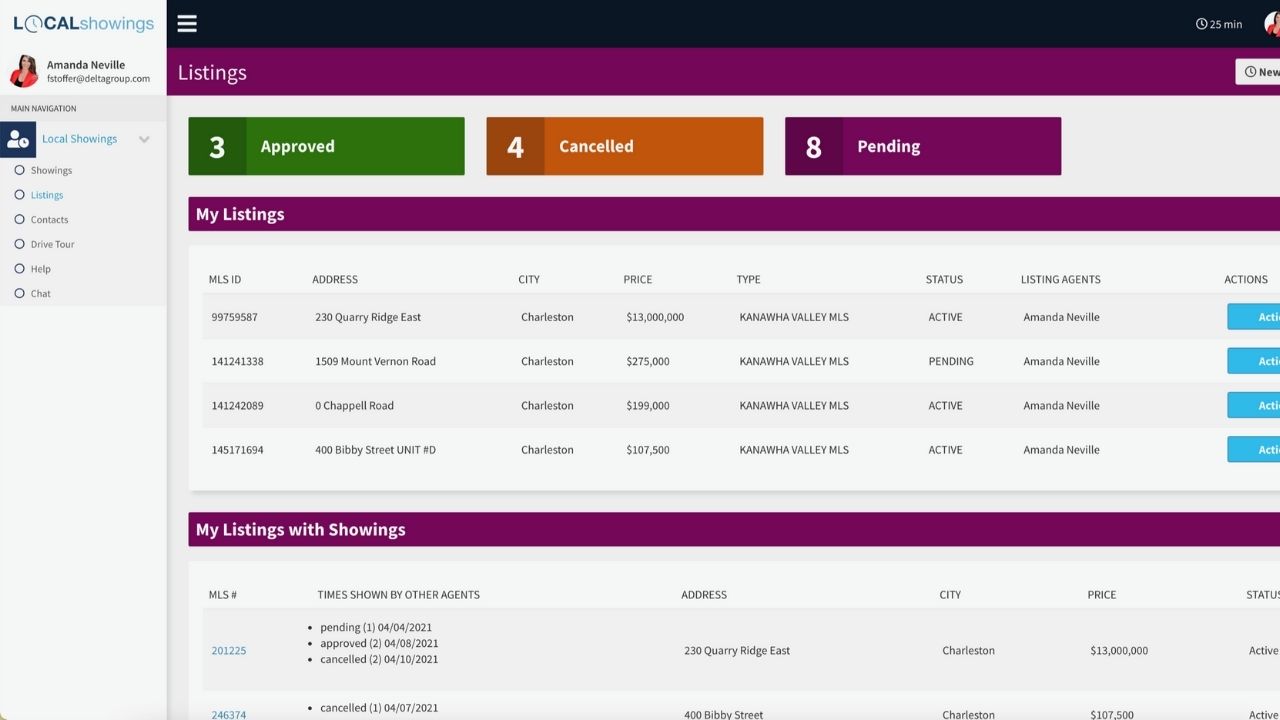 More meetings and discussions led to the decision that the interface should be isolated. While some pieces of what would eventually make up Local Showings were already scattered through the DeltaNET, the finished product should, as Rogal says, be "rolled up in one location, so you didn't have to jump around."
"That made a nice clean break too," he adds, "for the MLS product of Local Showings. And then Dan just started chugging away. We brought [front-end developer] Jeremy [Schar] in, and he's been working with Dan on the UI UX components of this and trying to make it feel like a polished product. And we've been trying to make our product while maintaining something familiar with the customer."
The key throughout much of this tech-building process has been to ensure that any new customers using Local Showings aren't overwhelmed by the changes in their showing platform. Instead, Delta has built a product similar to other popular platforms, ensuring frictionless and stress-free usage. This isn't rocket science; it's an intuitive platform that will work to help make scheduling showings as easy as it's ever been.
"When [people] switch from ShowingTime to Local Showings, they won't feel as if they've been completely hijacked or say, 'Oh, this product doesn't work anything like what I'm used to,'" Rogal adds.
Perhaps more than any other project Delta Media Group has tackled in the past; Local Showings has been an exercise in orchestrating workflow. Every detail is considered. Each possibility is questioned, making sure one click leads to the precise spot it should, while another click makes sure the platform is used as efficiently as possible. In the end, it has created a user-friendly experience that will help separate Local Showings from the rest of the pack.
"Throughout the build, I'll get a message from Dan out of the middle of nowhere, saying 'Hey, you got a minute to look over Local Showings?' and then we'll just sit down and walk through the last piece that he built and say, 'This is perfect except if this thing was here, doesn't that make more sense?'" details Product Development Manager Harley Wolfarth. "And sometimes it does. We've been really good about doing this in a way that we haven't always done in the past, but we've learned a lot from.
"I think we're going to come out with something this time, that right out of the gate, the workflow makes sense," Wolfarth adds. "We'll have training materials for it. We'll have guides, we'll have videos, but the idea is that none of those will be necessary because the first person who comes in and uses it will just know how it works."
Local Showings will be available as a stand-alone product, but one of its greatest strengths, especially from a tech mindset, is that it was built out of the framework of DeltaNET 6. Not only does that give sales associates a showing solution directly inside their CRM, but it allows Delta to continue adding and improving the platform.
"[Local Showings] will continue to evolve and grow into a much better product because of the strength of the DeltaNET 6 framework," Stoffer says.
Working Together
Getting Local Showings ready for launch and fine-tuning any potential tech pitfalls has been an arduous task for Delta Media Group, but it's also been exceedingly rewarding. Not only was this project a direct call to action, but it was an opportunity to create a product that genuinely affected the industry and answered the needs of clients.
For all intents and purposes, this was the full-company challenge Delta Media Group has been preparing for since it opened its doors more than 20 years ago.
"There is an emotional aspect to this, even from the tech side," Rogal says, "because right from the moment that Mike mentioned this might be something that we're doing, Dan and I were like, heck yeah, we want to do that. [The week after Zillow's announcement] we met as a leadership team like, what do you guys think? Do we want to do this? Do we want to commit to this? And most of us were just like, heck yeah, we don't get this opportunity very often. Zillow messed up, they opened up a void in the marketplace, and we're silly if we don't fill it."
Collaboration has always been a thread throughout Delta's departments, but Local Showings has provided a rare opportunity for the entire company to work together toward a final product. So, the schedules got a little busier across the board. Meetings for Local Showings were held between meetings to discuss DeltaNET updates and other tech projects. At times, it was hectic, but it was also satisfying in a way that made all the hard work worthwhile.
"This has definitely been the first time that we've had this level of collaboration as it relates to launching a new product where sales and marketing and tech were meeting weekly to evaluate and see the status of how far the project has come," Stoffer says. "Saying, 'What are we still missing?' Ops is regularly asking me, 'What new things have come up in the presentations you've done over the previous week?' Where I can then bring that to the table and say, 'Okay, we're 10% closer. Now here's the last couple of items we're still missing.' It's not just, let's make sure the sales associates have everything that they're used to using, but here's how we can also do this better."
Delta's collaborative mindset wasn't limited to internal work, either. Even in the early days of the Local Showings build, Stoffer worked with dozens of members of the industry to make sure that the platform met demands, fine-tuning the framework and allowing the platform to evolve as Delta Media Group discovered what it needed to be.
"I set Franklin in motion to go do homework because he was already having some conversations," Minard says of those initial interactions. "So then he was doing that homework, having deeper conversations, and understanding the DeltaNET 6 platform. Then I would have conversations with him: What do you think? Are you seeing anything that we aren't doing? Have you seen anything that we couldn't deliver? We're still having those conversations, and I still ping him every now and then: Have you seen anything? Those types of conversations are important."
What Comes Next
Over the last few months, Delta Media Group has worked tirelessly to get Local Showings in the hands of sales associates and brokerages. Not all of it has been easy; some of it has even resulted in near-literal hair pulling. But while the project has been time-consuming, it's also been a game-changer, not only for the real estate industry but the future of Delta Media Group.
"We made a splash," Geh says. "Everybody's aware of us now."
Adds Stoffer: "Every conversation is no longer starting, 'I know you've been around a long time.' They're now starting with, 'You guys have been working on a lot. There's a lot of buzz about you.' Which is a completely different place to start from. Rather than, 'Hey, you've been around a while,' it's, 'Hey, we know you're in the news, there's a lot going on with you. We want to know more about that.'"
Taking change in stride, seizing this opportunity, and producing a product that's easy to be proud of has drawn a spotlight to Delta, and the company has no plans of slowing down. Phase II of the project is already underway, with expanded call center support and other technical features, including lockbox integration.
There's always room for improvement. When it comes to Local Showings, and maintaining a reputation as a dependable partner in the real estate world, Delta Media Group is ready to keep reaching for what's next.
"If nothing else, even if somebody stays on ShowingTime, this will forever change the landscape because we'll be out there in the marketplace, and it's going to force them to change their system and make it better," Minard says. "Now, we have things we have to add too, and we're working on that, but Delta more than ever is on the radar of a lot of people where they're paying attention to us in a large way."